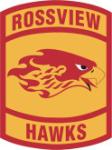 Manchester, TN – Rossview High School girls golf team came up a little short of their third state title in school history, on Oct. 9th at the WillowBrook Golf Club, with a runner-up finish; while Clarksville High School's Hunter Richardson tied for eighth place as an individual in the boys tournament.
The Lady Hawks were in a three-way tie for first place after the first 18 holes of play, with Science Hill High School and Farragut High School at 162, but were outshot 147 to 154 in the second round by Science Hill to finish seven shots back.
Individually, Rossview freshman Caroline Caudill finished in a tie for fifth place with a two-round total of 157 (80-77), with teammate senior Hanley Long tying for eighth place with a 159 (82-77) total.
Junior Reagan Greene rounded out the Rossview squad, and finished with a 166 total (82-84), good for a 18th place tie.
Also on the girls side, Clarksville High School senior Megan Beane (83-79—162) tied for 14th place, while Brighton High School's Aubree Jones won the individual title with a 148 (72-76) total.
On the boys side, CHS's Richardson was the lone local competitor and finished in a tie for eighth place at 148 (72-76), six shots back of tournament champion Noah Trenkler from Hendersonville High School.