Clarksville, TN – After rolling through last weekend's conference road matches unbeaten, Austin Peay State University women's soccer team returns home to face Ohio Valley Conference leader Eastern Illinois (7:00pm., Friday) and host SIU Edwardsville in a rematch of last season's OVC semifinal on Senior Day (2:00pm, Sunday).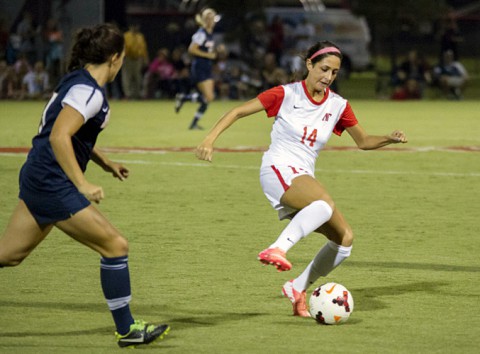 Austin Peay enters the weekend at 8-1-2 overall, with a program-best 3-0-1 mark in the conference after four OVC matches.
With three multi-goal outings in their last four games, the Lady Gov offense continues to shine, leading the conference with 26 goals and a 2.36 goals per game mark, the only OVC squad currently averaging more than two goals a contest. The Lady Govs rank 28th nationally in goals per game.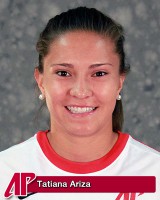 Much of that offensive firepower comes from senior Tatiana Ariza. The Bogota, Colombia native, who earned OVC Player of the Week honors after netting her third career hat trick in Friday's contest at Tennessee Tech, is third nationally in points (2.5/g) and fourth in goals (1.1/g) per game. With two points, Ariza would own the top four single-season totals in Austin Peay history.
A trio of backline seniors (Emily Kink, Corey Osborn and Joceline Quiceno) and the sterling play of sophomore keeper Nikki Filippone have Austin Peay ranked second in the conference in goals-against average at 0.78 – only SIU Edwardsville's 0.58 mark is better. Filippone is 11th nationally with a 0.45 GAA and ranks 24th with a 0.867 save percentage.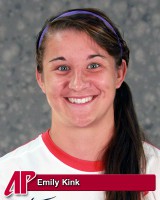 Picked to finish ninth in the preseason poll, Eastern Illinois (4-9-0, 4-0-0 OVC) has overcome a disastrous start and defied all expectations to lead the conference after two weeks of OVC play.
Credit for the start has to go to sophomore keeper Cortney Jerzy, who has allowed just two goals during conference play and shut out both Morehead State and Eastern Kentucky to keep the Panthers atop the table last weekend. Jerzy is as hot as any keeper in the country right now, having earned OVC Goalkeeper of the Week honors the last two weeks.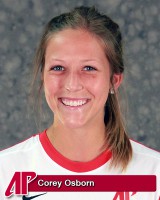 SIU Edwardsville (7-3-3, 1-2-1 OVC) has tailed off after a 6-1-2 start, opening OVC play with home losses to Tennessee Tech and Morehead State bookending a draw with Belmont and a win against Eastern Kentucky.
The Cougars are scoring just 0.75 goals per game in conference play, a sharp drop from 1.15 overall mark. Freshman Kayla Delgado, who netted the OVC's top scoring output with a four-goal effort at Drake, August 25th, is second in the OVC with seven goals on the season. The Cougars also have a stout keeper in net, where sophomore Jennifer Pelley leads the conference with five shutouts.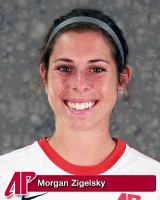 Sunday's match against the Cougars will serve as Senior Day for the Lady Govs. The program will honor eight seniors: Natalia Ariza, Tatiana Ariza, Emily Kink, Corey Osborn, Andy Quiceno, Joceline Quiceno, Haylee Shoaff and Morgan Zigelsky. Austin Peay concludes the home portion of the 2013 schedule when it hosts Morehead State in a 7:00pm, October 18th match at Morgan Brothers Field.
The Lady Govs conclude OVC action with three consecutive road matches.
Last Time Against This Weekend's Opponents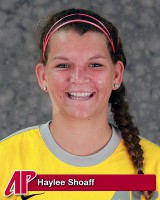 Austin Peay rolled to a 6-1 win at Eastern Illinois, October 12th, 2012, behind a huge day from Andy Quiceno. The Houston native recorded a hat trick, her first, and Tatiana Ariza added two goals and two assists in Austin Peay's largest victory margin against a conference program in school history.
The Lady Govs and SIU Edwardsville squared off in the OVC Tournament semifinals, November 2nd, 2012. Haylee Shoaff made six saves to earn a shutout and Joceline Quiceno's 85th-minute goal propelled the Lady Govs into the championship match with a 1-0 victory.
Keep An Eye On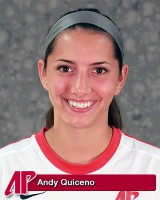 Moving Up the Chart: With 123 career points, Tatiana Ariza needs to average 4.3 points over her final six regular-season contests to tie Eastern Illinois' Beth Liesen's (2000-03) 149 career points. In seven career games against Eastern Illinois and SIU Edwardsville, Ariza has 15 career points (2.5 ppg).
The Lady Govs are 3-6-2 all-time against Eastern Illinois, but have won each of the last three matches against the Panthers. Austin Peay looks to remain unbeaten against SIU Edwardsville, having gone 3-0-2 against the Cougars since they joined the league in 2009.
With one more goal, senior Andy Quiceno would tie Jessica Hosse (2004-07) and Emily Perkins (2011-12) for third all-time with 14 career goals.
With one more assist, senior Natalia Ariza would pass Adonia Bivins (2003-06) for third all-time with 13 assists.
Senior midfielder Morgan Zigelsky needs one assist to tie Erin Mitchell (2002-04) for fifth on the career charts with nine.
Lady Govs Online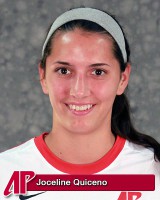 Be sure to follow all the Lady Govs action at LetsGoPeay.com, and check them out on Twitter (@AustinPeaySocr) and by liking the Austin Peay Women's Soccer Official Page on Facebook.
Live stats will be available prior to the match at www.LetsGoPeay.com, and streaming video will be available for free on the OVC Digital Network (www.ovcdigitalnetwork.com).