Clarksville, TN – Austin Peay State University women's golf team finished the first round of the F&M Bank APSU Intercollegiate with two Top 5 scores. However, the Lady Govs still find themselves in a sixth-place tie heading into Tuesday's final tourney round at the Clarksville Country Club.
Austin Peay shot an opening-round 314 to tie with Jacksonville State in the sixth position.
Meanwhile, Murray State and Eastern Kentucky are attempting to make it a two-team race for the title. The Lady Racers shot a 296, Monday, setting the tourney low score at the Clarksville Country Club. It broke their own mark of 298 set in 2010.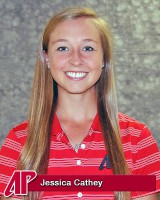 Despite the impressive performance, Murray State is just four shots clear of defending Ohio Valley Conference champ Eastern Kentucky (300). Houston Baptist (311) is tied for third with Belmont, with Radford fifth (312) followed by the Lady Govs and JSU.
Individually, APSU sophomore Jessica Cathey had one of the day's two subpar rounds, knocking in a birdie putt on the 18th hole for a 1-under 71. Murray State's Delany Howson tied for tourney-low round with a 66, four shots better than the previous tourney best at the Country Club.
"Jessica really played great," APSU coach Sara Robson said. "She had a heck of a round—hit the ball well and made some putts, like on 18."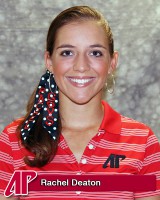 Senior Rachel Deaton overcame bogeys on the first three holes to finish at 3-over 75, tying her fifth.
"Rachel was a little nervous to start," Robson said, "but she settled down to play solid the rest of the day."
Unfortunately, the Lady Govs were forced to count a pair of plus-80 scores that saw them slip to the sixth spot. Freshman Amber Bosworth shot an 82 while senior Tala Mumford counted an 86 while another freshman, Morgan Gardner, came in at 88.
"Amber just could not find the greens but when she did made some amazing putts," Robson said. "Tala really struggled off the tee—I saw her in some interesting places. And (Morgan) Gardner just needs to play with confidence."
Individually, freshman Morgan Kauffman shot a 79 while junior Meghan Mueller had an 85 and freshman Kelsey Schutt, battling illness, fired an 88.
"With all those scores (second to sixth) bunched up, we have an opportunity to move up tomorrow," Robson said. "We just have to do a better of hitting more fairways and hitting more greens. "
Box Score
F&M Bank APSU Intercollegiate
Clarksville Country Club | Clarksville, TN
Dates: October 14th – 15th
| | | | |
| --- | --- | --- | --- |
| Finish | School – Players | Round 1 | Totals |
| T6 | Austin Peay State University | 314 | 314 |
| 2 | Jessica Cathey (2) | 71 | 71 |
| T 5 | Rachel Deaton (1) | 75 | 75 |
| T 44 | Amber Boswoth (5) | 82 | 82 |
| T 64 | Tala Mumford (3) | 86 | 86 |
| T 71 | Morgan Gardner (4) | 88 | 88 |
| | | | |
| T 22 | Morgan Kauffman | 79 | 79 |
| T 60 | Meghan Mueller | 85 | 85 |
| T 77 | Kelsey Schutt | 90 | 90 |
| | | | |