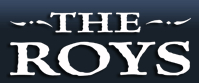 Nashville, TN – Brother/sister duo The Roys pulled off a "three-peat" at last night's 19th Annual ICM Faith, Family & Country™ Awards, winning the organization's coveted Bluegrass Artist of the Year Award for the third consecutive year.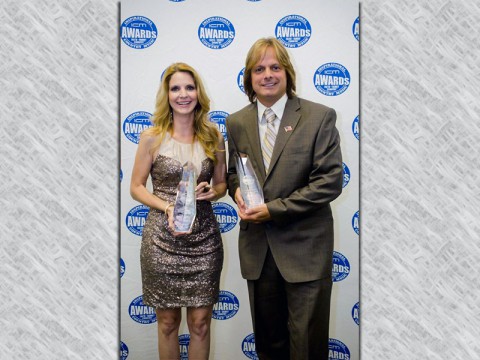 "Speechless," is how Elaine Roy describes her feelings upon the announcement.  "It's hard to put into words just how much this means to us," adds her brother Lee.  "We are humbled once again."  The Roys were previously honored with the following ICM Awards: 2012
No. 1 Inspirational Country Single
("I Wonder What God's Thinking"),
2012 & 2011
Bluegrass Artist of the Year
and the 2010 & 2009
Duo of the Year.
The Awards event capped off the 2013 ICM Faith, Family and Country Convention that began October 20th at Two Rivers Fellowship at Opryland.  The week included the annual ICM Faith, Family and Country Talent Show, The Power Source #1 Party, annual membership breakfast, seminars, incredible live music and much more.
In addition to winning their most-recent award, THE ROYS were honored to act as presenters during the show.  They shared those duties with American Idol's Melinda Doolittle, The Voice's Holly Tucker, Jim Ed Brown, Former NBA Player Mike Glenn, and Andy Griggs.
The show streamed live and will air on The TCT Network, GEB America, National Religious Broadcasters (NRB), The Worship Network and Total Living Network (TLN), reaching a record-breaking potential audience of over 1.6 billion around the world.  National television correspondent and host of Inside Edition Megan Alexander returned as host of the event.
In other news, the dynamic Bluegrass duo's current CD, Gypsy Runaway Train, is riding high at the #1 spot on Sirius XM Bluegrass Junction's Most-Played Albums list for October.  GRT is the third Rural Rhythm Records' project of Lee and Elaine's to land in the Top 5 on Billboard's Bluegrass Album Chart.  The "Gypsy Runaway Train" single is #25 on this month's BLUEGRASS UNLIMITED National Bluegrass Survey Top 30 Song Chart.  ZUUS Country continues to play the "Gypsy Runaway Train" video on their Americana Currents show.
Stay social with Lee and Elaine at www.theroysonline,  Facebook and Twitter.