APSU Governors vs. ETSU
December 4th, 2013 | 7:00pm CT
Clarksville, TN | Winfield Dunn Center

Clarksville, TN – The Austin Peay Governors will play host to the East Tennessee State University Buchaneers, Wednesday night in Clarksville for a 7:00pm tipoff.
This is the second time in as many games that the Govs will be facing a former Ohio Valley Conference member. ETSU was a member of the OVC from 1957-58 through 1977-78. Last Saturday night APSU defeated former OVC member Youngstown State, 88-86.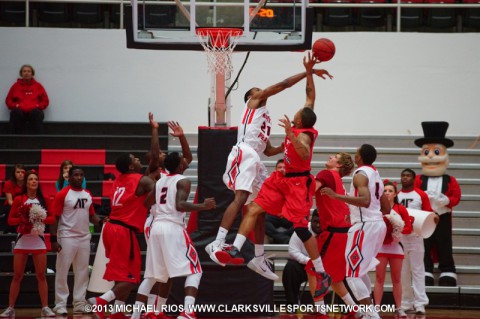 This is the 69th meeting between Austin Peay, a member of the Ohio Valley Conference, and East Tennessee, a current Atlantic Sun Conference member. The Buccaneers hold a 38-30 advantage in the series.
This is the first meeting between the two teams since the Governors captured an 84-71 decision against the Bucs in Clarksville, December 17th, 2005. The two teams will meet again, December 21st, in Johnson City.
East Tennessee is coming off a 10-22 2012-13 season, tying for seventh place in Atlantic Sun play at 8-10. The Bucs are off to a 3-5 start in 2013-14, coming off a key home win Saturday against Marshall, 88-78. Led by Kinard Gadsen-Gilliard's (15 ppg, 5.5 rpg), they are still seeking their season's first road win. Son of the late Gene Bartow, Bucs head coach Murry Bartow is in his 11th season as head coach.
Austin Peay is coming off its first road win of 2013-14. The Govs didn't win their first road game last season until February 14th, 2013.
A victory would give the Govs a three-game winning streak, their longest since they won three in a row at 2011-12 regular-season's end.
Sophomore center Chris Horton recorded his season's third double-double with 17 points and 10 rebounds at Youngstown State. He also had four blocked shots. He scored 17 points, grabbed 10 rebounds and blocked four shots against Youngstown State.
Zavion Williams has shown coming off the bench is not an issue with the redshirt sophomore. He has scored 20 or more points in each of the last two games in his new role. He also had four assists against Youngstown State.
Starting has proven to be the tonic for junior point guard Damarius Smith. He scored six second-half points while dishing out 10 assists against Youngstown State. He also had a trio of offensive rebounds.
Preseason All-OVC selection Travis Betran shook his early-season slump with 24 points against Youngstown State, including 7-of-7 at the free-throw line.
The Govs had 20 assists against Youngstown State, the second time they have had that number this season. The Govs had 20 or more assists just four times in the entire 2012-13 season.
As a result of the passing, the Govs shot a season-best 58.3 percent (35 of 60)from the floor.
The Govs out-rebounded Youngstown State 31-28. Entering the game, YSU was out-rebounding the opposition by a 7.9 grabs margin per game.
What A Win Would Mean
It would make the Governors 5-3…it would give APSU a three-game winning streak, something they were not able to achieve in 2012-13…it means they would end open December at 1-0…it would improve APSU to 3-0 at home this season…it would improve the Govs to 31-38 all-time in the series…it would be the Govs second straight win in the series…it would give Dave Loos a 3-2 mark against East Tennessee…it would make Dave Loos 2-1 all-time against ETSU coach Murry Bartow.
Media Center
Radio: Governors Radio Network
Play-by-Play: Greg Walker
Analyst: David Loos
WVRY 105.1-FM, WKFN 540-AM, ESPN 100.7 FM,
www.letsgopeay.com
Television: Peay Nation Broadcasting
Play-by-Play: Will Pryor
Analyst: Micah Williams