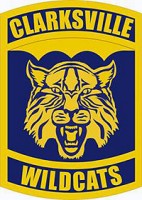 Clarksville, TN – Two late free throws by Tyriek Cheatham gave Clarksville High School a one-point lead, January 7th, but it wasn't until a miss at the buzzer by West Creek High School that the Wildcats were able to seal away a 73-72 District 10-AAA overtime victory over the Coyotes.
Cheatham's free throws with 19.2 seconds left gave Clarksville High (6-10, 2-3 District 10-AAA) the lead in the overtime period after West Creek had led by as many as three points in the extra stanza following a bucket by Jachin Almon, with 1:41 left.
The Coyotes (8-12, 2-3 District 10-AAA) had a final chance to tie, or take the lead with a three-point field goal, but Almon's three from the right wing was off the mark and CHS's J.J. Jones came down with the ball as the final horn sounded.
West Creek had taken a 72-71 lead on a bucket by Kistler Fletcher, with 24 seconds left, after Clarksville High had taken its first lead of the overtime period – 71-70 – following two free throws by Jeff Webb.
The Coyotes had opened up the extra period by getting out to a three-point lead with Almon scoring all four of the West Creek points.
Clarksville High's only point in the first 2:19 of overtime came on one of two free throws by Avery Bates, before Bates made CHS's first field goal of the OT to cut the Coyotes lead to 70-69, with 1:28 left.
The Wildcats had a chance to win the game in regulation, but Webb missed two free throws with 12.3 second left up two points, 66-64.
West Creek pushed the ball up after the misses by Webb and Almon was fouled driving to the basket with 4.5 seconds left.
Almon would make both and Clarksville High's last second heave was short and regulation would end with the two teams tied 66-66.
Clarksville High led by three points heading into the fourth quarter, and built their lead out to as many as seven points, 58-51, following a three-point shot by teal Young with 6:07 left, but West Creek answered back with a 7-0 run over the next 2:55 to tie the game 58-58, with 3:12 left.
The Wildcats looked to have regained the momentum after the tie by scoring six straight of their own to lead 64-58 with 2:09 left, but missed free throws in the last 1:16 left the door open for West Creek, as they hit five of six free throws in the final 1:08 of regulation – along with a bucket from Jimarion Pressley to send the game into overtime.
In the first half, the game got off to a quick start, with both teams putting up points at a breakneck pace, with Clarksville High holding a 21-20 advantage after eight minutes of play.
The Wildcats would build the lead out to seven points early-on in the second quarter, but the Coyotes would have an answer for each Clarksville High run and finished the period still down one point, 33-32, as the teams hit halftime.
The third quarter would see the two teams remain close, with three ties and seven lead changes in the period, before the Wildcats took a three-point advantage into the final quarter of regulation, 51-48.
Both teams will return to District 10-AAA action on Jan. 10th, as Clarksville High will play host to Springfield High School and West Creek welcomes Northeast High School.
Photo Gallery
Box Score
Clarksville High 73, West Creek 72 OT
| | | | | | | |
| --- | --- | --- | --- | --- | --- | --- |
| | 1 | 2 | 3 | 4 | OT | Final |
| Clarksville High Wildcats | 21 | 12 | 18 | 15 | 7 | 73 |
| West Creek Coyotes | 20 | 12 | 16 | 18 | 6 | 72 |
Clarksville High: Jeff Webb 8, J.J. Jones 21, Tyriek Cheatham 4, Teal Young 12, Avery Bates 13, Tariq Silver 11, Brevon Johnson 2, Cameron Stiff 2. Team totals 24 17-31 73.
West Creek: Michael Hardison 3, Stephon Jackson 10, Davan Jones 9, Adam Wendel 3, James Johnson 8, Kistler Fletcher 4, Jachin Almon 21, Jimarion Pressley 14. Team totals 26 15-28 72.
3-point field goals: Clarksville High 8 (Jones 2, Young 3, Silver 3), West Creek 5 (Jones 2, Johnson 2, Almon 1).
Records: Clarksville High 6-10, 2-3 District 10-AAA; West Creek 8-12, 2-3 District 10-AAA.