Clarksville, TN – On Saturday, April 19th, 2014, the 19th Annual Easter Egg Hunt was held at Hilltop Super Market.
Some of the activities at the event were inflatables, cupcake decorating, duck pond, face painting and more. Everything kicked off at 11:00am.
Homestead BBQ & More from Hopkinsville, KY were on hand selling barbeque sandwiches and ribs. The Palmyra Volunteer Fire Department was grilling hamburger and hotdogs as well as helping out with the event.
"I want to thank everyone for coming out to the Easter Egg Hunt at Hilltop Super Market. We're with the Palmyra Volunteer Fire Department. We like volunteering for this event and supporting our community." stated Laura Hughes with the Palmyra Volunteer Fire Department.
This year there was 6,000 Easter eggs on the fields, more than any year before. Among the eggs, there were hundreds of eggs that contained tickets that can be turned in for a prize. Some of the prizes included Nerf footballs, hula hoops, frisbees, jump ropes, stuffed animals, plastic swords and so many more.
There were eight grand prize tickets. The grand prizes were bikes or trikes according to the age group.
The Easter egg hunt was broken down into four groups; up to 4 year olds, 5 to 6 year olds, 7 to 9 year olds and the 10 to 12 year old group.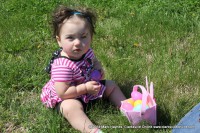 As 2:00pm arrived, over 600 children lined up along the fields waiting on the fire engine to sound the horn. Within a couple of minutes, the grass was swept clean of eggs.
Once the hunt was over, everyone began opening the plastic eggs to see what they had gotten. Some eggs contained prize tickets, others candy of different types.
No event of this size can be pulled off without a lot of help. The Montgomery Central High School Cheerleaders, Palmyra Volunteer Fire Department, Girl Scout Troop 560 as well as Hilltop Super Market employees and family all volunteered to help.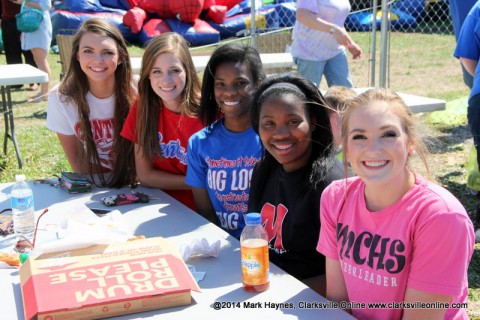 "Cumberland Bank is proud to be a sponsor of the 19th Anunal Easter Egg Hunt at Hilltop. There is always a big turnout and we had a good time," said Terry Bradford, manager of Cumberland Bank and Trust Hilltop Branch.
This year's event is sponsored by: Grandma's House, Movies – N More, Wyatt's Body Shop, Cumberland Bank and Trust, Grandma's Apron, Ajax Distributors, Ideal Distributors, Satellite Electronics, Central Pizza, Mark Davis Trucking and U Jumpin' Foulks.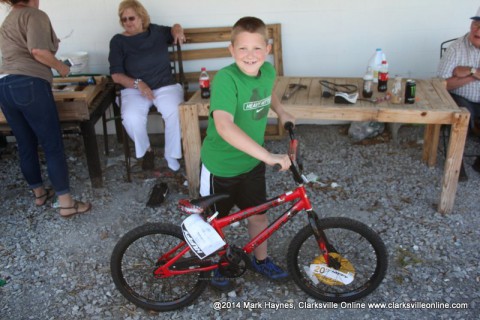 "I think everything went really well this year. All the kids had a lot of fun," said Hilltop manager Mike Jackson. "I want to give a special thanks to all our volunteers."
For those that did not attend this event, mark your calendars and make sure to come out next year to this southern Montgomery County community event.
Hilltop Super Market will be holding their BBQ Cook Off May 2nd and 3rd. This year, there will be a hot wing contest, Friday, May 2nd.
The Palmyra Volunteer Fire Department will be holding a Cornhole Tournament during the BBQ Cook Off on May 3rd starting at 8:00am.
Photo Gallery
About Hilltop Supermarket
Hilltop Supermarket is located at 400 Highway 149, Clarksville TN. From Clarksville, you would take Hwy 48/13 south across the river, turn right on highway 149 and Hilltop Supermarket is located on the left at the top of the hill next to Freds. Hilltop serves the grocery needs of the southern Montgomery county area.
Visit their website at: www.hilltopsupermarket.com.