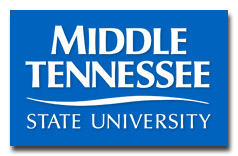 Clarksville, TN – Local golf standout Samantha Gotcher will get the chance to face the world's best, June 19th through June 22nd at the legendary Pinehurst No. 2 Golf Course at the Village Pinehurst, NC, as the rising sophomore at Middle Tennessee State University earned a spot in the 2014 USGA Women's Open Championship with a second-place finish at a sectional qualifying event in St. Louis, MO.

Gotcher fired a two-round total of 148 at the Lake Forest Golf and Country Club on May 20th, finishing three shots behind pro Jasi Acharya of Columbus, MT, and earning one of the two qualifying spots available in the event.

"Honestly walking into it I didn't think I would qualify," Gotcher said. "I told my dad I would like to be an alternate — that's more realistic — because I hadn't hit range balls since last June and had to take four months off this year (with a back injury), so to be realistic about this I just wanted to be an alternate.

That would have been awesome, but after all the scores were posted it was all so unexpected, but it all worked out so wonderfully."

The layoff with the injury has made the berth into the Open even more special than maybe it would have been already, as the qualifying event was really the first competitive golf for Gotcher, who hadn't played in a tournament since Oct. 23rd, 2013.

"It kinds of freaks me out that the U.S. Open is the first real tournament I'm playing in in 2014," Gotcher said. "I'm excited and it's going to be absolutely amazing, but obviously I'm going to be nervous."

Playing in national tournaments is nothing new to Gotcher, who has also played in the USGA Women's Amateur Public Links event in 2011 and 2012, as well as the Girls U.S. Junior and Women's Amateur in 2012.

Gotcher also joins former MTSU golfer Taryn Durham as the only other Blue Raider to make the U.S. Open field, with Durham qualifying back in 2007, also in a qualifier.

"This will be my seventh USGA national championship (event)," she said. "It's just amazing to play in one, but to play in seven — that's incredible — but this is the U.S. Open.

"This is not like you're playing the best public golfers, or the best amateurs in the world, you're playing the best of the best."

Gotcher, who is 19-years old, is joined by 22 other golfers under the age of 20 in the 156-player field – along with 11 former U.S. Open champions, who total 14 U.S. Open titles among them.

"It's going to be difficult, but once I get there I can gage just how aggressive I can be," Gotcher said. "But making the cut would be the ultimate goal. I would like to be on TV for four rounds.

"To be realistic, they won't show all the amateurs on Thursday and Friday, but if you're good enough to make the cut and you're an amateur they're going to put you on TV, absolutely."

Along with playing well and making the weekend, Gotcher hopes to use this to help be seen by possible sponsors that down the road could help in a pro career after college.

"You hope to be seen by the right people, because if I want to go pro you have to have support," she said. "It's expensive, hectic and crazy and you always want to make contacts."

But playing well and matching up with the world's best is still Gotcher's main goal in the sport's biggest event.

"I'm really looking forward to it, because I'm going to see players at their absolute best and absolute worst," she said. "This is the U.S. Open and the pressure gets to everyone."

Gotcher's first and second round groupings and start times will be posted on the USGA U.S. Women's Open website on June 13th.
Photo Gallery
About Chris Austin
Chris Austin is a graduate of Clarksville High School and Austin Peay State University.

Chris is a former Head Softball Coach for APSU, and assistant basketball coach for CHS.

Chris has worked at the Leaf-Chronicle, and WJZM News/Talk/Sports radio. Has also worked at the Sports Information Department at APSU, and has covered championship events for the Ohio Valley Conference and NCAA.

Chris is an avid sports fan and can be found at most Austin Peay State University sports events.

Web Site: http://www.clarksvillesportsnetwork.com
Email:
Sections
Sports
Topics
2014 U.S. Women's Open, 2014 USGA Women's Open Championship, Clarksville, Clarksville TN, Columbus MT, Girls U.S. Junior Amateur, Jasi Acharya, Lake Forest Golf and Country Club, Middle Tennessee State University, MTSU, Pinehurst No. 2 Golf Course, Samantha Gotcher, St. Louis MO, Taryn Durham, USGA Women's Amateur Public Links, Village Pinehurst NC, Women's Amateur