Tennessee State Representative Joe Pitts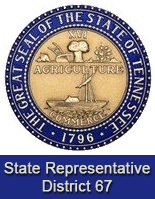 Nashville, TN – Since January 11th, Tennessee Housing Development Agency (THDA) has helped more than 7,000 families avoid foreclosure through our Keep My Tennessee Home program, funded by the U.S. Department of Treasury's Hardest Hit Fund.
We are proud that our program has enabled Tennessee to be among the most aggressive states in putting these funds to work on behalf of eligible households. I want to let you know that the funds awarded to Tennessee have been almost fully committed.
We are closing the program August 31st but for cases eligible under a separate, related fund provided by the National Mortgage Settlement.
We will close the program to new applications on July 31st, 2014 for the following hardship eligibility criteria: loss of employment, underemployment, death of a spouse and divorce.
We will maintain the site to fully utilize the Settlement funds, allocated to THDA by the Office of the Attorney General.
When the country's Attorneys General secured a settlement from the large banks because of inappropriate lending practices, Tennessee Attorney General Bob Cooper assigned $25 million to broaden the eligibility to address the hardship of long-term medical disability. A further expansion recognized the particular circumstances of those who were in the military defending our country.
Funds provided by the Office of the Attorney General will continue to be available for the eligibility criteria of long term medical hardships as well as the military hardships. Homeowners may visit the www.KeepMyTNHome.org to obtain more information and answer pre-screening questions to determine possible eligibility.
Applications have been taken on the website: www.KeepMyTNHome.org and families connected to foreclosure prevention counselors to guide them through the process. Funding will be fully allocated by the end of August for the US Treasury related hardships mentioned above.
We have posted on the website that the portal will be closed to new applications on July 31st, 2014. The foreclosure prevention counselors will remain available at no charge to Tennesseans. The list is found here. The counselors are prepared to research other possibilities for those facing foreclosure and communicate with their lenders on the homeowners' behalf.
If you have questions about the above or other issues of concern, please call me at 615.741.2043, or email me at