Austin Peay Sports Information

Knoxville, TN – Austin Peay State University's volleyball team ran into a red-hot Memphis squad and fell in four sets (17-25, 25-23, 15-25, 13-25) in its final match of the DISH Lady Vol Classic at Thompson-Boling Arena.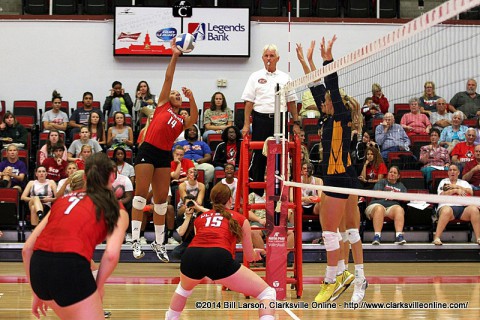 Austin Peay (6-10) finished second in the tournament with a 3-1 record and saw senior
Jada Stotts
and junior
Aubrey Marsellis
named to the all-tournament team. Memphis ran its win streak to eight matches with the win and claimed the championship with a 4-0 record.
Memphis (10-4) got off to a quick start in the match, opening with an 8-4 run as Austin Peay committed three attack errors in that opening spurt.
The Lady Govs would battle back and tie the set at 12-12, but the Tigers rattled off the next four points to regain control. Memphis would close the set with a 8-2 run to win 25-17.
Austin Peay seemed unfazed by Memphis' strong close to the second set. The Tigers opened the second frame with a 4-1 run but Austin Peay immediately responded with a 5-1 run to take a 6-4 lead.
Neither team would gain control of the set, the Lady Govs twice extending their advantage to three points.
However, one of those three-point edges came at 24-21. Memphis would fend off a pair of set points, but freshman Ashley Slay finally found the floor for a set-ending kill at 25-23.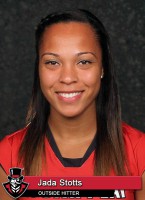 Memphis dominated action out the break. In the third set the Tigers opened with an 8-2 run and did not look back in a wire-to-wire, 25-15 victory. The fourth set was more of the same, this time it was a Memphis 9-3 run to open the set en route to a 25-13 match-ending win.
"We didn't have the same intensity or confidence as in our three previous matches," said Lady Govs head coach Taylor Mott. "Memphis is obviously a hot team right now. Their middles were very hard to stop today."
Stotts finished with 12 kills and a .250 attack percentage, finishing the tournament with a team-best 64 kills and an impressive .315 attack percentage.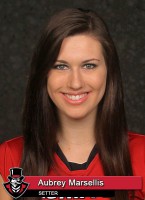 Marsellis recorded just 29 assists in the four-set loss, but had six kills (.455 attack percentage) and three blocks.
Austin Peay finished with 45 kills but was held to a .167 attack percentage, recording 22 attack errors.
Lauren Wright led Memphis with 19 kills and a .500 attack percentage. The Tigers recorded 58 kills at a .328 attack percentage in the victory.
Austin Peay begins a four-match homestand when it hosts UT Martin in a 6:00pm Friday contest that also will be its Ohio Valley Conference opener.
Box Score
Memphis 3 vs Austin Peay 1
| Set Scores | | 1 | 2 | 3 | 4 | Team Records |
| --- | --- | --- | --- | --- | --- | --- |
| Austin Peay | (1) | 17 | 25 | 15 | 13 | 6-10 |
| Memphis | (3) | 25 | 23 | 25 | 25 | 10-4 |
Memphis (10-4)
| ## | Player | SP | K | E | TA | PCT | A | E | SA | SE | RE | D | BS | BA | Pts |
| --- | --- | --- | --- | --- | --- | --- | --- | --- | --- | --- | --- | --- | --- | --- | --- |
| 2 | GIBSON,Kate | 4 | 6 | 2 | 25 | .160 | 1 | 0 | 0 | 2 | 1 | 7 | 0 | 2 | 7.0 |
| 3 | LILLY,Catlin | 4 | 7 | 3 | 26 | .154 | 1 | 0 | 2 | 1 | 1 | 6 | 0 | 1 | 9.5 |
| 7 | WESLEY,Alexis | 4 | 11 | 0 | 16 | .688 | 0 | 0 | 0 | 0 | 0 | 0 | 1 | 3 | 13.5 |
| 9 | ZIMMERMAN,Veronica | 4 | 4 | 0 | 5 | .800 | 45 | 0 | 0 | 0 | 0 | 9 | 0 | 1 | 4.5 |
| 10 | AGOMUO,Oluchi | 4 | 11 | 4 | 35 | .200 | 0 | 0 | 0 | 0 | 0 | 15 | 1 | 3 | 13.5 |
| 11 | WRIGHT,Lauren | 4 | 19 | 4 | 30 | .500 | 0 | 0 | 0 | 0 | 0 | 1 | 0 | 2 | 20.0 |
| 5 | PURVIS,Lindsey | 4 | 0 | 0 | 0 | .000 | 0 | 0 | 0 | 1 | 0 | 2 | 0 | 0 | 0.0 |
| 6 | MOSS,Michaella | 2 | 0 | 0 | 0 | .000 | 0 | 0 | 0 | 1 | 0 | 3 | 0 | 0 | 0.0 |
| 16 | PETRONIJEVIC,A | 4 | 0 | 0 | 0 | .000 | 6 | 0 | 1 | 3 | 1 | 18 | 0 | 0 | 1.0 |
| | Totals | 34 | 58 | 13 | 137 | .328 | 53 | 0 | 3 | 8 | 3 | 61 | 2 | 12 | 69.0 |
Team Attack By Set
Set
K
E
TA
Pct
1
14
6
33
.242
2
17
1
41
.390
3
17
3
34
.412
4
10
3
29
.241
Total Team Blocks: 8.0
LEADERS:
Kills-Aces-Blocks:WRIGHT,Lauren (19-0-2); WESLEY,Alexis (11-0-4); AGOMUO,Oluchi (11-0-4); LILLY,Catlin (7-2-1); GIBSON,Kate (6-0-2); ZIMMERMAN,Veronica (4-0-1)Assists:ZIMMERMAN,Veronica (45); PETRONIJEVIC,A (6); GIBSON,Kate (1); LILLY,Catlin (1)

Digs: PETRONIJEVIC,A (18); AGOMUO,Oluchi (15); ZIMMERMAN,Veronica (9); GIBSON,Kate (7); LILLY,Catlin (6); MOSS,Michaella (3); PURVIS,Lindsey (2); WRIGHT,Lauren (1)
Austin Peay (6-10)
Team Attack By Set
Set
K
E
TA
Pct
1
8
6
26
.077
2
18
2
39
.410
3
11
5
39
.154
4
8
9
34
-.029
Total Team Blocks: 6.0
LEADERS:Kills-Aces-Blocks: STOTTS, Jada (12-1-1); LANDON, Liz (7-1-1); STROTHER, Samantha (7-0-1); EBRIGHT, Sammie (6-0-1); MARSELLIS, Aubrey (6-1-3); SLAY, Ashley (5-0-4); WHITE, Christina (2-0-0)

Assists: MARSELLIS, Aubrey (29); STOTTS, Jada (6); SLAY, Ashley (1); LANDON, Liz (1); STROTHER, Samantha (1); ADAMS, April (1)

Digs: ADAMS, April (15); STOTTS, Jada (13); MARSELLIS, Aubrey (8); STROTHER, Samantha (7); LANDON, Liz (5); EBRIGHT, Sammie (3); SLAY, Ashley (2); LITCHFIELD, Syd (1)