APSU Sports Information Office

Charleston, IL – For a second straight week Austin Peay State University had trouble controlling a quarterback.
Last week, Chattanooga's Jacob Huesman passed for 224 yards against the Governors. This week the Governors had trouble controlling the legs and arm of Eastern Illinois quarterback Jalen Whitlow.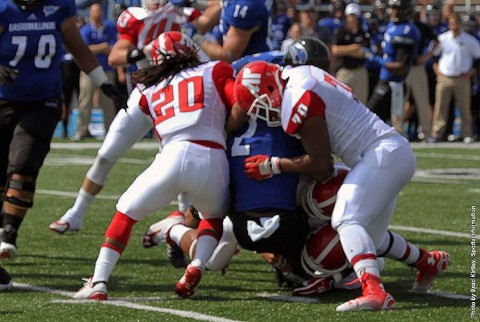 The University of Kentucky transfer rushed for 137 yards and two TDs and passed for 159 more yards and two more scores as Eastern Illinois defeated Austin Peay, 63-7, Saturday afternoon at O'Brien Field.
It was the Ohio Valley Conference opener for both clubs. It was APSU's ninth OVC loss as it fell to 0-3 on the season while two-time defending OVC champ Eastern Illinois won its 13th straight league contest in capturing its first 2014 victory (1-3).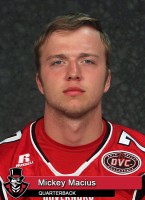 Whitlow, who had thrown three interceptions in the previous three games this season, led an Eastern Illinois offense that failed to commit a turnover against the Governors. That was significant as turnovers—10 total on the season—contributed greatly to Panthers' 0-3 start.
APSU, meanwhile, again struggled mounting offense. The Govs' defense held EIU to just seven first-quarter points but the APSU offense could amass only nine offensive yards in the first quarter. It got worse in the second quarter as the defense began to wear down because of the offensive struggles—APSU had four three-and-outs in its first five possessions.
The consequences began to weigh heavily in the second quarter as EIU scored touchdowns on all four possessions. APSU's only response came when freshman Mickey Macius, replacing another freshman Darrien Boone at quarterback, led APSU to its only score.
The score was set up by a 35-yard pass by Macius to Javier Booker and a Macius 27-yard fade route to freshman Malik Boynton—his over-the-shoulder catch setting up Justin Roberson's one-yard run. Macius finished the game 4-of-11 passing for 72 yards.
That TD cut the deficit to 28-7 but any hope for the Governors comeback was immediately answered by a EIU score with 1:29 left in the half.
"I think they did a nice job of using misdirection plays," APSU coach Kirby Cannon. "They trapped up as they were not going to let us run up field like Chattanooga did. They did a nice job of mixing up their formations—I don't think we saw the same formations twice.
"You really could not lock in on a point of attack. That makes it really tough."
Cannon met with his team at midfield and asserted his faith in young team's ability to improve and move forward.
"I told them this has to be our low point," Cannon said. "We just have to make the commitment to get better. We can't faster, we can't get stronger…but we can avoid penalties and the mental mistakes, things like. If we do that, we can be a better football team."