Austin Peay (3-8) at Central Arkansas (6-5)
Tuesday, December 30th, 2014 | 2:00pm CT
Conway, Arkansas | Farris Center

Conway, AR – Austin Peay women's basketball team wraps up both its nonconference slate and the 2014 calendar year when it travels to Central Arkansas for a 2:00pm, Tuesday contest at the Farris Center.
APSU returns to action 10 days following its 83-62 loss to host Montana, December 20th, at the Lady Griz Holiday Classic.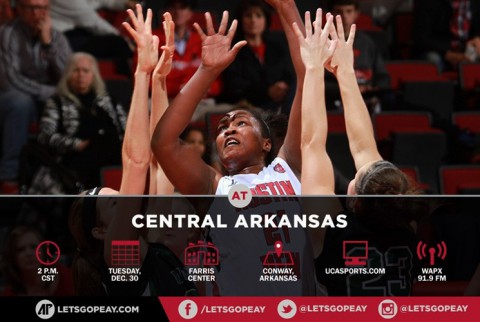 However, Austin Peay picked up its first win away from Clarksville with an 86-81 victory against Saint Louis the previous day.
It was APSU's first win on the road since February 3rd, 2014 at Southeast Missouri – ending a streak of eight losses away from Clarksville.
On the season, junior guard Tiasha Gray is making a splash in the national rankings as she ranks among Division I's top 20 in steals (3.6 pg, 7th), assists (6.3 pg, 12th) and scoring (20.7 pg, 20th). Nationally, she is the only player to rank among the top 20 in all three of those categories. Gray also became just the 10th Division I player to record a triple-double this season, notching the feat against Saint Louis, November 19th.
APSU returns four starters among 10 letterwinners from last season's squad. That group includes the Lady Govs top five in both scoring and rebounding. Despite the large number of returnees, the projected APSU starting five includes one senior, one junior and three sophomores – still a relatively young squad.
About The Sugar Bears
Central Arkansas brings a two-game win streak into Tuesday's contest, picking up victories against NAIA foes William Baptist (73-57, December 16th) and Blue Mountain (71-30, December 19th). The Sugar Bears are 0-3 against OVC opponents this season, but all three losses were by single digits – Eastern Kentucky (55-56), Jacksonville State (54-63) and Southeast Missouri (46-48).
UCA owns a 4-2 mark at the Farris Center this season with its two home losses coming against OVC teams. Sophomore guard Maggie Proffitt leads the Southland Conference in three-point field goals made (2.8 per game) and percentage (37.8 percent) and is averaging a team-best 13.6 points per game this season.
Last Season's Meeting Versus Central Arkansas
Austin Peay made 29 of its 41 field goal attempts over the final 30 minutes to gain an 81-60 victory against Central Arkansas, December 1st, at the Dunn Center. Austin Peay saw Central Arkansas take its only lead, 13-12, at the 10:18 mark of the first half before it began its half-ending burst.
The Lady Govs closed the half on a 23-9 run that saw them make 10-of-15 from the floor and take a 35-22 halftime lead. Central Arkansas trimmed the lead to nine points less than two minutes into the second half.
Yet Austin Peay countered with a 13-3 run to build a 19-point, 48-29, lead with 14:36 remaining. They would not be threatened the game's remainder as they converted an impressive 19-of-26 shots (73.1 percent) in the half.
Tiasha Gray led Austin Peay with a then-career-high 28 points on 13-of-20 shooting. Jennifer Nwokocha also finished with a career-high 14 points and career-high tying eight rebounds.
An Austin Peay Win Would
Be its second straight win against Central Arkansas… Be its second win away from Clarksville, and its first true road win… Be its fourth nonconference win in 2014-15, its third 4-win nonconference tilt since  2008-09… Improve Daniels' record to 92-166 overall… Make the Lady Govs 445-639 overall since 1976-77.
An Austin Peay Loss Would
Make it 1-2 all-time against Central Arkansas… Be its second-straight loss… Hold it to three nonconference wins for the second cosnecutive season… Drop Daniels' record to 91-167 overall… Make the Lady Govs 444-640 overall since 1976-77.
Next Team Up
Eastern Kentucky | Saturday
Austin Peay opens Ohio Valley Conference play when it travels to Eastern Kentucky for a 3:00pm (CT), Saturday contest. Eastern Kentucky has won the last three meetings in the series, including last season's 79-71 victory in Clarksville.
It will be the Colonels first contest since a 70-56 loss to Richmond, December 21st. EKU will enter that game as one of three OVC teams to post a .500 or better record in nonconference action.