Austin Peay Sports Information

Clarksville, TN – Austin Peay State University's baseball team rallied from a six-run deficit to open the 2015 campaign with a 15-7 victory against Niagara, Friday, in the Governors Challenge at Raymond C. Hand Park.
Austin Peay (1-0) trailed 7-2 after the top of the sixth, but scored the game's final 13 runs to secure the win.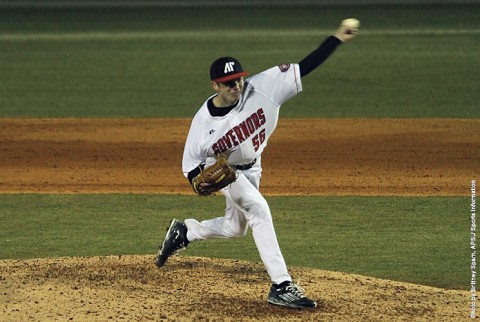 The Govs started their rally with a five-run sixth inning that was punctuated by shortstop
Clayton Smithson
's two-run double that narrowed the deficit to 7-4.
Catcher Ridge Smith then tied the game, 7-7, with a RBI triple that eluded the Niagara right fielder.
The Govs took the lead in a seventh inning that saw second baseman Garrett Copeland singled to start the inning. Right fielder Kyle Blackburn reached on an infield single, allowing Copeland to move to third base. Niagara reliever Michael Bucci was called for a balk, allowing Copeland to score the go-ahead run.
Austin Peay pushed ahead, adding five more runs to its tally as centerfielder Patrick Massoni's two-run double and Smith's two-run single  extended the lead to 13-7. Bredlau and Smith would add a RBI each in the eighth to close out the Govs scoring.
Niagara (0-1) could not hold on to a 6-0 lead it build after the first two innings. Austin Peay starting pitcher Zach Hall could not get past the second inning, allowing seven of the 11 batters he faced to reach base. He ultimately allowed three runs – two in the first, one in the second – before departing.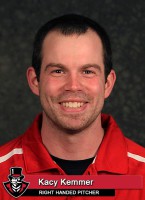 APSU reliever Kacy Kemmer allowed back-to-back singles after entering the game and appeared to escape the inning with a strikeout, but a passed ball allowed the runner to reach base and extend the inning. Kemmer then surrendered back-to-back singles as Niagara took advantage to push its lead to 6-0.
Kemmer would settle in, tossing a scoreless third before striking out the Purple Eagles in order in the fourth. That inning ignited the Govs bullpen, which only allowed one unearned run from the third inning on.
APSU reliever John Sparks (1-0) would pick up the win after allowing that one unearned run, thanks to holding Niagara to one hit over three innings, striking out four and allowing three walks. Zach Walton and Hunter Lindley closed the game with scoreless efforts in the eighth and ninth innings, respectively.
Niagara's Cody Eckerson was left with no decision despite holding Austin Peay to four runs on four hits over five innings, but allowed seven walks and struck out seven batters.
Smith led the APSU offense with a 3-for-4, three RBI outing. Massoni, Smithson, third baseman Logan Gray and designated hitter Alex Robles also had two RBI each in the win. The Govs, who were held to four hits through five innings, exploded for 11 hits in the final three innings.
Niagara designated hitter Daniel Procopio and right fielder Taylor Hackett each had two RBI.
Austin Peay resumes play in the Governors Challenge when it meets South Dakota State in an 11:00am, Saturday contest.
Niagara will meet Northern Illinois in the 3:00pm contest. The Govs then are scheduled to face Northern Illinois in a 6:00pm contest – all at Raymond C. Hand Park.
Box Score
Niagara 7 (0-1) vs Austin Peay 15 (1-0)
| | 1 | 2 | 3 | 4 | 5 | 6 | 7 | 8 | 9 | | | R | H | E |
| --- | --- | --- | --- | --- | --- | --- | --- | --- | --- | --- | --- | --- | --- |
| Niagara | 2 | 4 | 0 | 0 | 0 | 1 | 0 | 0 | 0 | | 7 | 11 | 3 |
| Austin Peay | 0 | 0 | 2 | 0 | 0 | 5 | 6 | 2 | X | | 15 | 15 | 2 |
W: SPARKS, John (1-0) L: Bucci, Michael (0-1)
Niagara (0-1)
| Player | AB | R | H | RBI | BB | SO | PO | A |
| --- | --- | --- | --- | --- | --- | --- | --- | --- |
| Firenzi, Anthony cf | 4 | 1 | 3 | 0 | 0 | 1 | 0 | 0 |
| Rodrigues, Thomas ss | 4 | 2 | 2 | 1 | 0 | 0 | 0 | 1 |
| Bernick, Nick ph/ss | 0 | 0 | 0 | 0 | 1 | 0 | 0 | 0 |
| Fuhrman, Michael 2b | 3 | 1 | 2 | 0 | 0 | 0 | 0 | 2 |
| Meisner, Mark ph/2b | 1 | 0 | 0 | 0 | 0 | 1 | 0 | 1 |
| Rodgers, Greg 1b | 3 | 2 | 1 | 1 | 2 | 0 | 6 | 1 |
| Coll, Hayden lf | 3 | 1 | 0 | 0 | 0 | 3 | 2 | 0 |
| Dziados, Owen ph | 1 | 0 | 0 | 0 | 0 | 1 | 0 | 0 |
| McCauley, Trevor lf | 1 | 0 | 0 | 0 | 0 | 1 | 1 | 0 |
| Procopio, Daniel dh | 4 | 0 | 1 | 2 | 0 | 2 | 0 | 0 |
| Lau, Tyler ph | 0 | 0 | 0 | 0 | 1 | 0 | 0 | 0 |
| Hackett, Taylor rf | 3 | 0 | 1 | 2 | 1 | 2 | 2 | 0 |
| Gallup, Julian ph | 1 | 0 | 0 | 0 | 0 | 1 | 0 | 0 |
| Brophy, Joel c | 5 | 0 | 0 | 0 | 0 | 0 | 11 | 0 |
| Seto, Geoff 3b | 3 | 0 | 1 | 0 | 1 | 1 | 1 | 0 |
| Eckerson, Cody p | 0 | 0 | 0 | 0 | 0 | 0 | 0 | 0 |
| Zaccagnino, Ben p | 0 | 0 | 0 | 0 | 0 | 0 | 1 | 0 |
| Bucci, Michael p | 0 | 0 | 0 | 0 | 0 | 0 | 0 | 0 |
| McCuen, Matt p | 0 | 0 | 0 | 0 | 0 | 0 | 0 | 0 |
| Totals | 36 | 7 | 11 | 6 | 6 | 13 | 24 | 5 |
BATTING:
2B: Firenzi, Anthony 1
SH: Firenzi, Anthony 1
BASERUNNING:
SB: Firenzi, Anthony 2; Rodrigues, Thomas 1; Fuhrman, Michael 1; Rodgers, Greg 2; Lau, Tyler 1
CS: Bernick, Nick 1
HBP: Fuhrman, Michael 1
PO: Seto, Geoff 1
FIELDING:
E: Firenzi, Anthony 1; Seto, Geoff 1; Eckerson, Cody 1
Austin Peay (1-0)
| Player | AB | R | H | RBI | BB | SO | PO | A |
| --- | --- | --- | --- | --- | --- | --- | --- | --- |
| MASSONI, Patrick cf | 4 | 2 | 1 | 2 | 1 | 3 | 2 | 0 |
| WILLIS, Imani ph/cf | 1 | 0 | 0 | 0 | 0 | 1 | 0 | 0 |
| BREDLAU, Cayce lf | 3 | 2 | 0 | 0 | 2 | 1 | 0 | 0 |
| PURCELL, Wesley ph/lf | 1 | 0 | 0 | 1 | 0 | 0 | 0 | 0 |
| GRAY, Logan 3b | 4 | 1 | 2 | 2 | 2 | 2 | 1 | 2 |
| ROBLES, Alex dh | 6 | 1 | 2 | 2 | 0 | 1 | 0 | 0 |
| SMITH, Ridge c | 4 | 1 | 3 | 3 | 1 | 1 | 11 | 2 |
| GLEASON, Dre 1b | 4 | 0 | 1 | 1 | 1 | 0 | 9 | 1 |
| COPELAND, Garrett 2b | 4 | 2 | 2 | 0 | 1 | 0 | 2 | 2 |
| BLACKBURN, Kyle rf | 4 | 2 | 2 | 0 | 0 | 1 | 1 | 0 |
| HAMILTON, Chase rf | 0 | 1 | 0 | 0 | 1 | 0 | 0 | 0 |
| SMITHSON, Clayton ss | 5 | 3 | 2 | 2 | 0 | 1 | 1 | 1 |
| HALL, Zach p | 0 | 0 | 0 | 0 | 0 | 0 | 0 | 2 |
| KEMMER, Kacy p | 0 | 0 | 0 | 0 | 0 | 0 | 0 | 0 |
| SPARKS, John p | 0 | 0 | 0 | 0 | 0 | 0 | 0 | 1 |
| WALTON, Zach p | 0 | 0 | 0 | 0 | 0 | 0 | 0 | 0 |
| LINDLEY, Hunter p | 0 | 0 | 0 | 0 | 0 | 0 | 0 | 0 |
| Totals | 40 | 15 | 15 | 13 | 9 | 11 | 27 | 11 |
BATTING:
2B: MASSONI, Patrick 1; GRAY, Logan 2; SMITH, Ridge 1; GLEASON, Dre 1; SMITHSON, Clayton 1
3B: SMITH, Ridge 1
BASERUNNING:
SB: MASSONI, Patrick 1; BREDLAU, Cayce 1; COPELAND, Garrett 1; SMITHSON, Clayton 1
FIELDING:
E: SMITH, Ridge 2