Clarksville, TN – Over the years there have been more than a few outstanding seasons put together by Austin Peay women's basketball players, but the 2014-15 season being authored by point guard Tiasha Gray may go down as the best all-around season of all time.
With one final regular-season game remaining against Southeast Missouri — and what is almost an assured spot in the Ohio Valley Conference tournament – it's not surprising the junior guard is leading the team in scoring, assists and steals, but also tops the team in rebounds.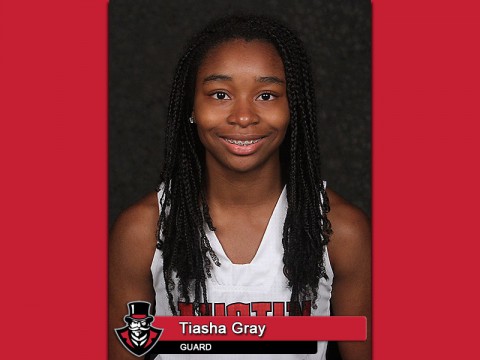 But that only tells half the story, with Gray putting up numbers not seen in 15 years of longer, and all-around numbers never put together by a Lady Gov in a single season.
With 583 points scored so far, Gray is only 17 points away from joining APSU Athletics Hall of Famer – and current assistant coach — Brooke Armistead as the only Lady Govs to score 600-or-more points in a single season and the first since the 2001-02 season.
Her current scoring average of 20.8 points per game would be only the sixth time in school history a player has average over 20 points per game, tie for the third highest single-season point average and the first since Armistead averaged 22.2 points per game in 2001-02.
Gray has also put together seven 30-point games this year, a standard that even Armistead can't match, with her best being five 30-point efforts in 2000-01.
Overall she has scored in double figures in 26 of 28 games, with her two misses being games of seven and eight points.
As for her rebounding, Gray is averaging 6.2 rebounds – with 173 total rebounds — 14 more that forward Beth Rates and with that the opportunity of becoming the first true guard only player to lead Austin Peay in rebounding.
But as impressive as her scoring and rebounds is, you have to go back 25 years to see anyone come close to putting together the overall totals Gray has in assists and steals.
Gray has handed out 162 assists this season, the third highest total in a single season by a Lady Gov, while her 103 steals is a school record – shattering the old mark of 85 set by Tracie Mason back in the 1989-90 campaign.
Not since the 1999-00 season has a Austin Peay player approached these totals in both assists and steals, with Kelly Chavez recording 161 assists and 77 steals that year.
Gray's numbers aren't just some of the best in school history, but among some of the best in the OVC and NCAA this year.
In NCAA Division I women's basketball, Gray is currently 19th overall in the country in scoring average, 20th in assists per game and second in steals per game. She is also only one of 15 players in Division I to record a triple-double this season.
In the OVC, Gray is joined by SIU Edwardsville's Tierny Austin as the only two players to be in the top 20 in the conference overall standings in scoring, rebounding, assists and steals – with Gray leading in three of the four categories.
No matter how you break it down, Gray has had a season for the ages for Austin Peay and one that will be remembered for a long, long time.