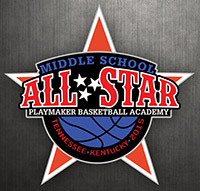 Clarksville, TN – "One, two, three, hard work!" Those words were shouted from center court in the Emmanuel Family Life Center Sunday afternoon by Terry Boykin, founder of the Playmaker Basketball Academy, and 24 huddled middle school basketball players after an intense, fast paced scrimmage.
The players were 24 of the 48 total middle school boys and girls basketball players selected from six different counties in Tennessee and Kentucky, to train and compete in the first annual Playmaker Basketball Academy TN/KY Middle School All-Star Game.
With help from people like former Lipscomb Lady Bison, Valerie Bronson, Boykin dreamed up and put together the event to not only showcase the best middle school student athletes in the area, but also give them information and experience to succeed at the high school and collegiate levels.
"I think sometimes when you work, you don't know exactly what your working for," Boykin said. "To get this experience gives them a real, an early look at-'hey, this is what it feels like.' It gives you a little more incentive to continue to work a little harder."
Boykin chose the 24 girls and 24 boys for the event based on personal scouting as well as information and recommendations provided by coaches.
"We have seen a lot of these players that have come from some of our camps. I see a lot of the kids play though out the year," Boykin said. "I made some trips to Kentucky in different places, different counties, just to watch some games and then just some of the coaches from different leagues around. It was pretty much a consensus about the players that were some of the better players in the surrounding counties."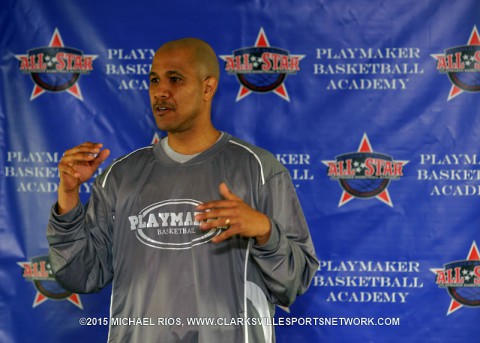 The 48 players were divided into blue and red teams. They will play the all-star game Saturday, February 28th at Clarksville High School. The girls will play first at 2:00pm followed by the boys at 3:30pm. Tickets are available for $5.00 before the game, $6.00 at the door.
This past Sunday, a media day was held at the Emmanuel Family Life Center. In addition to scrimmaging with referees and music provided by a DJ, the players and parents were able to ask questions about what to expect in high school and college from Fort Campbell Lady Falcons head coach Marcus Payne. Payne has worked as an assistant basketball coach at Austin Peay, Tennessee State and Southeast Missouri.
The players also gained college media day experience by taking photos and answering questions in a press conference setting.
"My favorite part is playing different people from around the states," said Jacob Naylor, an eighth grade guard from Russellville.
"The media day is really nice, how he has people coming in and talking to us," said Kimia Carter from Kenwood Middle School.
"Its a big experience. If college is anything like this I really want to go," said Montre Boddie, point guard from West Creek Middle School.
In addition to being "excited, honored and blessed" at being chosen as an all-star, the players are focused on winning as well. They all agree the key to winning the game will be communication and teamwork.
"I think we need to play as a team and work together. Getting to know each other better makes you play better together," said Scotti Harrison, point guard from Richview Middle School.
Boykin said it is overwhelming to see the commitment from the players, parents and everyone. When asked what he hopes the players will take away from the event, he said, "To understand that it is important what you do on and off the floor. Not just as a student, but what you do in social media, your character and also the things that you need to do to continue to develop to be a good basketball player."
Boykin also wants them to have fun. "They have separated themselves as all-stars. Let them enjoy that moment and just watching them enjoy it would be good enough for me."
For more information on the Playmaker Basketball Academy, visit www.playmakerbasketball.net
Middle School All-Star Rosters
Boys Blue Team
Sydney Johnson – Todd Co.
Caden McKinnis – Auburn
Devyn Bender – Richview
Kody Pardue – Dickson
Amonti Moss – Kenwood
Jarius Satterfield – Montgomery Central
Branden Hurt – Kenwood
Jaylen Negron – West Creek
Kyler Hall – Rossview
Jacob Naylor – Russellville
Vincent Chan – Clarksville Christian
Elijah Kemp – Russellville
Boys Red Team
Third Bell – Todd Co.
Tommy Krohn – Olmstead
Max Leineweber – Rossview
Darian Burns – Dickson
Jerimiah Ramey – Northeast
Alec Kegler – Northeast
Joshua Watch – Richview
Fred Orr – Clarksville Academy
Shaun Robinson – Northeast
Freedom Dyer – Richview
Kelby Epley – Auburn
Montre Boddie – West Creek
Girls Blue Team
Abby Lindsey – Olmstead
Bailey Hooper – Houston Co.
Madison Hayes – Charlotte
Jackie Harris – Rossview
DeShala LeBlanc – Russellville
Ryann Roberts – Dickson
Eryn Nelson – Cheatham
Blayke Bingham – Olmstead
Rachel McCutcheon -William James
Lucy Chilcutt – Richview
Sarah Hale – Auburn
Scotti Harrison – Richview
Girls Red Team
Abbi Douglas – Cheatham
Charlton Kelley – Clarksville Academy
Taylor Garrett – Sycamore
Kimia Carter – Kenwood
Macy Rippy – Rossview
Ashley Roberts – Clarksville Academy
Emmy Nelson – Cheatham
Raegan Hohl – Charlotte
Josie Neblett – William James
Carlie Alvis – Olmstead
Courtney Baggett – Houston Co.
Sidney Brake – Houston Co.