Austin Peay Sports Information

Nashville, TN – So close.
That's all you can say about Austin Peay State University women's basketball team's nail-biting, back-and-forth, 72-69 opening-round loss to SIU Edwardsville in the 2015 Ohio Valley Conference Tournament at Municipal Auditorium.
The Lady Govs jumped out to an early lead and battled 40 minutes in a game and a season that came down to the final possession.
Austin Peay (10-20) jumped out to a 14-4 lead in the opening moments behind a trio of three-pointers from senior
Kristen Stainback
.
Stainback's first bucket of the day gave her 1,000 points in her Austin Peay career – the 18th Lady Gov to reach that milestone – and set the tone for an Austin Peay squad that shot 48.4 percent (15-of-31) in the first half.
"It was great that we came out with the energy we had," said head coach Carrie Daniels. "It was great to see Kristen get going and you could see the team's eyes light up as the spark ignited them. It is a 40-minute game though, and there are ebbs and flows throughout."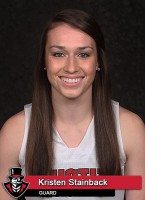 The Lady Govs would lead for nearly the entire half, but SIU Edwardsville (19-11) chipped away at the advantage, closing the half on a 16-8 run over the final 5:11, buoyed by a 7-of-8 showing at the free-throw line, that briefly gave the Cougars the lead before a Stainback jumper in the final seconds sent the game into halftime tied at 37.
It was the Cougars who started the second half on a run, taking a six-point lead on a lay-up by Tierny Austin at 17:46.
After an Austin Peay timeout, sophomore April Rivers hit a runner and the lead would never be greater than five points for either side again.
Austin Peay was forced to spend much of the second half battling without junior Tiasha Gray. The OVC Defensive Player of the Year was whistled for three fouls in the first half and picked up her fourth at the 12:56 mark in the second right after nailing a go-ahead three-pointer. By the time she re-entered the game with 5:13 left, SIU Edwardsville had taken a 63-58 lead.
The Lady Govs would not yield, swinging the momentum back in their favor on a two-possession stretch with under three minutes left that yielded a lay-up to freshman Brianne Alexander and another massive three-pointer from Gray to tie the game with two minutes to go.
Gray would put the Lady Govs ahead again with a pair of free-throws at 1:08, but Austin came right back down the floor for SIU Edwardsville, hitting a lay-up and converting the old-fashioned three-point play after a Stainback foul to put the Cougars up one.
A missed three by Stainback and two more free-throws by Shronda Butts – SIU Edwardsville's All-OVC guard who was held to 10 points on 2-of-15 shooting – put the Cougars up three with 16.6 seconds remaining.
The final possession was a wild one. Rivers rebounded a Gray miss, giving Austin Peay a chance to call timeout with 7.3 seconds remaining. On the ensuing inbounds, the ball was swung to Stainback in the corner and she swished a three – seconds after Butts fouled Jennifer Nwokocha away from the ball.
Nwokocha then missed both free-throws, with Butts getting the rebound and immediately turning the ball over to Alexander. With time running out, Alexander launched a desperation three – her first in an Austin Peay uniform – that hit the back iron and caromed away, allowing SIU Edwardsville to survive.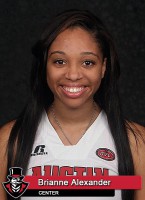 Stainback led the Lady Govs with 17 points (15 in the first half) and added seven rebounds in her final appearance in an Austin Peay uniform. Playing just 28 minutes due to foul trouble, Gray posted 16 points, eight assists and five rebounds in her first OVC Tournament appearance. Rivers and Nwokocha each chipped in with 10 points off the bench for Austin Peay.
Austin led all scorers with 23 points, 15 in the second half. Donshel Beck had 14 points and eight board before fouling out, leading an SIU Edwardsville rebounding effort that dominated the glass to a 45-33 advantage. Butts' 10 points made her the only other SIU Edwardsville athlete in double figures. The Cougars were helped by 18 offensive rebounds, which contributed to 18 second-chance points.
"It was a hard-fought game," Daniels said. "I think anyone who watched the game saw two teams that wanted the win, that put it all out there and fought extremely hard until that final buzzer sounded. It's a shame someone had to lose."
Box Score
SIU Edwardsville 73, Austin Peay 69
| | 1 | 2 | Total | Records |
| --- | --- | --- | --- | --- |
| Austin Peay | 37 | 32 | 69 | 10-20 |
| SIUE | 37 | 35 | 72 | 19-11 |
Austin Peay 69
##
Player
FGM-FGA
3FGM-3FGA
FTM-FTA
OFF-DEF
TOT
PF
TP
A
TO
BLK
STL
MIN
4
Stainback, Kristen
6-14
3-8
2-2
1-6
7
2
17
2
1
0
0
40
1
Gray, Tiasha
5-10
2-5
4-4
0-5
5
4
16
8
5
0
1
28
11
Alexander, Brianne
4-7
0-1
0-2
0-1
1
3
8
0
1
0
1
17
12
Rich, Madison
1-1
1-1
2-2
0-0
0
0
5
1
0
0
0
23
24
Rates, Beth
0-5
0-0
1-2
1-7
8
5
1
2
4
0
0
27
3
Rivers, April
3-8
1-4
3-3
1-4
5
4
10
1
0
0
0
27
21
Nwokocha, Jennifer
5-8
0-0
0-3
1-2
3
3
10
3
3
0
0
27
23
Gooch, Sydney
0-0
0-0
2-2
0-0
0
0
2
0
0
0
0
10
44
Scott, Jacey
0-0
0-0
0-0
0-0
0
0
0
0
0
0
0
1
0
TEAM
0-0
0-0
0-0
1-3
4
0
0
0
0
0
0
0
Totals
24-53
7-19
14-20
5-28
33
21
69
17
14
0
2
200
Team Total %
45.3%
36.8%
70.0%
Team summary:
FG
3FG
FT
First Half
15-31
4-12
3-4
48.39 %
33.33 %
75.00 %
Second Half
9-22
3-7
11-16
40.91 %
42.86 %
68.75 %
SIUE 72
##
Player
FGM-FGA
3FGM-3FGA
FTM-FTA
OFF-DEF
TOT
PF
TP
A
TO
BLK
STL
MIN
24
Austin, Tierny
8-16
2-3
5-6
6-2
8
4
23
2
2
0
1
37
Butts, Shronda
2-15
0-5
6-8
3-4
7
3
10
3
1
0
0
37
44
Adams, Gwen
2-5
1-2
4-6
0-3
3
4
9
1
2
0
0
23
11
Jones, Micah
3-7
0-0
2-2
3-4
7
4
8
1
2
2
1
25
1
Moore, CoCo
3-6
0-1
0-0
0-2
2
1
6
3
3
0
2
27
31
Beck, Donshel
5-7
0-0
4-8
2-6
8
5
14
4
1
0
2
28
33
Smith, Sidney
1-4
0-3
0-0
0-1
1
1
2
0
1
0
0
13
23
Chappelle, Alexis
0-0
0-0
0-0
0-1
1
1
0
0
1
0
0
6
55
Warford, Raven
0-1
0-0
0-0
1-0
1
0
0
0
0
0
0
3
42
Decker, Allyssa
0-0
0-0
0-0
0-1
1
0
0
0
0
0
0
1
TM
TEAM
0-0
0-0
0-0
3-3
6
0
0
0
0
0
0
0
Totals
24-61
3-14
21-30
18-27
45
23
72
14
13
2
6
200
Team Total %
39.3%
21.4%
70.0%
Team summary:
FG
3FG
FT
First Half
11-26
1-5
14-19
42.31 %
20.00 %
73.68 %
Second Half
13-35
2-9
7-11
37.14 %
22.22 %
63.64 %