Austin Peay at Southeast Missouri
Friday-Sunday, April 3rd-5th, 2015
Cape Girardeau, MO | Capaha Field

Cape Girardeau, MO – Riding a four-game win streak, Austin Peay's baseball team continues its pivotal three-week stretch of Ohio Valley Conference play when it meets Southeast Missouri in a three-game series, beginning with a 6:30pm, Friday contest at Capaha Field in Cape Girardeau, Missouri.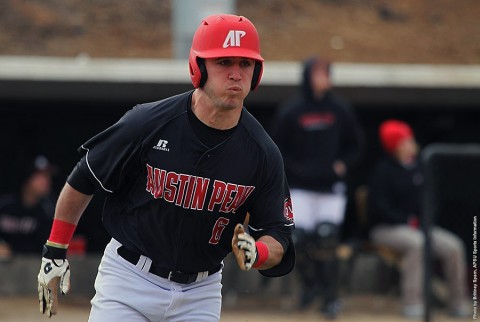 The series is scheduled to continue with a 2:00pm, Saturday game before a concluding 1:00pm, Sunday affair.
What a difference a week has made for the Govs. They entered last weekend's series against Tennessee Tech following a 1-4 record during a five-game road trip, averaging just 2.4 runs per game.
However, Austin Peay's offense posted 30 runs in a three-game sweep of the Golden Eagles then continued their run with 11 runs in a midweek shutout of Middle Tennessee, Tuesday.
Austin Peay enters its fifth OVC weekend one game behind a league-leading group that includes Southeast Missouri. The Govs .667 win percentage (8-4 OVC record) is just behind that lead group's .750 win percentage (9-3 record for SEMO). This weekend is the first of consecutive weekend's against a league-leading team as the Govs will host Belmont (6-2 mark) next weekend.
Defending OVC regular-season champion Southeast Missouri has won each of its four OVC series this season, including last weekend's set against SIU Edwardsville. The Redhawks now have won 12 consecutive OVC series dating back to last season.
First Hacks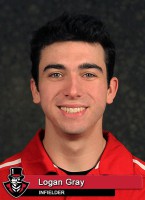 The Govs offense enters the weekend as one of the nation's top doubles-producing team, averaging 2.80 doubles per game (1st in Division I) and are among Division I's Top 50 in average (9th, .309), slugging percentage (14th, .464), on-base percentage (23rd, .397) and stolen bases per game (38th, 1.56).
Third baseman Logan Gray enters the weekend as the Govs top hitter, his .348 batting average ranking 19th among OVC hitters. Second baseman Garrett Copeland is batting .422 in OVC play this season, 4th among league hitters, and is second among APSU hitters with a .344 batting average this season.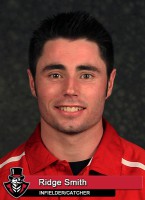 It was an awful March for catcher Ridge Smith, who batted just .214 during the month, yet he ended the month with a 5-game hit streak (.333, 6-for-18) that he carries into April. First baseman Dre Gleason enjoyed March to the tune of a .327 batting average and 5 multi-hit outings, including Tuesday's 3-for-4 effort at MTSU.
Left fielder Cayce Bredlau also ended March on a high note, batting .400 ((6-for-15) during the Tennessee Tech series to bring his average back above .300 (.309 at month's end). Center fielder Patrick Massoni wrapped up March with a 3-game hit streak as well, batting .429 (6-for-14) with 6 RBI.
Josh Wilson has found a home in right field where he has started the last 5 games and has posted a .542 on-base percentage (5 BBs, 2 HBPs) and 4 RBI. Shortstop Clayton Smithson missed last week's four games due to an injury with Imani Willis and Alex Robles filling in during the week; no timetable for Smithson's return has been announced.
Speaking of Robles, he ended March with a .417 batting average and .611 on-base percentage in his last four starts.
Toeing The Rubber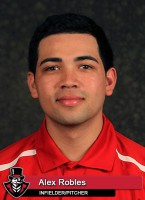 Righty Alex Robles will make his fourth straight start as the Govs No. 1 this weekend; he is 1-2 with a 3.86 ERA in his 3 previous OVC starts, striking out 21 batters in 25.2 innings and holding opponents to a .186 batting average.
Right-hander Caleb Powell also is penciled in for a weekend start after improving to 4-0 this season with a sweep-securing win against Tennessee Tech last weekend.
Left-hander Zach Hall will pitch Game 3 of the series, 9 days removed from his last start – a midweek outing at Southern Illinois that saw him depart in the first inning. A.J. Gaura is one of five Govs pitchers to record a save this season and has a team best four saves, two in OVC play.
| | |
| --- | --- |
| Date | Austin Peay's Pitcher |
| Start | Opponent's Pitcher |
| Fri. | RHP Alex Robles (#5, So., 1-2, 3.19 ERA) |
| 6:30 p.m. | LHP Alex Winkelman (#21, Jr., 0-2, 4.29 ERA) |
| Sat. | RHP Caleb Powell (#21, So., 4-0, 5.18 ERA) |
| 2 p.m. | RHP Travis Hayes (#18, Sr., 4-3, 4.62 ERA) |
| Sun. | LHP Zach Hall (#10, RSr., 1-4, 6.93 ERA) |
| 1 p.m. | LHP Joe Lucchesi (#44, Jr., 4-0, 3.82 ERA) |
| CLOSER | RHP A.J. Gaura (#36, RSr., 1-0, 4 SV, 2.40 ERA) |
| | RHP Matthew Wade (#33, RFr., 1-0, 2 SV, 1.42 ERA) |
Broadcast Information
Weekend Radio • Governors Sports Network
Play-by-Play: Van Stokes
Governors on the Web
Live Statistics: www.PeayStats.com
Twitter: @APSUBaseball
Digital Audio • Govs Digital Passport
Audio for all APSU Baseball contests will be available free online at www.LetsGoPeay.com/watch