Austin Peay  at UT Martin
Friday-Sunday, May 1st-3rd, 2015
Martin, TN | Skyhawk Field

Clarksville, TN – Austin Peay's baseball team gladly turns the calendar and will look to begin a May run in search of a berth in the Ohio Valley Conference tournament.

The Govs begin the month when they travel to UT Martin for a three-game league set.

The series gets underway with a 6:00pm, Friday contest followed by a 6:00pm, Saturday matchup. A 1:00pm, Sunday contest will wrap up the weekend series.

April was awful for the Govs as they posted just a 7-11 record during the month and a 5-7 league mark. Yet they enter May alone in fourth place and remain in control of their own destiny with two OVC weekends remaining. The Govs can still see a second-place finish ahead of them, but the danger of falling out of the top six still looms large as well.

Austin Peay will have to be mindful of an upset-minded UT Martin squad. The Skyhawks have claimed a victory in five of their seven OVC series and won a series from Belmont earlier this season.

UTM proved it could be dangerous with a 6-2 victory against then No. 15 Missouri State, April 17th, and followed that up by three close contests while suffering a sweep against second-place SIU Edwardsville, last weekend.
Magic Number Talk
Entering its next-to-last weekend of OVC play, Austin Peay cannot clinch a spot in the OVC Baseball Championship. The Govs magic number – any combination of APSU wins and opponent losses – stands at seven against seventh-place Jacksonville State. That number decreases to six against both eighth-place Murray State and ninth-place Eastern Kentucky.
Among those four teams, Jacksonville State has the easiest remaining schedule followed by Austin Peay. Eastern Kentucky is next followed by Murray State which has the second-toughest schedule remaining in the league.
In addition, the Govs are the only team among those four that has just six games remaining this season. The other three teams have nine games left.
First Hacks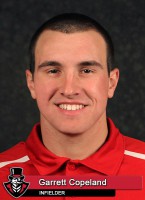 The Govs offense enters the weekend as one of the nation's top doubles-producing teams, averaging 2.49 doubles per game (6th in Division I) and are among Division I's Top 50 in average (10th, .310), home runs per game (14th, 1.05) slugging percentage (6th, .480), on-base percentage (9th, .405) and stolen bases per game (32nd, 1.60).
Second baseman Garrett Copeland has reached base safely in 24 consecutive games entering this weekend and posted a team-best .495 on-base percentage during April's 18 games. Designated hitter Alex Robles owns a 10-game hit streak entering the weekend and went 5-for-8 in two midweek outings against Western Kentucky.
First baseman Dre Gleason brings a career-best 9 game hit streak into the weekend, a streak that includes 7 multi-hit outings. Catcher Ridge Smith has batted leadoff in 10 of the last 13 games and batted an impressive .415 in that spot.

Left fielder Cayce Bredlau posted his first career 4-hit outing at Western Kentucky, Tuesday, as part of a month-ending three-game hit streak during which he has posted 7 RBI. Center fielder Craig Massoni will look for a fresh start in May after ending April without a hit in his last four games (13 AB).

Right fielder Josh Wilson had a hit in 15 of April's 18 games, batting .328 during the month. Catcher T.J. Marik platoons with Smith during the weekend, starting three of the last five games behind the plate.

Shortstop will remain in flux this weekend at UT Martin with Imani Willis going 3-for-9 and starting both WKU contests; however, Clayton Smithson is probable for a return to the position this weekend.

Third baseman Logan Gray was injured during the Morehead State series (hand) and is out indefinitely; the Govs turned to Ridge Smith and Alex Robles to handle third base duties following the injury.
Toeing The Rubber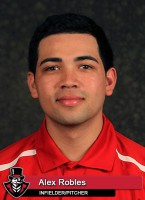 Righty Alex Robles will make his 19th straight OVC start as the Govs No. 1 this weekend. Robles is the OVC's ERA leader (3.11) for a third straight weekend. Robles posted his fourth consecutive win last weekend at Eastern Kentucky; he owns a 10-3 career league record and 3.34 ERA.
Left-hander Zach Hall remains in the No. 2 spot for his 5th OVC start this season. He finished April with an 0-2 record and 10.67 ERA in four starts. Right-hander Jared Carkuff will maintain his No. 3 spot in the rotation for a 3rd consecutive week. He is 2-2 with a 4.82 ERA in OVC action this season.
A.J. Gaura is one of five Govs pitchers to record a save this season and has a team-best six saves, four in OVC play.
| | |
| --- | --- |
| Date | Austin Peay's Pitcher |
| Start | Opponent's Pitcher |
| Fri. | RHP Alex Robles (#5, So., 5-2, 3.11 ERA) |
| 6 p.m. | LHP Matt Poteete (#26, Fr., 2-2, 4.50 ERA) |
| Sat. | LHP Zach Hall (#10, RSr., 1-6, 8.31 ERA) |
| 2 p.m. | LHP Carter Smith (#31, Sr., 2-8, 4.37 ERA) |
| Sun. | RHP Jared Carkuff (#16, Jr., 4-4, 3.90 ERA) |
| 1 p.m. | TBA |
| CLOSER | RHP A.J. Gaura (#36, RSr., 1-1, 6 SV, 3.21 ERA) |
| | RRHP Patrick Bernard (#34, Jr., 1-2, 6 SV, 6.18 ERA) |
On Deck – SIU Edwardsville
Austin Peay will take the upcoming week off for finals before wrapping up the OVC portion of its schedule with a three-game set against SIUE at Raymond C. Hand Park. That series is scheduled to start with a 6:00pm, Friday contest and will conclude with the Govs annual "Senior Day" festivities on Mothers Day, Sunday.
Broadcast Information
Weekend Radio • Governors Sports Network
Play-by-Play: Van Stokes
Governors on the Web
Live Statistics: www.PeayStats.com
Twitter: @APSUBasebal
Digital Audio • Govs Digital Passport
Audio for all APSU Baseball contests will be available free online at www.LetsGoPeay.com/watch
Sections
Sports
Topics
A.J. Gaura, Alex Robles, APSU, APSU Athletics, APSU Baseball, APSU Men's Baseball, APSU Sports, Austin Peay State University, Belmont, Cayce Bredlau, Clarksville TN, Clayton Smithson, Craig Massoni, Dre Gleason, Eastern Kentucky, Garrett Copeland, Governors, Governors Sports Network, Govs, Imani Willis, Jacksonville State, Jared Carkuff, Josh Wilson, Logan Gray, Martin TN, Missouri State, Morehead State, Mothers Day, Murray State, Ohio Valley Conference, OVC, OVC Championship, Raymond C. Hand Field, Ridge Smith, Senior Day, SIU Edwardsville, SIUE, Skyhawk Field, Skyhawks, T.J. Marik, UT-Martin, UTM, Van Stokes, Western Kentucky, WKU, Zach Hall