Clarksville, TN – Today, May 4th, 2015 the Clarksville Police Department welcomes Robert Steinmetz, Ronald Cox, Shandie Owenby, Brandon Diez, Brittany Hubbard, Matthew Roederer, Tryesha Clark, Andrew Henry, Steven Deering, Joshua Clegg, Kevin Westover, Nickolas Nemeth and Joshua Spain.
The New Officers and their families, along with Chief Al Ansley, Judge Charles W. Smith, Councilman Geno Grubbs, members of the Clarksville Police Academy Alumni (CPAA), and other City Officials, gathered at the Clarksville Police Department's Range Training Room, while they were sworn in by Clarksville Mayor Kim McMillan.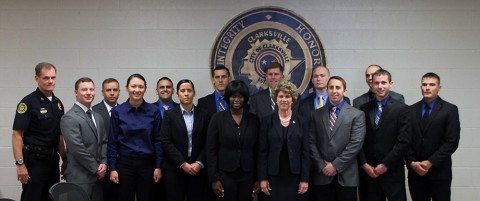 Officer's Agenda
The Officers will attend the Tennessee Law Enforcement Training Academy (TLETA) for 10 weeks from May 24th – July 31st.
The Officers will train with a CPD Field Training Officer for 14 weeks.
Finally, the Officer will be prepared to patrol the streets of Clarksville.
It is our pleasure to introduce these Officers to our community.