Austin Peay Sports Information

Clarksville, TN – Starting pitcher Jared Carkuff gave Austin Peay State University's baseball team time and opportunity and the offense pulled through late in a 9-5 Ohio Valley Conference victory against SIU Edwardsville, Saturday afternoon at Raymond C. Hand Park.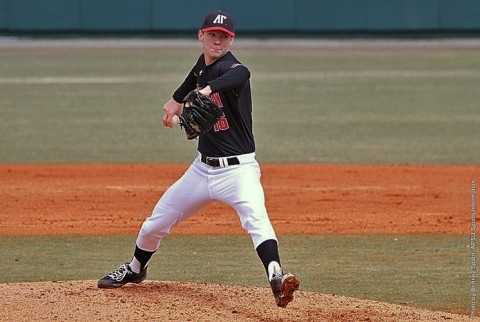 Carkuff got off to a quick start, retiring the first six batters he faced. However, he ran into trouble in the bottom part of the SIUE order.
He opened the third by allowing catcher Parker Guinn to reach on an infield single then saw third baseman Jacob Stewart hit a home run to put the Govs starter in a 2-0 hole.
Carkuff rallied and would again retire the top six of the SIUE lineup in order, three to end the third and then retiring the side in order in the fourth. But again it was Guinn who broke up Carkuff's string with a leadoff triple in the fifth. SIUE would extend its lead to 3-0 with Stewart's sacrifice fly.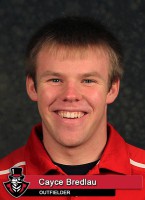 Austin Peay (24-24, 15-14 OVC) could not solve SIUE starter Jarrett Bednar through the first five innings. The Govs had just three base hits in those five scoreless innings, one each in the first, fourth and fifth innings.
The Govs broke through in the sixth as left fielder Cayce Bredlau reached on a one-out bunt single. Right fielder Josh Wilson then hit a two-out, two-run home run for Austin Peay's first runs. First baseman Alex Robles then reached on an infield single, driving Bednar from the mound.
SIUE reliever Ryan Agnitsch got off to a shaky start, walking the first two batters he faced to load the bases. Pinch hitter Patrick Massoni kept the two-out rally alive with a two-run single to left field, giving APSU a 4-3 lead. Shortstop Clayton Smithson and third baseman Ridge Smith followed with RBI singles, extending the lead to 6-3.
Carkuff held the Govs advantage by retiring the Cougars in order in the seventh. Austin Peay then added three runs to its lead in the bottom of the inning. Second baseman Garrett Copeland led off the inning with a single and the Govs moved him to third with two outs where he scored on a passed ball. Center fielder Chase Hamilton was hit by a pitch and scored when designated hitter Dre Gleason hit a two-run home run, giving APSU a 9-3 lead.
Carkuff would return for the eighth and fatigue appeared to set in as he went into the eighth inning for the third time this season. He would allow back-to-back base hits to start the frame, second baseman Chase Green's double driving in left fielder Nick Lombardo. Green would later score on a double play and Carkuff would finish the eighth for the first time this season.
Carkuff (5-5) leveled his record thanks to his eight-inning outing, allowing five runs (four earned) on six hits and two walks. He struck out four batters in the outing. Reliever Levi Primasing faced four batters in a scoreless ninth inning.
After being held to four hits in the opening five innings, Austin Peay finished with 11 hits in the contest. Smith and Copeland each had two hits. Wilson, Gleason and Massoni finished with two RBI each.
The SIUE trio of Guinn, Stewart and center fielder Denton Reed – the 7-8-9 hitters – combined four four hits and three RBI as the SIUE offense finished with five runs and six hits.
Agnitsch (2-3) was tagged for the loss after allowing six runs on five hits and two walks over the final 2.1 innings. Bednar was left with no decision despite holding APSU to three runs on six hits and no walks over the first 5.2 innings, striking out six batters.
Austin Peay closes the OVC portion of its schedule with a 1:00pm, Sunday rubber contest against SIUE.
Box Score
SIUE (17-26 / 16-10) -vs- Austin Peay (24-24 / 15-14)
| | 1 | 2 | 3 | 4 | 5 | 6 | 7 | 8 | 9 | R | H | E |
| --- | --- | --- | --- | --- | --- | --- | --- | --- | --- | --- | --- | --- |
| SIU Edwardsville | 0 | 0 | 2 | 0 | 1 | 0 | 0 | 2 | 0 | 5 | 6 | 1 |
| Austin Peay | 0 | 0 | 0 | 0 | 0 | 6 | 3 | 0 | X | 9 | 11 | 1 |
W: CARKUFF, Jared (5-5)    L: AGNITSCH, Ryan (2-3)
SIU Edwardsville 5
| | Player | AB | R | H | RBI | BB | SO | LOB |
| --- | --- | --- | --- | --- | --- | --- | --- | --- |
| lf | LOMBARDO, Nick | 3 | 1 | 1 | 0 | 1 | 1 | 0 |
| 2b | GREEN, Chase | 4 | 1 | 1 | 1 | 0 | 1 | 1 |
| dh | WRIGHT, Keaton | 4 | 0 | 0 | 0 | 0 | 0 | 1 |
| 1b | SAIKAL, Alec | 4 | 0 | 0 | 0 | 0 | 0 | 0 |
| ss | GEISSINGER, Skyler | 3 | 0 | 0 | 0 | 1 | 1 | 0 |
| rf | WOODCOCK, Dustin | 4 | 0 | 0 | 0 | 0 | 0 | 1 |
| c | GUINN, Parker | 3 | 2 | 2 | 0 | 1 | 0 | 0 |
| 3b | STEWART, Jacob | 3 | 1 | 1 | 3 | 0 | 1 | 0 |
| cf | REED, Denton | 4 | 0 | 1 | 0 | 0 | 1 | 1 |
| p | BEDNAR, Jarrett | 0 | 0 | 0 | 0 | 0 | 0 | 0 |
| p | AGNITSCH, Ryan | 0 | 0 | 0 | 0 | 0 | 0 | 0 |
| | Totals | 32 | 5 | 6 | 4 | 3 | 5 | 4 |
Batting
2B:GREEN, Chase (1); REED, Denton (1)
3B:GUINN, Parker (1)
HR:STEWART, Jacob (1)
SF:STEWART, Jacob (1)
Baserunning
SB:LOMBARDO, Nick (1)
Fielding
E:BEDNAR, Jarrett (1)
Austin Peay 9
| | Player | AB | R | H | RBI | BB | SO | LOB |
| --- | --- | --- | --- | --- | --- | --- | --- | --- |
| 3b/c | SMITH, Ridge | 5 | 0 | 2 | 1 | 0 | 0 | 0 |
| lf | BREDLAU, Cayce | 5 | 1 | 1 | 0 | 0 | 2 | 2 |
| 2b/3b | COPELAND, Garrett | 4 | 1 | 2 | 0 | 0 | 2 | 0 |
| rf | WILSON, Josh | 3 | 1 | 1 | 2 | 0 | 0 | 1 |
| 1b | ROBLES, Alex | 4 | 1 | 1 | 0 | 0 | 0 | 1 |
| cf | HAMILTON, Chase | 2 | 2 | 0 | 0 | 1 | 0 | 0 |
| dh | GLEASON, Dre | 3 | 2 | 1 | 2 | 1 | 1 | 0 |
| c | MARIK, T.J. | 2 | 0 | 1 | 0 | 0 | 1 | 0 |
| ph | MASSONI, Patrick | 1 | 1 | 1 | 2 | 0 | 0 | 0 |
| 2b | WILLIS, Imani | 1 | 0 | 0 | 0 | 0 | 0 | 0 |
| ss | SMITHSON, Clayton | 4 | 0 | 1 | 1 | 0 | 0 | 1 |
| p | CARKUFF, Jared | 0 | 0 | 0 | 0 | 0 | 0 | 0 |
| p | PRIMASING, Levi | 0 | 0 | 0 | 0 | 0 | 0 | 0 |
| | Totals | 34 | 9 | 11 | 8 | 2 | 6 | 5 |
Batting
2B:SMITH, Ridge (1); COPELAND, Garrett (1)
HR:WILSON, Josh (1); GLEASON, Dre (1)
SH:WILSON, Josh (1)
Baserunning
HBP:HAMILTON, Chase (1)
Fielding
E:CARKUFF, Jared (1)