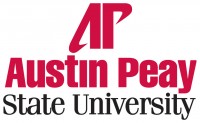 Clarksville, TN – If you're looking for someone to manage your investments, the Tennessee Valley Authority would probably recommend you pick a graduate of the Austin Peay State University College of Business.
Every year, the government owned utility hosts its Investment Challenge, which has student investment teams from 25 universities competing to manage and earn the highest return for TVA funds. During the competition, students develop long-term investment strategies, place trades and provide performance reports to TVA.
The results are now in for this year's challenge, and APSU's team dominated the competition with its student-managed portfolio outperforming the benchmark index by more than 65 percent.
The APSU team, consisting of students enrolled in the college's Selecting Equity Investments course, earned a 22.67 percent return for TVA, outperforming the Standard and Poor's average of 13.69 percent.
This isn't the first time an APSU team has won the competition. In 2012, Austin Peay students managed a portfolio that also ranked first in annual performance. The APSU College of Business stock portfolio is now worth more than $650,000.
Dr. Michael Phillips, APSU professor of business, credits the outstanding performance to "the hard work, sound research, and excellent portfolio choices put forth by the students involved in the Selecting Equity Investments course since the inception of the competition in 1998."
TVA created the Investment Challenge in 1998 to promote economic development and to strengthen the educational infrastructure located in its service area.
Specifically, TVA provided students with real-world, hands on experience in managing real stock portfolios under the guidance of a faculty member.
To expand on this success, the APSU College of Business is in the process of developing a trading room and innovation rooms in the Kimbrough Building for these students. The rooms will feature computer stations and terminals to provide students studying finance, marketing and management with business innovation tools that will enhance and extend their business education.
The University has already received a lead gift for this project, and it is still seeking donors to help provide this space to APSU business students.
For information on the project, contact Susan Wilson, APSU director of major gifts, at .
For more information on the APSU investment team, contact Phillips at .