Written by Colby Wilson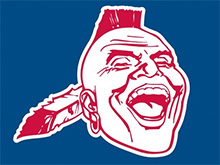 Clarksville, TN – As throw-ins go, Cameron Maybin has been pretty good so far.
For all the talk about pitching wunderkind Matt Wisler – and that talk looks justified in the very early returns – Maybin was a distant third on most people's list for 'most important player acquired in the Craig Kimbrel deal', behind Carlos Quentin, and may have mattered less to some than the acquisition of a competitive balance draft choice.
Yet Cameron Maybin has been the outfield presence the Braves have sorely needed in 2015, quickly becoming an every-day fixture in centerfield and playing exemplary defense as such to offset his sometimes-streaky offense.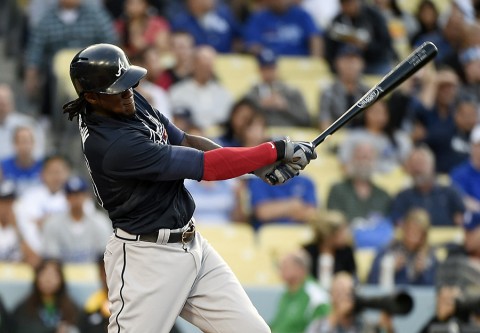 After overtaking Eric Young Jr. for the starting job (remember when THAT was a platoon idea?), he's really taken off, slashing .307/.390/.432 in May alone and hitting line drives one out of every three times he put the ball in play.
He's a young guy – he just turned 28 in April. Yet Atlanta is his fourth organization in nine years of pro ball after making his debut as a 20-year old with the Tigers back in 2007. Why would a guy with so much talent keep getting moved around?
Well, Maybin was the 10th overall pick in a 2005 draft that gave us Alex Gordon, Ryan Braun, Ryan Zimmerman, Jacoby Ellsbury, Troy Tulowitzki and Andrew McCutcheon with (drumroll, please) Justin Upton going number one overall; in fact, Maybin was drafted one spot ahead of McCutcheon.
He rocketed through the minors, needing scarcely more than a full year of minor-league ball before he was called up to Detroit after six games with Double-A Erie. In 24 big-league games as a 20-year old, he hit .143.
That offseason, he was dealt to Florida (now Miami) as part of the package – some would say as the centerpiece – for Miguel Cabrera. So either Detroit was very un-enamored with his 24 AB's before he was old enough to drink, or the Marlins saw enough in him to trade away a guy coming off four straight All-Star appearances (and destined for a great many more, as it turns out). For the sake of argument, let's bet on option B in this scenario.
His time with the Marlins was fraught with… nothing, really? In two of his three seasons, he was the Opening Day starter only to be sent down to Triple-A before being a late-season call-up. His stock fell far enough to be dealt to the Padres after 2010 for Ryan Webb and Edward Mujica.
His stint in San Diego was a mixed bag – he was the every-day centerfielder for two seasons, including a 40-steal campaign in 2011 – but played just 109 games in 2013 and 2014 combined with knee and wrist injuries. He also lost 25 games due to amphetamine usage last season. He also played Gold Glove-caliber defense. He's also hit better than his current .266 pace precisely once in his injury-riddled, maddeningly-inconsistent career. He's also finally in a situation where he has something around him in the batting order (Jace Peterson in front, Freddie Freeman behind) to offer some protection.
So here's a talented, oft-injured, possibly not-quite-as-good as advertised player in the ninth year of his career. Stardom is probably out of the question, but being a daily contributor and veteran presence on a young team? That's doable. With no other options in sight, the Braves have to hope he can keep it up if they want to remain at this .500 pace.
What to Read
One of my favorite players ever retired last week, as Rafael Furcal hung it up due to hamstring injuries. He was never a star, but did have some skills (speed and arm-strength, namely) that were occasionally other-worldly. Watching Furcal field a grounder at short and set himself to fire – when he didn't always have any idea where the ball was headed – was one of baseball's most secretly exciting moments.
I'll miss the dude; you can read something of a eulogy for his career here. Bonus points because the article also mentions that Quentin, who the Braves DFA'd after his acquisition from San Diego and led him to retire.
Stat o' the Week
Hey, you know how everybody's been bagging on Julio Teheran for the last month or so (including his own manager)? Well, you know who had the worst BABIP allowed in May? Julio Teheran! I'm sure there's no correlation.
If you only catch one game of the Pirates series, make it…
The Braves finally return home! No more staying up through all hours of the night to see the Clayton Kershaw's of the world wreak havoc. The return to the Ted should be another #FoltyFriday, which is always worth a look.
Complementary Old-Timey Baseball Quote
"Style was Joe DiMaggio drifting back after a fly ball, but duende was DiMaggio banning Peter Lawford from Marilyn Monroe's funeral." – longtime Boston Globe columnist George Frazier
Best Performance by a former Brave last week
Brian McCann hit .412 with four home runs and eight RBI last week. Evan Gattis hit .417 with a couple of homers of his own. In a related story, the Braves two catchers combined for three hits and two RBI last week.