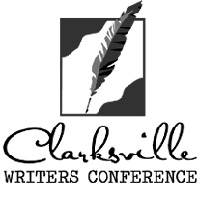 Clarksville, TN – Having trouble getting your novel finished? The speakers at the Clarksville Writers' Conference 2015 had some of the answers you need.
During the first session on Thursday morning, Book Architecture advocate Stuart Horwitz lectured on the three drafts of your novel. Describing the "pantsers" and the "outliners" as two different types of writers who approach the novel in opposite ways, he then blended the two methods to show how each is essential for the final product.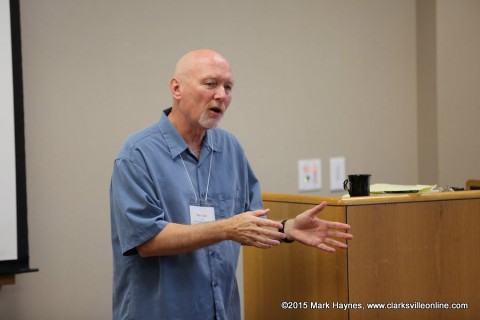 Some people just zoom through the manuscript without using a formal outline; others plan everything out in advance. Horowitz showed how J. K. Rowling kept herself on track with her system of chapter blocks. He advised writers to use three drafts of the novel to polish the finish product.
Horwitz's first book is Blueprint Your Bestseller: Organize and Revise Any Manuscript with the Book Architecture Method, named one of the best books on writing in 2013 by The Writer (magazine). His second book, Book Architecture: How to Plot and Outline Without Using a Formula, will be out this year.
Rod Davis, author of South, America, Corina's Way, and American Voudou: Journey into a Hidden World, spoke on "Where'd You Come From? Creating Characters Out of Thin Air in Your Own Head." He gave various methods for creating characters through real life, imagination, composites, etc. One audience member described getting to know his own characters through interviewing them just like a journalist does—and actually speaking their voices out loud.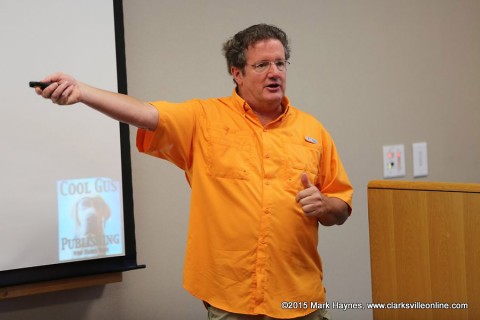 Bob Mayer, author of scores of books like Atlantis, Area 51, Nightstalkers, Psychic Warrior, the Green Beret Series and the Presidential Series, spoke on both Thursday and Friday. His first speech was "The Original Idea: The Heart of Your Story and Key to Selling Your Book" and "Conflict: The Fuel of Your Story." His Friday lecture was "Platform, Product & Promotion: Understand Your Unique Position as an Author."
His New York style of delivery hammered a reality check for writers. He advised that you know a 25-word description of your book necessary for your query and pitch to agents and publishers alike. He painted an overall view of what the publishing business is like, both with traditional publishers and independent publishers who are heavily involved in e books and audio books. Self-publishing is most likely not for the novice because the learning curve is too steep.
Every speaker reminded listeners that every plot has been done; you must weave your plot from your own inner world in order to become a success.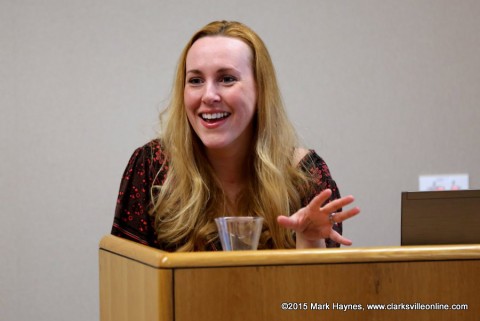 Amy Greene, author of the New York Times bestseller Bloodroot and her new novel, Long Man, named Best Book of the Year by the Washington Post, also spoke on both Thursday and Friday.
"Long Man: Reading with Q & A" gave conference participants an overview of characters from the Depression in a small town in East Tennessee about to be flooded by a dam needed for the Tennessee Valley Authority. A little girl has gone missing just prior to this and her mother just happens to be one of those set on not leaving her property to make way for the dam.
Amy's second lecture, "Elements of Fiction: How the Fundamental Parts of a Novel Weave Together to Give It Life," involved Amy's character-driven plots and how they evolve. She used her collection of rocks for each participant in the workshop to practice honing language derived from the tactile object.
Nick Allen Brown gave perhaps the most unique presentation on how to move plot and to make characters come alive by presenting examples from movies. He spoke on Friday morning on "What the Plot: Innovative and Advanced Ways to Build Your Story" and on Friday afternoon on "Characterology: Ingenious Ways to Create Compelling Characters." Picture examples from movies like "E.T.," "Driving Miss Daisy," and "The Green Mile" and you'll get a hint at what Nick had to impart.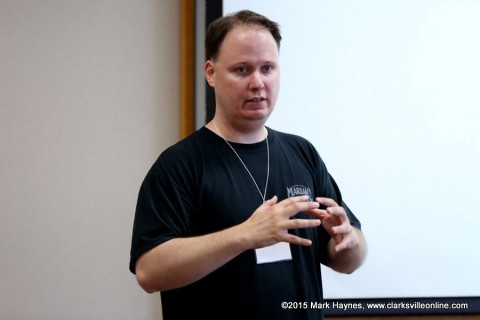 Nick's first book, Field of Dead Horses, involves a family who own a horse farm and make their living training horses. A field in which famous race horses are buried gives the book its unusual name. His newest book, The Astronaut of Bear Creek, reveals an astronaut who withdrew totally from the world by living in a former inn his parents had owned. Ordering everything on the Internet, he maintains no human contact except an occasional visit from his social worker sister. When she delivers a little girl who needs to be hidden from a dangerous situation, she meets a definite "no" from her brother. As the old saying goes, from there, the plot thickens.
Perhaps one of the most unforgettable reminders for writers came during Sharyn McCrumb's speech at Thursday nights' banquet at the new Austin Peay State University's stadium. The winner of the first Patricia Winn Award for Southern Fiction for her Appalachian "Ballad" novel King's Mountain, Sharyn told about a visit she had to an English class in a small Georgia town during the time she was researching NASCAR racing for a series of books beginning with St. Dale, a modern-day version of the Canterbury Tales.
On the Sunday before her visit to the school, Sharyn had been unable to watch the Darlington race and could not find out who won because the mountains had cut off her cellphone access and also the satellite reception on the television set in her tourist cabin lodgings. When she reached the classroom, she saw 25 eager students wanting to know about Southern literature and five boys dressed in camouflage, heavy boots and chains who could have cared less about the subject.
McCrumb told the class that she had to delay her talk for a couple of minutes while she found out who won the race at Darlington. One of the boys timidly raised his hand to tell her and the ensuing discussion of NASCAR won the entire group of five over. They came up after her talk and said they wanted to read her book. Later the teacher told Sharyn that collectively they had never ever read even one book!
Four years later the boys invited Sharyn to sit in the audience to watch they receive their high school diplomas. When Sharyn quizzed the teacher as to what path the boys would then follow, she was told that all five were going to college! It appears that once they read one book, they discovered that they could read others.
Sharyn McCrumb, author of more than 20 novels and named a "Virginia Woman of History," reminded writers of the impact their work can make on the life of a reader.
Without giving you the specifics of what each workshop communicated, this article has been but a small sample of the gleanings of people who attend the Clarksville Writers' Conference. For less than $250.00 for the entire two days, a writer can learn some hint that can make the difference a book that is never published and one that becomes a best seller. A beginning writer can find out in two days of listening what it might take years of working on one's own to learn.
Make plans to be there in 2016!
Photo Gallery