APSU Sports Information

Johnson City, TN – Senior Tiasha Gray finished with 27 points but could not lead Austin Peay State University women's basketball team past East Tennessee in an 80-76 nonconference loss, Monday night at Brooks Gymnasium.
Austin Peay (2-11) brought a five-point, 56-51, lead into the fourth quarter only to watch East Tennessee erase the deficit with a 6-1 run to start the fourth.
Gray willed Austin Peay back to a five-point lead with a jumper and three-pointer on the next two possessions for a 62-57 lead at the 8:07 mark.
East Tennessee (7-6) withstood Gray's charge and went on a 10-0 run over the next 3:13 to build its own five-point advantage. The Govs came up empty of four straight possessions during the drought. Meanwhile, ETSU's Tatiana Tarter scored seven points during the run, her free throw at the 4:43 mark setting up the closing stanza.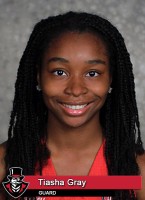 The Govs whittled away at the deficit from the free-throw line, sophomore forward Sydney Gooch tying the game with a conventional three-point play with 3:01 left. The two teams then traded blows over the next two minutes, Austin Peay gaining a one-point, 76-75, advantage after Gray hit a pair of free throws with 41 seconds left.
East Tennessee's Shamauria Bridges gave ETSU the lead for good when she made a contested three-pointer on the ensuing possession. Austin Peay's Gray then drove down the lane for a running jumper but it bounced off the rim. Tarter then converted a pair of free throws to seal the victory.
The late ETSU charge was foreshadowed in the opening quarter which saw the Buccaneers make five of six to take a 22-13 lead at the first break. Austin Peay stormed back in the second, making four straight shots to start the frame and carried the momentum to a 38-35 halftime lead. Neither team could gain an edge in a ragged third quarter which left APSU with a five-point advantage.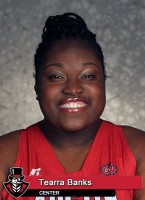 Gray led all scorers with 27 points – her third 20-point outing this season – on 10-of-21 shooting, including 3-of-7 from three-point range. Junior center Tearra Banks added 19 points, making 7-of-11 from the floor.
Tarter led ETSU with 22 points on 7-of-17 shooting. Chandler Christopher and Kendrick each added 13 points. The Buccaneers won the rebounding battle, 41-31, thanks to a staggering 17 offensive rebounds that led to 17 second-chance points.
Austin Peay will take an 11-day break for the Christmas holiday before returning to action with a January 2nd Ohio Valley Conference home contest against Eastern Kentucky at the Dunn Center.
Box Score
Austin Peay (2-11) 76, East Tennessee (7-6) 80
| | 1 | 2 | 3 | 4 | Total |
| --- | --- | --- | --- | --- | --- |
| Austin Peay | 13 | 25 | 18 | 20 | 76 |
| East Tennessee | 22 | 13 | 16 | 29 | 80 |
Austin Peay 76
East Tennessee 80
Player
FGM
-FGA
3FGM
-3FGA
FTM
-FTA
OFF
-DEF
TOT
PF
TP
A
TO
BLK
STL
MIN
Tianna Tarter
7-17
2-5
6-8
0-3
3
4
22
3
0
0
3
37
Chandler Christopher
4-10
2-4
3-4
1-1
2
3
13
2
3
1
0
34
Shomari Kendrick
4-10
0-0
5-7
8-6
14
2
13
2
2
1
0
30
Shamauria Bridges
3-8
1-2
1-2
0-1
1
4
8
0
2
0
0
27
Sadasia Tipps
4-4
0-0
0-0
3-3
6
2
8
0
0
0
0
23
Malloree Schurr
3-5
0-0
0-2
3-2
5
1
6
0
0
0
0
14
Carley Lytton
2-4
2-4
0-0
0-0
0
0
6
3
0
1
0
13
Raven Dean
2-3
0-0
0-0
0-2
2
1
4
0
1
0
0
11
Yamile Rodriguez
0-1
0-0
0-0
0-0
0
0
0
0
0
0
0
8
Adriane Vaughan
0-0
0-0
0-0
1-0
1
0
0
0
0
0
0
3
TEAM
0-0
0-0
0-0
1-6
7
0
0
0
1
0
0
0
Totals
29-62
7-15
15-23
17-24
41
17
80
10
9
3
3
200