UT Athletics Department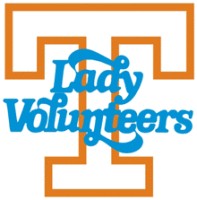 Lexington, KY – No. 19/22 Tennessee attempted to rally back from a 10-point fourth-quarter deficit with a furious late surge, but the Lady Vols came up short in the closing seconds, falling to No. 12/9 Kentucky, 64-63, on Monday at Memorial Coliseum.
The Lady Vols (12-7, 3-3 SEC) outscored Kentucky (15-3, 4-3 SEC) in the first, second and fourth quarters, but the Wildcats dominated the third, 21-9.
Tennessee stormed back to within one possession in the final three minutes. After trailing 57-47 with 5:36 remaining, UT pulled to within 63-61 with 30 seconds left when Te'a Cooper sliced through the lane for a layup. Andrea Carter stole the inbounds pass and made one of two free throws to pull UT to within one point.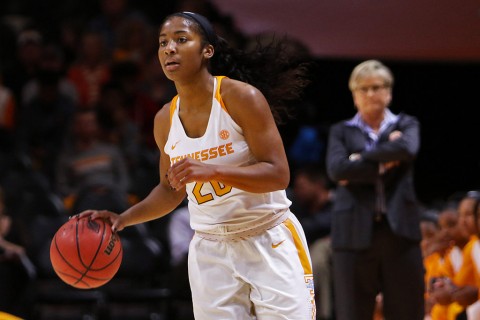 With 23 seconds left, Janee Thompson missed her first free throw but made her second to make UK's lead 64-62. Cooper went to the free-throw line with 10.7 seconds remaining and made her first shot and missed the second.
Carter grabbed the rebound and missed a layup and Bashaara Graves missed the follow-up shot. After Kentucky's Batouly Camara missed two free throws at the other end, the Lady Vols had one more chance with 4.5 seconds left. Cooper sprinted down the floor but could not fire a shot off before the clock hit zero.
Cooper led the Lady Vols with 18 points on 7-of-11 shooting. She was 3-of-4 from 3-point range and also dished out three assists. Diamond DeShields scored 13 points and had four rebounds. Mercedes Russell posted a double-double with 12 points and 10 boards.
Kentucky's Makayla Epps led all scorers with 23 points on 8-of-20 shooting. Thompson added 15 points and six assists.
UT lost the turnover battle, committing 21 to UK's 10. The Lady Vols held a slight edge on the glass at 41-38 with Graves collecting a game-high 12 rebounds.
Epps exploded with 14 points in the third quarter. UK's leading scorer on the season (16.3 points per game entering Monday night) scored seven points in the first two minutes of the second half to pull the Wildcats to within 37-35. Kentucky took the lead when Taylor Murray drained a 3-pointer from the corner with 4:45 left in the third, putting the Wildcats up, 43-42. Tennessee, which managed just nine points in the third, missed its last nine field goals of the quarter and Kentucky took a 49-44 lead into the fourth.
The Lady Vols went on a 19-7 run from the final two minutes of the first quarter and through first seven minutes of the second quarter to build a 33-23 lead. Kentucky managed just 10 second-quarter points and UT took a 35-28 lead into halftime. Te'a Cooper was an efficient 4-of-5 for 10 points in the first half while Mercedes Russell and Bashaara Graves pulled down seven boards each.
Despite committing 12 turnovers before halftime, Tennessee led for the majority of the first half thanks to 15 points on 5-of-7 shooting from 3-point range and strong defense. The Lady Vols limited Kentucky to just 30 percent shooting (12-of-40) and Epps managed just six points with 2-of-9 shooting from the floor in the first half.
Tennessee held a 19-18 lead after a first quarter that featured eight lead changes. The Lady Vols found some success early on from long distance as Cooper and Diamond DeShields combined to go 3-of-5 on 3-pointers.
Series vs. Kentucky
Tennessee is 53-11 all-time against Kentucky and 20-8 against the Wildcats in Lexington. The loss snapped UT's four-game win streak in the series.
Monday's game marked the 13th-straight game with both UT and UK ranked in the top 20. Tennessee is 9-4 in those games.
Hangin' With Te'a Cooper
Tennessee is 6-1 this season when Te'a Cooper scores 10 or more points. With 18 points on Monday, Te'a Cooper has now scored in double figures seven times this season. She has led the team in scoring over the last two games.
Cooper's 18 points were her most since scoring a career-high 23 against East Tennessee State on December 2nd.
Miscellaneous Notes
Tennessee had its best 3-point shooting percentage of the season, shooting 6-of-12 (.500) from beyond the arc. The previous high was 47.4 percent (9-of-19) against Central Arkansas in the season opener.
With two free throw attempts, Bashaara Graves moved into a tie with Michelle Snow for 10th place all-time in Lady Vol history at 512 career free throw attempts.
Mercedes Russell finished with 12 points and 10 rebounds, recording her seventh double-double of the season. Bashaara Graves finished with 12 rebounds, leading the team in boards for the 42nd time in her career. Diamond DeShields scored 13 points, marking the 10th-straight game she has scored in double-figures and her 15th in the last 16 games.
The Lady Vols held Kentucky to 36.2 percent shooting from the field (25-of-69). UK is the 10th opponent Tennessee has held below 40 percent shooting this season.
Up Next
The Lady Vols next play No. 13/10 Mississippi State on January 28th in Starkville, MS. The game will feature a 9:00pm ET/8:00pm CT tip-off on SEC Network.
Tennessee is 36-0 all-time against Mississippi State and 16-0 against the Bulldogs in Starkville.
UT is 6-0 against MSU when both teams are ranked.