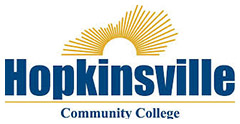 Hopkinsville, KY – Hopkinsville Community College will be having a Boy Scout Merit Badge University camp from 8:00am–2:00pm on Saturday, March 19th that is open to all area scouts.
"The camp was designed to give area scouts the opportunity to earn badges in coveted areas that are often hard to come by, like welding and robotics," stated HCC Coordinator of Continuing Education / Communication Services Carrie McGinnis. " This camp will showcase employment opportunities and practical skills available to these young men locally, through degree and certificate programs offered at HCC in which our institution really shines," continued McGinnis.
The 1-day camp will feature sessions in welding, farm mechanics, robotics and drafting. Each scout will take one class from 9:00am-1:30pm with a break for a provided lunch.
At the completion of the camp, a scout will earn a merit badge and a t-shirt.
The classes will be taught by HCC faculty members: Michael Stringfield, Jeremy McCuiston, Stuart Zieman and Reggie Akpom, each of whom will be donating their time. Christian County Agri-Business Association, Farm Credit Services and Edgewood Baptist Church have also made donations to help cover the cost of the program.
The cost of the camp is $15.00 per scout. Registration is required and can be made by calling 270.707.3750.
About Hopkinsville Community College
For most Pennyrile region residents, higher education begins at Hopkinsville Community College (HCC). The college serves thousands of area residents each year as a comprehensive regional learning center providing academic and technical associate degrees; diploma and certificate programs in occupational fields; prebaccalaureate education; adult, continuing and developmental education; customized training for business and industry; and distance learning.
As part of the Kentucky Community and Technical College System, HCC is a critical component to transforming the region's economy by providing citizens with the education and training needed for high growth, high wage careers. KCTCS consists of more than 70 campuses and 97,000 students.
For more information, visit www.kctcs.edu
KCTCS is an equal opportunity employer and education institution.