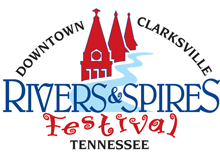 Clarksville, TN – What's not to like about a free festival in the streets and venues of downtown Clarksville? Rivers and Spires Festival 2016 was all that and more with something for everyone.
You could eat everything from funnel cakes to corn dogs to fried Snickers at the street vendors' wagons. You could hear all kinds of music from children's choirs to rock bands. You could watch dancing from places like Hawaii and Panama or see youngsters just learning to dress up and boogie!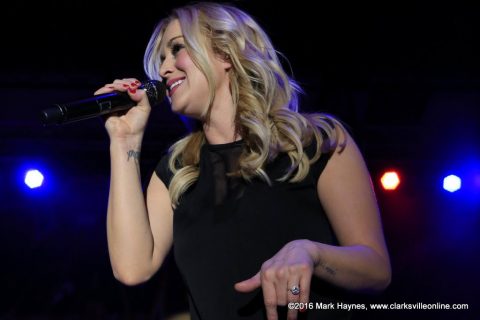 Demonstrations of all kinds like judo or women's self-defense were mixed with a children's parade featuring superheroes, babies in buggies, Snowbird and other mascots. One little girl was blowing bubbles as she was pushed down the street in her carriage!
Vendors offered everything from sunglasses, tennis shoes, tires, blown glass sun-catchers, jewelry, ponchos, balloons, dresses, and face painting to swings, fudge, international handmade items and chances on a truck.
The crowds were sparse in the morning but grew steadily as the day wore on. Rock bands began heating up the pace and led up to the headliners, Kellie Pickler and Plumb during the seven o'clock hour.
Quilts of the Cumberland were located in the United Methodist Church basement. The International Zone on Third Street featured cuisine, cultural dances and groups from Korea, The Philippines, Panama, Hawaii, Havana, and Mexico.
For kids ages five to twelve, the Family Fun Zone show in the First Baptist Church parking lot placed The Crazy Tie Guy, Gene Cordova, and Steve Weeks on stage. Toddler Town with The Barnyard Cackle was for kids 0 to four years old as they had a great time in the United Methodist Church parking lot nearby.
The Strolling Piano moved through the streets with various artists belting out everything from the theme from "Peanuts" to "Happy".
Contests like the Last Band Standing offered prizes of $1,000 while gamers enjoyed the Sports Zone on Third and Main Street. Fiber Fast Gaming took place in the Franklin Street Parking Garage.
Other attractions included an arm wrestling tournament, step competition, silent disco, car shows, a military zone and a big rig area where fire trucks and a cherry picker owned Commerce Street.
The 101st Army Jazz Band, Backroad Brigade, and Stomping in the Street were just a few of the variety of entertainment options that were featured on stages throughout down town.
In other words, if you couldn't find something fun to do, you just weren't looking very hard. Personally, I had a great time and if you missed Rivers and Spires 2016, be sure to put it on your calendar for next year!
Photo Gallery
About the Rivers and Spires Festival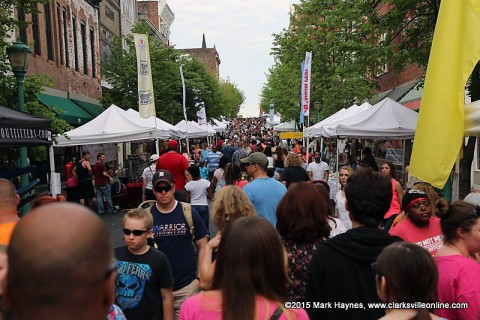 The Rivers And Spires Festival three day event  in Downtown Clarksville has five stages of entertainment with over 100 entertainers performing all three days. From children's activities, arts and crafts, car shows, military exhibits, shopping and so much more this is truly an event for the whole family. Admission to the Festival is free including all games, activities and concerts.
For more information about the 2016 Festival, please visit www.riversandspires.com
Become a fan on Facebook and follow us on Twitter @riversandspires