Daniel Mengden's Scoreless Innings Streak Ends At 19
Des Moines, IA – The Iowa Cubs rallied in the bottom of the ninth to score two on a walk-off double by Albert Almora to take game four from the Sounds 3-2 at Principal Park Friday night.
J.B. Wendelken came on in the ninth inning to try to preserve a 2-1 lead for the Sounds. Wendelken had the Cubs down to their final out before issuing back-to-back walks to Dan Vogelbach and Taylor Davis.
Arismendy Alcantara came on to pinch run for Vogelbach and advanced to third on an errant throw from Sounds catcher Brian Anderson. With runners on first and third, Almora sent a two-out two-run double to left field and the Cubs took the 3-2 win.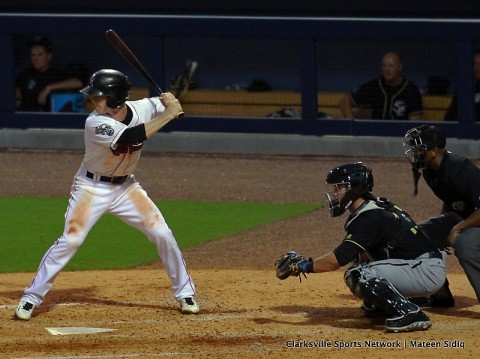 Sounds starter Daniel Mengden started his night at 13 scoreless innings with the Sounds and 17 innings dating back to his last appearance with Double-A Midland.
By the end of the night he extended those numbers to 19 with the Sounds and 24 overall. The right-hander's scoreless innings streak ended in the top of the seventh inning with a lead-off home run by Cubs designated hitter Wilson Contreras.
Mengden allowed his first run as a Sound and gave up just two hits in his second straight no decision. In his 19 scoreless innings streak with the Sounds, the Houston, Texas native gave up 11 hits and has racked up 15 strikeouts.
The Sounds scored in the first inning for the second straight game against the Cubs. With Joey Wendle on second base, Andrew Lambo sent a two-out fly ball to left field that was dropped by Cubs left fielder John Andreoli. Wendle was running on contact and did not slow down and scored on the error by Andreoli to give the Sounds the early 1-0 lead.
Chad Pinder added a run with a solo shot to left field off Cubs starter Ryan Williams to increase the Sounds lead to 2-0 after two.
Mengden's scoreless innings streak ended on a solo home run by Contreras to right field to draw the Cubs to within a run. Mengden then recollected himself and retired the next three batters to get through seven innings.
Patrick Schuster relieved Mengden in the eighth and found early trouble surrendering back-to-back infield singles by Juan Perez and Munenori Kawasaki. Tucker Healy then replaced Schuster in the same inning and struck out John Andreoli then picked off Perez at second to end the Cubs threat in the eighth.
The Sounds lead all night until the ninth inning when Almora's two-out two-run double pushed the Cubs by the Sounds 3-2.
The Sounds return home for an eight-game home stand starting Saturday night at First Tennesee Park with a four-game series against the Fresno Grizzlies. Nashville will send right-hander Chris Smith (1-5, 5.21) and Fresno will counter with right-hander Brad Peacock (0-0, 3.98). First pitch is scheduled for 6:35 p.m.
The 2016 season is the Sounds' 19th year in the Pacific Coast League and their second as the Oakland Athletics' top affiliate. Tickets are available now by calling 615.690.4487 or by visiting www.nashvillesounds.com