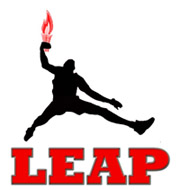 Clarksville, TN – Leap Organization, a leader in providing youth development programs, partnered with Kohl's Department Store and USO Fort Campbell RP6 to build a community garden as a part of Kohl's Operation Go Green Program (http://bit.ly/1XyVoiJ).
More than 25 Veterans worked alongside volunteers from Kohl's and Leap Organization supporters to build five raised beds gardens sized 8 x 4 x 20 to help young adults learn how to grow food year around on Saturday, May 14th, 2016.
Leap Organization, founded by real estate agent and City Councilman, Richard "Reason" Garrett, in 2009, serves the needs of youth ages 16 to 24 by offering classes, field trips, coaching sessions, and trainings meant to develop well rounded young people able to make positive moral decisions and set goals that lead to healthy and successful lives.
Through Leap Organization's comprehensive educational program, participants will learn all about growing, planting, and cultivating a sustainable resource garden that will include vegetables, herbs, and other edible food sources that will enhance a well-balanced healthy diet.
Richard expressed, "I am extremely grateful for Kohls extending an invitation to partner with and contribute $1,500 to LEAP for this National Go Green Initiative. We truly value the relationship we have built over the years and appreciate all the Kohls employees that frequently volunteer at our various community service events."
Event Organizer Tonya Wacker, excitedly announced that while teaching Leap Organization's youth about the importance of sustainable gardens, the investment in growing a community garden will also help contribute positively to Clarksville's food needs, as fresh grown food will be donated to Manna Café, which connects youth, service members, and Veteran's to the community.
Other benefits of hosting a year around sustainable garden is to create a green space in an underutilized urban area and also possibly enhance Stem Science Research initiative's for the Leap Organization's participants.
To donate plants for the community garden, please connect with Tonya Wacker at Tonya@leaporg.net. Other sustainable gardens in the Clarksville community are located at Crow Community Center and at USO Fort Campbell RP/6.
Photo Gallery
About LEAP Organization
The LEAP Organization was founded on April 29th, 2009 as a 501(c)(3) nonprofit organization with a mission to instill positive moral growth and sustainable life skills in youth that lead to healthy and successful lives. LEAP also seeks to empower social & business entrepreneurship through business incubation to increase the successful development of new businesses, job creation and employment.
For more information, or to schedule an interview, please contact Robyn Neverdusky by phone at 931.614.0440 or email robyn@leaporg.net.