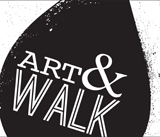 Clarksville, TN – Produced by The Downtown Clarksville Association, First Thursday Art Walk is a free, self-guided tour spanning a 5-block radius that combines visual art, live music, engaging events and more in the heart of Downtown Clarksville.

With 10+ venues, bars and businesses participating each month, the First Thursday Art Walk in Clarksville is the ultimate opportunity to savor and support local creative talent.

The April Art Walk will be held June 2nd from 5:00pm to 8:00 pm at the shops and galleries on Public Square, Franklin Street, and Strawberry Alley.

The participating businesses are listed below as well as a description of the work they will be exhibiting and services they will be offering during the event.
F&M Bank (50 Franklin Street)
Artist Information
F&M Bank is proud support the June First Thursday Art Walk and showcase "IN HOUSE CUSTOMS"  by Journey's Eye Studio, LLC, featuring pieces from the store and original work by Steve Tyrell.
Join them from 5:00pm – 7:00pm for the exhibit and reception at F&M Bank in the Franklin Room.
Customs House Museum (200 S. 2nd Street)
The Customs House Museum and Cultural Center is Tennessee's second largest general interest museum. It features fine art, history, and children's exhibits.
Artist Information
Join us for the June First Thursday Art Walk and enjoy free admission!
Exhibits
Working the Spirit Close to Home: The Portraits of William Stamms Shackelford
May 11th – July 31st

This gathering of 19th century paintings by William Stamms Schackelford showcases his unique depictions of various people, including portraits of the Clarksville Shackelford family. Sponsored in part by Tennessee State Museum and Austin Peay Department of Art & Design.

Carol LeBaron: Life Source
May 5th – July 31st

Tennessee artist Carol LeBaron's fine art textiles transform remembered light to imagery, collecting fragments from both the landscape of her remembered experience and observation of natural forms.

Cumberland River – An American Legacy
May 5th – July 31st

This series of plein air paintings by Larry Richardson explore the Cumberland River. Sponsored in part by Legends Bank.

Taking a Look at Cave Johnson
May 11th – July 31st

Take a closer look at the life of Clarksvillian Cave Johnson. Johnson was elected to the U.S. House of Representatives in 1828, and later served as president of the Bank of Tennessee from 1854 to 1860. He was also a close friend and advisor to James K. Polk during his successful presidential campaign.

The Photography of Carl Papenfuss
June 1st – June 30th

Landscape photography by local artist Carl Papenfuss.

Leisure Time
May 5th – August 7th

This exhibit explores the theme of hunting, fishing, and other outdoor leisure activities in the area with objects from the Customs House Museum & Cultural Center's permanent collection.
Edward's Steakhouse (107 Franklin Street)
Artist Information
Edward's Steakhouse is proud to feature local photographer, David Smith, during the June First Thursday Art Walk.
David Smith is a retired U.S. Army Still Photographer, who came to the Clarksville area in 1976 as a member of the 101st Airborne Division.  He returned to Clarksville with his family after his retirement from the military.  Most of the photographs are of Landscapes and scenery but he also tries to photography the City of Clarksville.  "I feel that it's important for a photographer to help preserve the history through photographs."
He is a member of The Friends of Photography here in Clarksville.  His photographs have been displayed in Edward's Steakhouse, Tennessee State Museum, Customs House Museum and F&M Bank in Clarksville and Springfield and has been featured on local program, Tennessee Crossroads.
Stop in, see the art, listen to Jackson Miller, live, on the piano and enjoy the Thursday night special, 1/2 priced $7.00 appetizers and 2 for 1 draft drink specials.
The Roxy Regional Theatre (100 Franklin Street)
Peg Harvill Gallery

The Roxy Regional Theatre's Peg Harvill Gallery is proud to feature the art of local photographer, Susan Bryant, during the June First Thursday Art Walk in conjunction with the current production of SHREK: The Musical, Jr.
Local author, Beverly Fisher, will also be on hand signing copies of "Grace Among the Leavings" to be featured on stage in theotherspace later in June.
Due to a performance that evening, the gallery will only be open from 5:00pm to 6:00pm.
Additional gallery hours are Monday through Friday, 9:00am – 2:00pm.
For tickets to and information about our current production, SHREK: The Musical, Jr., please visit www.roxyregionaltheatre.org or call the box office at 931.645.7699.
College Coffee Company (115 Strawberry Alley)
Artist Information
Stuart Bonnington returns to the College Coffee Co. performing songs from the British Invasion from 6-8pm during the June First Thursday Art Walk.
Downtown Artists Co-op (96 Franklin Street)
The DAC is an association of talented local artists and interested patrons dedicated to promoting the visual arts in the Clarksville/Montgomery County area. Our objectives are to sponsor art exhibitions of work by Co-op members and regional artists, to provide continuing support for the Co-op and its membership through the sale of art work, to encourage arts education with outreach programs and scholarship fundraisers, and to develop membership services which directly support the arts community.

Artist Information

"Fusion Nouveau" – DAC New Members Exhibit 2016

Downtown Artists Co-op (DAC) is proud to announce our New Members Exhibit, "Fusion Nouveau". Our new members exhibiting are: Mark Canfield, Blanca LaCortiglia, Jackie Lewis, Regina Mick, Jane Moore, Diandre' Mosley, Allene Phy-Olsen, Jane Olson and D.C. Thomas. The opening reception will be on Thursday, June 2nd from 5:00pm till 8:00pm. "Fusion Nouveau" will be on display through the end of June.

The fusion of works in this exhibit includes a wide range of media and subject matter. Our new members are a diverse group in many ways; media ranges from paintings in acrylics/oils, to charcoal and ink drawing, to photography, to jewelry, to mixed media and more. Subject matter and themes are even more varied. This exhibit has something for everyone and is not to be missed.

D.C. Thomas says, "My artwork is an attempt to investigate and explore the patterns of our existence. Its development in and out of this world – its real and surreal aspects."

Blanca LaCortiglia says, "My work is very electric and bright to mimic strong feelings and motions not visible to the naked eye." Regina Mick says, "I am an emotional artist… There is always a much deeper meaning than what meets the eye." Jackie Lewis says, "My art is often the reflection of the world around me as it is and how I would like it to be… quirky with just a little sparkle added ."

Jane Olson says, ": Beautiful colors and objects are my inspiration. I began painting two years ago, it has become my passion." Jane Moore says, "Art expression is very therapeutic to me.  It allows me to search for peace, love and beauty, even when I may not be feeling it." Allene Phy Olsen says, "My work is designed to reflect religious and ethnic traditions around he world, making available items otherwise not readily available in the United States."

The DAC will be serving up fabulous appetizers and wine during the opening reception. As always, the DAC opening is a central part of Clarksville's monthly First Thursday Art Walk, a wonderful evening of art, music and more in beautiful Historic Downtown Clarksville. Come out and see this fantastic exhibit, meet the artists and just enjoy a night full of visual arts in Clarksville.

Current exhibits will be on display the entire month of June. The DAC Gallery is located at 96 Franklin Street, in Downtown Clarksville, TN. DAC will be open Noon-4:00pm, Wednesday- Friday and 9:00am-5:00pm on Saturday.

See our website at www.downtownartistsco-op.com or visit us on Facebook for more information.

DAC thanks Mitchell & Sheila Ross, Ken Killebrew, The Framemaker, Sango Fine Wines & Sprits and John Thomas Home Inspections for sponsoring this month's exhibit.
Couture Crush (101 Franklin Street)
Couture Crush is proud to support the June First Thursday Art Walk and will stay open late that evening.
Find some new additions for your Summer wardrobe during the June First Thursday Art Walk!
The Framemaker  (705 North Second Street)
For over two decades, The Framemaker has offered a unique selection of frames and art services to the Middle Tennessee area.

Artist Information

Name That Show! : Illustrations by Chad Malone

The Framemaker proudly presents work by Graphic Designer and Illustrator Chad Malone. This exhibit is part of Clarksville's First Thursday Art Walk on June 2nd, 2016. An opening reception will be held from 5:00pm to 8:00pm. The exhibit will remain on display at the Framemaker throughout the month of June during normal business hours (Monday through Friday 10:00am – 5:00pm)

Chad Malone is a Graphic Designer and Illustrator who works primarily with digital illustration living in Nashville, Tennessee. He earned a Bachelor of Fine Arts degree in Graphic Design from Austin Peay State University in 2013. Malone is best known for his work with 20th Century Fox's hit sitcom Arrested Development. In the same vein as his winning illustration for the cover of the sitcom's fourth season, his exhibit Name That Show! features illustrations of characters from various television genres.

Malone states, "Showing the smallest amount of identifiable features from each character's appearance is what made my design for Arrested Development so attractive.

Minimally representing a persona by expressing quirks and mannerisms through just enough detail is the theme of my show.  I've chosen to pay tribute to my favorite T.V. addictions and am excited to see how many viewers can correctly guess the television show each piece represents."

For more information about the artist, visit his website at www.chadmalone.artapsu.com
Rogate's Boutique (115 Franklin Street)
You are sure to find something new and exciting each time you visit Rogate's Boutique! Our store offers all the latest amazing fashion trends, while remaining focused on timeless style. And we know how much fun shopping should be, so you can always expect to have a great time here.
Artist Information
Rogate's Boutique will not feature an artist during the June First Thursday Art Walk, but will be open for business until 7:00pm. Stop in an find a a few new pieces to welcome Summer into your wardrobe!
Hops Road (101 Strawberry Alley)
Good Morning Coffee-Espresso & Lattes – Signature Roast & Dark Roast
Open at 7:00am Croissants- Scones & Pastries- Gourmet Sandwiches, Wraps, Salads – Burgers & Craft Beers
Artist Information
Hops Road, located on Strawberry Alley in Historic Downtown Clarksville, is proud to support the June First Thursday Art Walk.
Stop in, grab a bit to eat and check out some of the great local artists that Clarksville has to offer.
Hops Java & Juice (100 Strawberry Alley)
Artist Information
Hops Java & Juice is proud to support the June First Thursday Art Walk.
Stop in and enjoy the artwork displayed throughout the shop, pick up locally sourced products and food and grab a cup of coffee as you enjoy the June First Thursday Art Walk!
Mildred & Mable's (109 Franklin Street)
Mildred and Mable's will stay open late during the June First Thursday Art Walk.
Stop in and check out all of the great gift and clothing options offered in Historic Downtown Clarksville.
Sections
Events
Topics
APSU, APSU Department of Art and Design, Austin Peay State University, Beverly Fisher, Carol LeBaron, Cave Johnson, Clarksville Downtown Artists Co-Op, Clarksville TN, Clarksville-Montgomery County Area, Cumberland River, Customs House Museum, Customs House Museum and Cultural Center, D.C. Thomas, David Smith, Downtown Clarksville, Downtown Clarksville Association, Edward's Steakhouse, F&M Bank, F&M Bank's Franklin Room, First Thursday Art Walk, Franklin Street, Friends of Photography, Hops Java and Juice, Hops Road, Jackie Lewis, James K. Polk, Jane olson, Journey's Eye Studio LLC, Larry Richardson, Legends Bank, Mildred and Mable's, Nashville TN, North Second Street, Peg Harvill Gallery, Public Square, Rogate's Boutique, Roxy Regional Theatre, Shrek The Musical Jr., South Second Street, Strawberry Alley, Stuart Bonnington, Susan Bryant, Tennessee Crossroads, Tennessee State Museum, The FrameMaker, U.S. Army