Clarksville, TN – Zone 3 Press, the Austin Peay State University (APSU) Center for Excellence in Creative Arts' literary press, is proud to congratulate poet Norman Dubie, whose latest collection of poems, "The Quotations of Bone," was recently awarded the 2016 Griffin Poetry Prize.
Included in Dubie's award-winning collection is the long poem, "The Fallen Bird of the Fields," which was itself the first chapbook published by Zone 3 Press. Published in 2010, "The Fallen Bird of the Fields" represented both a literal and metaphorical uniting of themes and disciplines.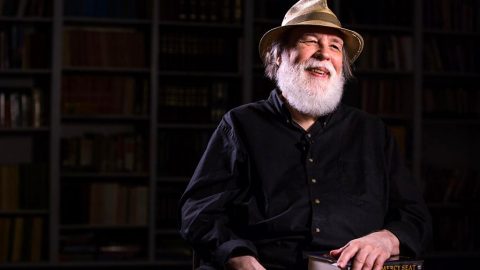 "The chapbook cover is bound in handmade paper, made, in part, of Tennessee field grasses and was letterpress printed on the Goldsmith Press with the help of Cindy Marsh in the APSU Department of Art," Dr. Amy Wright, associate professor of creative writing, said.
"This hand-sewn, textured cover speaks to the fields in the title, and we hope demonstrates our respect for this important poem, which honors not only the fallen bird, but also the 'messenger bee' and 'ghost-hurtling glacier' that prompt us to heed and better tend to the environment," stated Wright.
"We hope that winning the Griffin Prize will call additional attention to Dubie's timely and timeless work."
Norman Dubie is the author of 29 books of poetry, most recently "The Quotations of Bone" (Copper Canyon, 2015). His other books include "The Volcano" (2010), "The Insomniac Liar of Topo" (2007), "Ordinary Mornings of a Coliseum" (2004) and "The Mercy Seat" (2001).
He is the recipient of the Bess Hokin Prize from the Poetry Foundation, the PEN Center USA Literary Award for Poetry in 2002, and fellowships and grants from the Ingram Merrill Foundation, the John Simon Guggenheim Memorial Foundation and the National Endowment for the Arts.
Dubie teaches English at Arizona State University. His involvement with Zone 3 Press came about through a relationship with former director of APSU's Center of Excellence for the Creative Arts Chris Burawa, who Dubie mentored while Burawa attended the University.
By funding the Griffin Poetry Prize – the world's largest prize for a first edition single collection of poetry written in English, The Griffin Trust For Excellence In Poetry aims to spark the public's imagination and raise awareness of the crucial role poetry plays in our cultural life.
The Griffin Trust's support for poetry focuses on the annual Griffin Poetry Prize, which awards two literary prizes of $65,000 each and an additional $10,000 to each shortlisted poet who reads at the annual Griffin Poetry Prize Shortlist Readings in Toronto.
For information on Zone 3 Press and additional upcoming events, visit www.apsu.edu/zone3, or call 931.221.7031.