Clarksville, TN – Clarksville Police Officer Coz Minetos is trying to locate 29-year-old Samuel Wayne Talley from Clarksville and is requesting public assistance. Talley has an active warrant for Theft of Motor Vehicle.
On June 18th at about 2:38am, a person stole an Emergency Room Medic's personal truck from the parking lot of Tennova Healthcare. After the suspect, Talley, had been transported to the hospital for unknown reasons, he walked out at approximately 2:00am, leaving information behind and refusing to stay.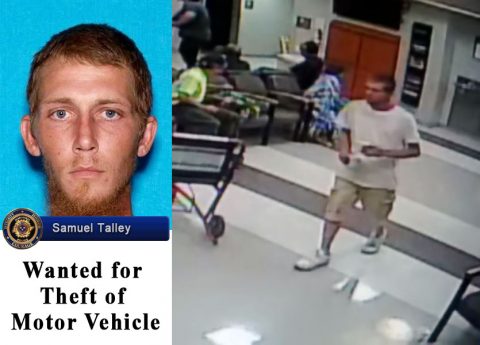 He was then seen on video walking through the parking lot checking car doors. Around 2:38am, he got into the victim's truck and drove off down Dunlop Lane.
When the victim's truck was recovered that same day, a Rossi 38 revolver and Dewalt tools were missing from the truck along with damage to the gas tank.
Officer Minetos filed an arrest warrant on Talley for Theft of Motor Vehicle with a $50,000 bond amount.
Officer Minetos has provided images of the suspect. If anyone locates Samuel Wayne Talley, please call Officer Minetos at 931.648.0656 Ext 5330 or the CrimeStoppers TIPS Hotline at 931.645.TIPS (8477).