APSU Sports Information
Johnson City, TN – Austin Peay State University's volleyball team closed the match with a furious rally and claimed a five-set victory (25-22, 22-25, 20-25, 25-19, 15-10) against USC Upstate, Saturday afternoon, in its final match at the DoubleTree Hotel Buccaneer Challenge in Brooks Gym.
Austin Peay (2-1) trailed USC Upstate 12-4 in the third set, with the match tied at one set each.
But after a timeout, the Govs stormed back and closed the set with 14 kills while hitting .444.
However, the early deficit was too large to overcome and Austin Peay dropped the set 25-20 and trailed the match 2-1.
Yet the Governors were able to carry that momentum into an impressive third set performance that ultimately saw it post 16 kills at an impressive .341 attack percentage. The Govs and Spartans were locked up at 14-14 before APSU sophomore Cecily Gable made her presence felt. Austin Peay closed the set with an 11-5 run sparked by five kills from Gable's arm, forcing the decisive fifth set.
In the tiebreaker, both team's offenses could not be held at bay early with neither posting an attack error through the first 20 points, Austin Peay leading 11-9. But the Spartans committed back-to-back attack errors at that point to give the Govs a 13-9 lead. Back-to-back kills from Gable and junior Ashley Slay sealed the win.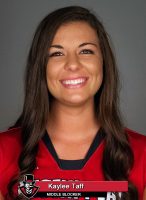 For the second straight match, Austin Peay had three hitters post 10-plus kills. Slay led Austin Peay with a 16-kill performance while committing just three attack errors (.481 attack percentage). Gable finished with 11 kills off the bench, eight of those coming in the final two sets.  Sophomore Kaylee Taff chipped in a career-high tying 13-kill performance.
The Govs 64-kill outing covered USC Upstate's (0-2) 54-kill afternoon. Sophomore Madison Haake led the Spartans with a 15-kill, 21-assist, 14-dig triple-double performance.
Inside the Box Score
What a Closing Run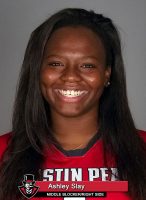 Austin Peay trailed 12-4 in the third set and its offense was stuck in neutral with as many kills as attack errors (three each) in the frame. But a timeout turned the tide and they closed the third frame with 14 kills and a .444 attack percentage. They parlayed that into a 16-kill and .314 attack percentage in the fourth.
However, they saved the best for the fifth with 10 kills in an error less effort for a .588 attack percentage. All told, APSU closed the match with a .418 attack percentage and 40 kills in a 56-42 closing run.
Slay Ends Weekend on a High Note
It was a roller-coaster ride of a weekend for junior Ashley Slay, but she ended it with an impressive performance. Her 16-kill outing led the Govs and was her best kill total since her career-best 19 against Southern Miss last season (September 19th).
Gable Sparks Comeback

She wasn't in the starting lineup, but sophomore Cecily Gable might have made the biggest impact in the contest. Her first kill didn't hit the scoreboard until 9-4 in the third set, but her next 10 came in the Govs final 56 points as they rallied from behind to win the match.
Taff Ties Career High
Sophomore Kaylee Taff notched her second straight double-digit kill performance with a career-high 13 kills against USC Upstate. It tied the mark she set against Gardner-Webb last season (Sept. 11), also on a neutral court. Taff finished the weekend with 25 kills and posted a .438 attack percentage.
Five-Set Magic
Austin Peay continued its five-set magic from last season. The Govs posted a 5-3 record in five-set affairs in 2015, accounting for half their win total. Austin Peay ended that campaign with two consecutive wins in five-set matches, meaning Saturday's win was a third straight five-set victory.
Austin Peay returns home and will host nationally-ranked Western Kentucky in a 6:00pm, Tuesday home-opening contest at the Dunn Center.