APSU Sports Information

Clarksville, TN – Early Friday morning, the champs will be back on the hardwood.
Austin Peay State University men's basketball team officially kicks off its fall with a 7:00am, Friday, September 30th practice, marking the formal start to the Governors defense of their Ohio Valley Conference Tournament title.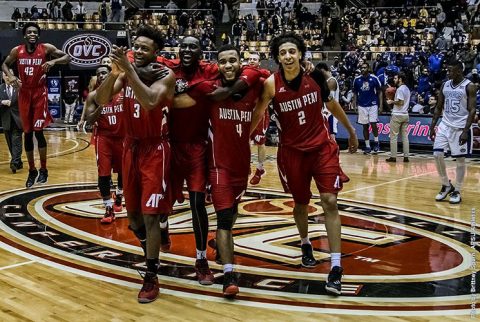 "You can't get a whole lot done in two hours each week," said head coach
Dave Loos
, speaking of the limited individual workout sessions that preceded organized team activities. "We're anxious to get into it full-speed, implement our system and develop better conditioning. We've got to find who's got the stamina to play at this level."
Although the Govs will have to cope with the loss of lineup stalwarts Chris Horton and Khalil Davis to graduation, a plethora of long-range bombers who fueled the Governors tournament run are back for head coach Dave Loos in 2016-17.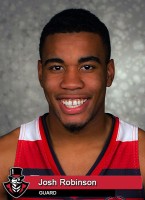 Junior Josh Robinson, whose move to point guard late last season coincided with Austin Peay's run through the OVC Tournament and into the NCAAs, is the Governors leading returning scorer (16.9 ppg), while the man who replaced him on the wing—sophomore Jared Savage—looks to build on an impressive OVC Tournament of his own that included a conference tournament-record 19 three-pointers.
Senior John Murry found a niche late last season, averaging 8.8 points over the final five contests, which included 13 against Kansas and a trio of well-timed threes to help the Govs clinch the tournament championship against UT Martin.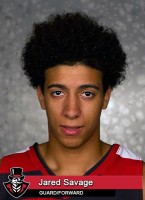 Replacing Horton's production (18.8 ppg, 12.0 rpg, 1.8 bpg on nearly 60 percent shooting) with one player would be nearly impossible. Newcomers Jartavius Dobbs and Dre'kalo Clayton are in the mix for extended time in his place; Dobbs, a shot-blocking machine from Columbus, Miss., led Columbus High School to its first state championship in 2016, while Clayton joins the Governors from Northwest Mississippi Junior College after averaging 10.5 points and 6.2 rebounds last season.
Seniors Kenny Jones and Assane Diop and sophomore Chris Porter-Bunton will be back down low; Jones, the versatile forward averaged 7.9 points and 5.3 rebounds in his first season in Clarksville, while Porter-Bunton was an invaluable reserve following his redshirt freshman campaign. Diop, the Senegalese big man who graduated in August, will be relied on as a veteran presence in the paint.
Three Questions
How do you replace Horton?
"Obviously, I'm worried about who's going to go get all the rebounds that left when Chris left," Loos said. "You either make all of your shots or you figure out how to get a rebound. I don't think we're going to make all our shots, so we're going to have to improve as a team on our box-out techniques. We have to have some people that want the basketball and are willing to go after it on the board."
How do you build on the success of last season?
"Our guys seem to be excited, but they have to understand that it's not just going to happen," Loos said. "They have to earn it. People have to earn their time. It was a great run (last year), but it's over and we have to move forward."
What are your plans with the newcomers?
"It's different for different guys," Loos said. "The thing we always hear from the new guys is, 'I wasn't prepared for the speed of the game.' The speed of the game doesn't slow down until they learn how to play as hard as they need to play at this level. They'll be learning those things in the coming days."
Practice Plan
The Governors will practice at 7:00am each weekday morning during October with three exceptions: October 4th will be an off-day, they'll have October 10th off for Fall Break and hold practice 6:15pm, Tuesday, October 11th upon return from Fall Break.
Come See Us
Governor fans can procure their tickets now for the Governors return to the Dunn Center this winter—season, single-game and flex-pack tickets are available by calling 931.221.PEAY or visiting www.LetsGoPeay.com/sporttix.
Additionally, fans can make plans to attend the annual 'Sneak Peayk' event at the Dunn Center, October 25th—free to the public, the event will feature free food, posters, autographs and the raising of APSU's championship banner. That will be followed by the annual 'Basketball Bash' at the Bud Barn, Friday, October 28th—information on that event can be found here.