UT Athletics Department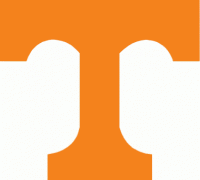 College Station, TX – Tennessee scored three touchdowns in the final eight minutes of the fourth quarter and rallied to force overtime at Texas A&M Saturday, but seven UT turnovers and too many empty possessions led to the Vols' first loss of the season as the Aggies prevailed, 45-38, in double overtime at Kyle Field.
Tennessee trailed by as many as 21 points in Saturday's battle of top-10 teams. The loss snapped an 11-game win streak for the injury-plagued Volunteers, who were without three preseason All-SEC honorees.
The Volunteers (5-1, 2-1 SEC) return to action next Saturday when they host top-ranked Alabama at Neyland Stadium (2:30pm CT, CBS). Texas A&M, which entered the game ranked No. 8 nationally, improved to 6-0 (4-0 SEC).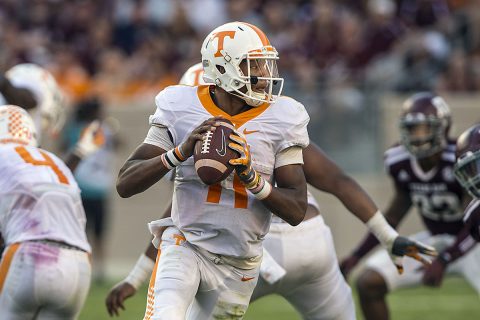 Overtime began with the Vols on offense, and a 34-yard field goal by junior kicker
Aaron Medley
gave Tennessee its first lead of the day, 38-35. The Aggies forced a second overtime period when A&M kicker Daniel LaCamera split the uprights with a 35-yarder.
Texas A&M's offense took the field first in the second overtime, and on its second play, quarterback Trevor Knight laced a 24-yard pass to a diving Christian Kirk at the one-yard line. On the next snap, Knight swept left and fought his way into the end zone. Daniel LaCamera's extra point gave A&M a 45-38 lead and meant the Vols needed a touchdown to extend the game.
But A&M defensive back Armani Watts picked off Tennessee quarterback Joshua Dobbs' pass attempt to tight end Ethan Wolf at the Aggies' six-yard line on the first play of Tennessee's possession, preserving A&M's perfect record.
Saturday's game marked just the third meeting between the programs–and their first clash as SEC opponents. Tennessee leads the all-time series, 2-1.
The Vols racked up a season-best 684 total yards of offense in their debut appearance in College Station, but their impressive yardage output was cancelled out by five lost fumbles and two interceptions. UT's 282 total rushing yards also were a season-high.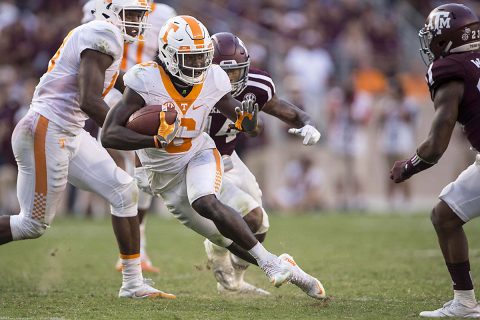 Dobbs completed 28 of 47 passes for 398 yards with one touchdown and two interceptions and also hauled in a TD catch. The senior captain carried the ball 17 times for an additional 57 yards, giving him 455 yards of total offense.
The UT tailback tandem of senior Alvin Kamara (127 yards on 18 carries) and sophomore John Kelly (career-high 89 yards on 13 carries) totaled 216 yards on the ground and three touchdowns as the Vols were without leading rusher Jalen Hurd, who did not travel due to injury.
Kamara added a career-high 161 receiving yards on a team-high eight catches. And with 24 special-teams return yards, Kamara's all-purpose yardage stood at 312 on the day. He became the first player from a "power five" conference to log at least 150 receiving yards and 125 rushing yards in the last 20 years.
A pair of timeouts called by Tennessee head coach Butch Jones led to Texas A&M missing a potential go-ahead field goal in the closing second of the fourth quarter, setting up overtime.
Prior to that, however–and for the second consecutive Saturday–the Vols found themselves locked in an intense, high-scoring shoot-out late in the fourth quarter. In the final eight minutes, Tennessee scored three touchdowns and Texas A&M added another.
The Aggies appeared poised to retake a 14-point lead with less than two minutes to play, but as A&M tailback Trayveon Williams approached the goal line on a 71-yard scurry, Vols defensive back Malik Foreman sprinted from behind and dove to punch the football loose and through the end zone.
The touchback set the stage for Tennessee to storm 80 yards downfield in six plays and tie the game, 35-35, with an 18-yard touchdown pass from Dobbs to Kamara.
Knight then calmly guided the Aggies 54 yards to bring LaCamera on for a potential go-ahead, 38-yard field goal. Jones called consecutive timeouts prior to the kick attempt, and when the ball was finally snapped several minutes later, LaCamera pushed the ball wide left. And for the second game of the season, Tennessee headed to overtime.
Tennessee's attempt to trigger its late-game road heroics started when the Vols trimmed the Aggies' lead to seven points with a 12-play, 85-yard, fourth-quarter drive that pushed the Big Orange over the 500-yard mark of total offense. John Kelly punched in a 4-yard touchdown run to make the score 28-21 with 7:06 on the clock.
Then after both defenses forced punts, senior Aggies quarterback Trevor Knight broke loose for a 62-yard touchdown run that pushed the Aggies lead back to 14 points, 35-21, with less than four minutes to play. Knight, a graduate transfer from Oklahoma, finished the game with 239 yards and two touchdowns through the air and another 217 yards and three more scores on the ground.
Kamara gave Tennessee a quick-strike TD on the ensuing drive–eclipsing the 100-yard rushing mark during that six-play, 2:07 minute drive that kept Big Orange hope alive.
For the fifth time in six games this season, the Big Orange found themselves facing a first-quarter deficit. After the Vols and Aggies exchanged turnovers in the first six minutes–with Tennessee safety Todd Kelly Jr. logging his second interception of the season and Texas A&M All-American Myles Garrett forcing a fumble–A&M opened the game's scoring when Knight hit Kirk with a 13-yard touchdown pass.
Tennessee evened things up at 7-7 late in the first quarter when Kamara took a direct snap from center and pitched to sophomore receiver Jauan Jennings, who threw a 4-yard touchdown strike to a wide-open Dobbs in the end zone.
The pass from Jennings–who was a high school quarterback–was just his fourth career pass attempt. He has completed two of those attempts, and both were TDs to Dobbs.
It took Texas A&M just 1:33 to respond on the scoreboard, however, as it marched 75 yards on six plays to take a 14-7 lead with a 2-yard touchdown pass from Knight to Josh Reynolds.
Tennessee lost a fumble on the ensuing kickoff–its third giveaway of the day–and, after a pass-interference penalty, Knight carried it in from seven yards out to give the Aggies a 21-7 lead heading into the second quarter (despite UT owning a 189-163 advantage in total yards).
The defenses starred in the second quarter, as the Vols outgained A&M 73-52 and neither team managed to score. And for the third time in as many SEC games this season, UT faced a halftime deficit of at least 10 points.
Tennessee saw its opening position of the third quarter end with a lost fumble–its fourth of the day. And the Aggies quickly extended their lead to 28-7 with a 7-yard touchdown scamper moments later.
Composed and undeterred, UT strung together a nine-play, 82-yard scoring drive that consumed 3:30 and was capped by a 15-yard Kamara touchdown run to make it a two-score game.
On the following A&M drive, Foreman deflected a pass from Knight, and linebacker Colton Jumper hauled in his first career interception. But Tennessee gave the ball right back two plays later when John Kelly fumbled in the red zone.
Jumper was the Vols' leading tackler for the third straight game; he totaled 10 stops.
In addition to its six takeaways, the Aggies defense tallied four sacks, eight tackles for loss and broke up 10 Tennessee pass attempts.
Vols defensive tackle Danny O'Brien suffered an injury at the 11:44 mark in the fourth quarter and was taken off the field on a stretcher. The senior has started all six games for Tennessee this season.
Butch Jones Post-Game Presser – Texas A&M