APSU Sports Information

Clarksville, TN – Austin Peay State University women's soccer team put up a strong defensive effort against Murray State, Thursday, leading to a 0-0 draw at Morgan Brothers Soccer Field.
As a result, the Governors (10-6-3, 5-2-3 OVC) will travel to SIU Edwardsville in opening round OVC Tournament play, 1:00pm, Sunday.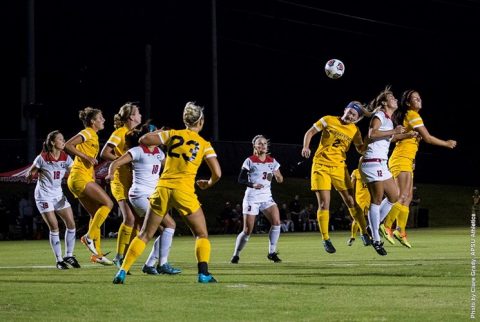 Meanwhile, the Racers (9-4-4, 7-0-3 OVC) clinched the regular season title and will be the host site of the semifinals and finals.
In the early stages of Thursday's contest, APSU held a clear advantage in the possession category.
This led to a pair of prime chances, first with junior forward Kirstin Robertson hitting the post on a shot attempt and redshirt freshman midfielder Pamela Penaloza forcing the opposing keeper to make a save on a 1 v 1 situation.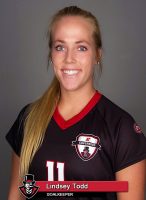 The Govs held a slight 5-4 shot advantage in the first half, and also won three corner kicks.
Last season's OVC Player of the Year Harriet Withers led a Murray State charge in the second half, attempting six shots overall on the night. However, junior goalkeeper Lindsey Todd made impressive saves, including one on Withers by extending to deny a scoring opportunity.
Seniors Mary Ruth Locastro and Natalie Smith, and freshman Melody Fisher, were strong in the defensive department, holding the Racers to just 10 shots and no goals.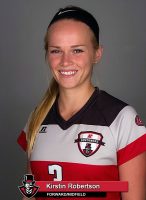 "They were outstanding," head coach Kelley Guth said. "Murray is a great team, and Harriet (Withers) and Taylor (Richerson), both leading scorers in the league, are very dangerous. I thought we did a good job dealing with them, and Lindsey came up with one big save when we needed her to. It was an excellent matchup and was a really exciting game to coach."
Robertson led the Govs in shots with three, while freshman Renee Semaan was credited with two.
The OVC Tournament first-round match will be Austin Peay's first appearance since 2013, and the first against SIUE since 2012 which resulted in a 1-0 APSU victory.