Clarksville, TN – The Customs House Museum and Cultural Center is located in historic downtown Clarksville, Tennessee. Come explore an entire city block featuring large gallery spaces filled with fine art, science and history.
Some of the events in November at the Museum are: Surroundings: The Art of Darryl Steele, Anton Weiss: Reaching for Infinity, Christmas Town, Plane Clarksville and Family Free Day: Making Art from Trash.
Exhibits
Surroundings: The Art of Darryl Steele
October 20th – January 2nd
Nashville, Tennessee artist Darryl Steele depicts landscapes, birds, and other wildlife. His work is a showcase of mediums and methods, working in oil, watercolor, gouache, acrylic, and pencil, often striving to incorporate the qualities of one medium into the other. It has been included in many private and public collections around the world, including the collections of The Opryland Hotel, Vanderbilt University, and Nissan Corporation.
Anton Weiss: Reaching for Infinity
October 27th – January 4th
Anton Weiss was born in Belgrade, Yugoslavia. His family moved to Springfield, Tennessee after World War II, and then to Nashville. His abstract expressionistic art has influenced many and is in several collections. Anton Weiss was heavily involved in the regional arts scene beginning in the 1960s.
He was director of the art department at Watkins and helped with the creation of the Tennessee Art League and Tennessee Watercolor Society. Anton continues to paint from his studio in Nashville.
The Art of Leah Foote
November 1st – 30th
Work by Clarksville artist Leah Foote is on display in our Peg Harvill Gallery. Her watercolors and mixed media feature local buildings and scenery. She says, "As a result of my art, I find that I view the world differently now and am more appreciative of every day beauty in my surroundings than before."
Christmas Town
November 15th – January 22nd
Hundreds of porcelain pieces recently donated by the Drye family make up a large display for Christmas Town! There are moving parts and lights, and even a model train making its way through the village.
Cut: An Invitational Exhibition
November 4th – January 16th
This exhibit features work by several artists, all of whom cut materials such as paper, fabric, and aluminum to create their art.
120th Anniversary of Lui Heimansohn
October 1st – January 5th
Heimansohn Steel and Salvage is a full service steel and scrap metal business located in Clarksville, Tennessee. Explore 120 years of their history in The Leaf Chronicle Lobby.
Plane Clarksville
September 14th – November 27th
Learn the local story of Frank Adkins, U.S. Army Air Forces ACE, credited with shooting down 5 enemy aircraft in aerial combat during World War II. Objects from the museum collection will be on display, including model planes and medals.
Activities
First Thursday Art Walk
Thursday, November 3rd, 5:00pm – 7:30pm
Book Signing with Photographer David Magers
The Customs House Museum & Cultural Center will be open with free admission from 5:00pm – 7:30pm during Clarksville's First Thursday Art Walk. Start your Art Walk here!
Local nature photographer David Magers specializes in birds. David has recently published a photography book titled "The Birds of Dunbar Cave State Park," containing recent photos of some 58 species, all taken on the park grounds. Join us for a book signing, followed by a presentation by David Magers at 6:00pm in the museum's Turner Auditorium. Copies of the book are available for purchase at Seasons: The Museum Store, with all of the proceeds benefitting the Friends of Dunbar Cave and the Customs House Museum.
Shop Small Saturday at Seasons: The Museum Store
Saturday, November 26th, 10:00am – 5:00pm
Support the Clarksville community and shop local for the holidays! Seasons: The Museum Store will be offering 10% off your entire purchase, plus an additional 10% off for Museum Members with your member discount all day during Shop Small Saturday. Seasons specializes in local and regional artisans, featuring merchandise such as jewelry, pottery, art, toys, and other unique items!
Art for Young Children: Cutting & Gluing
November 9th & 10th, 10:15am – 10:45am
Recommended for 2 – 5 year olds and their adults
Join Ms. Sue in the Children's Art Room for this guided art experience. Children will use scissors and glue to create their own unique masterpieces. This month's activity highlights the exhibit Cut: An Invitational Exhibition. You are encouraged to look at these amazing pieces with your children.
Family Free Day: Making Art from Trash
Saturday, November 12th, 10:00am – 4:30pm
Ms. Sue says, "When you don't have what you need, use what you've got!" Visit the Children's Art Room to see how this applies to art. The above activities are free as part of our Second Saturday Free Admission Day.
All activities are free with your museum membership. Non-members pay regular admission fees. For more information contact Ms. Sue at sue@customshousemuseum.org or 931.648.5780.
Closings
The Customs House Museum & Cultural Center will be closed Friday, November 11th for Veteran's Day and Thursday, November 24th for Thanksgiving Day.
About the Customs House Museum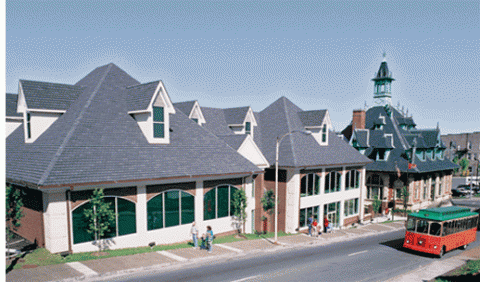 Located in the heart of historic downtown Clarksville, Tennessee, the Customs House Museum and Cultural Center is the State's second largest general museum. The original portion of the building was constructed in 1898 as a U.S. Post Office and Customs House for the flourishing tobacco trade. Incorporating a number of architectural styles, the original structure is one of the most photographed buildings in the region.
With over 35,000 square feet of the region's best hands-on activities and special events…people of all ages agree – the Customs House Museum is well worth the stop!
The Explorer's Gallery is packed with fun, learning and fantasy in Aunt Alice's Attic, McGregor's Market and kitchen, and of course – the Bubble Cave! Finally, get "all aboard" to see our fantastic model trains. Our volunteer engineers "ride the rails" every Sunday afternoon from 1:00pm to 4:00pm.
Regular museum hours are 10:00am to 5:00pm Tuesday through Saturday, and 1:00pm to 5:00pm on Sundays. Adult admission is $7.00, Senior Citizens and College ID $5.00, Ages 6 to 18 $3.00, and under six years and Museum members are free.
The Customs House Museum is located at 200 South Second Street. For more information, call 931.648.5780 or visit their website at www.customshousemuseum.org