Tennessee Athletics Department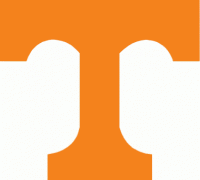 College Station, TX – Tennessee had four players finish in double figures and Grant Williams tied the single-game school record for blocked shots as Tennessee earned a 73-63 win at Texas A&M in the SEC opener on Thursday night.
Williams stuffed the stat sheet for the Vols (7-5, 1-0 SEC) with 12 points, five rebounds and six blocks. Those six swats matched the most ever recorded in a game by a Volunteer and is the most for UT since Kyle Alexander finished with the same total last season at TCU.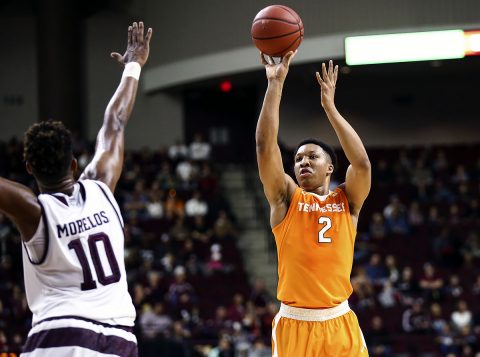 Lamonte Turner
led Tennessee in scoring with 14 points on the night while
Detrick Mostella
finished with 13.
Shembari Phillips
chipped in with 10. Turner, Mostella and Phillips combined for 11 of UT's 16 assists on 23 made field goals. Montella's four assists matched his career-high.
The two teams played to a 29-29 deadlock in the first half, but the Vols used a 20-5 second-half run to break the game open. UT would lead by as many as 20 late in the period as it handed Texas A&M (8-4, 0-1 SEC) its second home loss of the season.
Williams kick-started the decisive spurt, completing a three-point play to give the Vols a 37-34 advantage near the 13:30 mark in the second half. Phillips would add baskets on each of the next two possessions and the lead finally reached double digits when Robert Hubbs III got into the lane for two of his six points. Kyle Alexander added a one-handed slam while Mostella and Jordan Bowden each knocked down 3-pointers during the flurry, capped by Alexander's free throw that made the score 57-39 with 7:25 to play.
Not in Grant's House
Grant Williams became the sixth player in Tennessee history to record six blocked shots in a game on Thursday night, joining five others atop the Vols' single-game blocks list. Standing just 6-5, Williams entered Thursday's contest as UT's top shot-blocker at 1.7 bpg. After Thursday's game, the true freshman upped his average to 2.1 bpg.
Williams now has eight games of multiple blocks this season, including three of four or more. He blocked four shots in Tennessee's win at East Tennessee State last week and erased four more in his homecoming at North Carolina on December 11th.
This Tennessee team now has two players residing at the top of the program's single-game blocks list as Kyle Alexander accomplished the feat last season at TCU (January 30th, 2016).
Defensive Effort
Playing no small role in UT's victory on Thursday night was its defensive effort. Texas A&M entered the game ranked second in the SEC in field goal percentage, shooting at a .481 clip through 11 games. On Thursday night, Tennessee limited the Aggies to just .344 (21-of-61) shooting from the field — their lowest of the season. Twelve of A&M's 21 made field goals came from just two players as D.J. Hogg's game-high 21 points came on 7-of-16 shooting and Admon Gilder's 14 came on 5-of-13 shooting.
Tennessee also forced 16 Texas A&M turnovers — the most committed by the Aggies in a game this season.
Up Next for UT Vols
Tennessee returns to Knoxville for a Tuesday night tilt against Arkansas. Tip-off is set for 5:30pm CT on SEC Network.