Written by Sgt. 1st Class Eliodoro Molina
U.S. Forces Afghanistan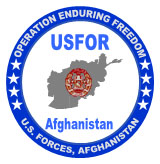 Bagram Airfield, Afghanistan – The Basic Leader Course is currently being held on Bagram Airfield, Afghanistan for the first time. The first accelerated two week course began on June 26th and will end on July 9th, 2017.
One hundred and eighty soldiers from across Afghanistan will no longer have to worry about attending the BLC as soon as their deployment is over thanks to the efforts of United States Forces Afghanistan and the Mobile Training Team from Fort Bliss, Texas.
Soldiers previously had to go to Kuwait to attend the course. BLC gives soldiers the baseline set of tools necessary to become a noncommissioned officer.
A noncommissioned officer, trains, leads, and develops small teams to be able to win on the battlefield.
Set up of the academy was not an easy task. "We had to set up the infrastructure for the school so we could have billeting and resources for the course," explained Sgt. Maj. Billy Perdue, the Joint Operations Sgt. Maj., United States Forces- Afghanistan, National Support Element from Highland Falls, New York. "We reached out to the United States Sergeants Major Academy for the instructors and Headquarters, Department of the Army, for execution of this course."
Six cadre members make up the MTT running the BLC and training the students.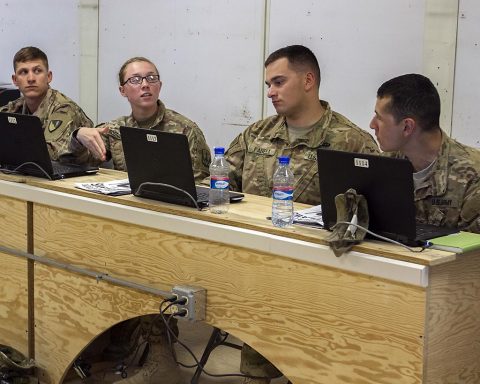 Sgt. 1st Class Gerald Diaz, the senior noncommissioned officer in charge of the MTT, from Fort Bliss, Texas said, "the feedback is overwhelmingly positive." Students will not have to worry about completing BLC upon their return to their home stations and can focus on reintegrating. Diaz went on to elaborate on some of the observations from the instructors, who are on temporary duty from Noncommissioned Officer Academy's across the Army, "the instructors have noticed a different atmosphere in the classroom. Students are asking a lot of questions and are engaged. A lot of the students have been waiting a long time to receive this course and now this course is being brought to them."
Corporal Theodre Elesh, a combat medic with 1st Battalion, 187th Infantry Regiment, 3rd Brigade Combat Team, 101st Airborne Division, originally from Cleveland, Ohio was excited to attend the course. "It is a privilege being able to attend this course in a combat zone." Elesh went on to say, "I am promotable and I would keep that status, but I would have to go to this school down the line after the deployment. The Sergeant Major of the Army has made a lot of changes in the past year and a half, two years and then this happening here for soldiers who have been on the promotable list is a huge plus for us going back and being able to pin before we get home."
The school was created in part due to the number of soldiers who needed to attend BLC for promotion. Sgt. Maj. Purdue explained the importance of the BLC campus in Afghanistan, "We as senior leaders believe their career is just as important. We had a lot of agencies and personnel help build this campus and we are very proud if it and we are here to help the soldiers."
This course is the first time it has ever been held in Afghanistan and when asked about others saying it was not possible to conduct this course in Afghanistan Sgt. 1st Class Diaz responded, "don't ever doubt the initiative and resourcefulness of the U.S. Army's noncommissioned officer."
Sergeant Dillon Baldridge, who was killed in action this year in Afghanistan, was scheduled to attend this course. The campus will be dedicated in his honor.