Alternative residential program operated by the Tennessee National Guard
Nashville, TN – Tennessee Governor Bill Haslam has officially opened the Tennessee Volunteer ChalleNGe Academy, an alternative residential program operated by the Tennessee National Guard that offers youth between ages 16-18 who have dropped out of school a chance to earn a high school equivalency diploma outside of a traditional school setting.
The academy is housed at the site of the former Woodland Hills Youth Development Center in Nashville where Haslam was joined Friday by Deputy Governor Jim Henry and Major General Max Haston for a ribbon cutting ceremony. The first class of approximately 100 cadets is set to begin July 9th, 2017.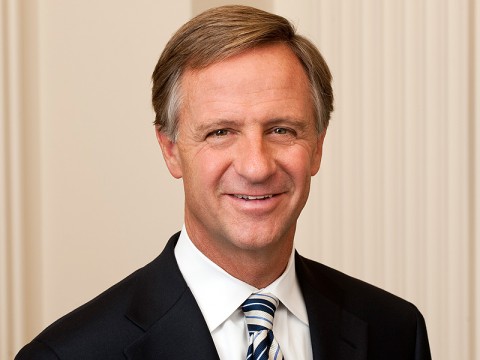 "This is an innovative approach to help teens who may be headed down the wrong path change the trajectory of their lives. It sets them up for success by helping them earn high school diplomas and making them eligible for Tennessee Promise, which is right in line with our Drive to 55 goals," Haslam said. "It's a great example of the departments of Military and Children's Services collaborating in an inventive way to serve young Tennesseans."
The program is voluntary and open to youth with no criminal record. It consists of a 22-week residential phase during which cadets focus on core components in a quasi-military environment while setting goals and creating a life plan. Graduates return to their communities for a 12-month post-residential phase under supervision of caring adult mentors who serve as role models.
"For the past 15 years, the Military Department has attempted to establish a Youth ChalleNGe program," said Maj. Gen. Max Haston, Tennessee's adjutant general. "Through our collaboration with the Department of Children's Services we have done so. Our goal is to provide cadets with the opportunity to complete high school, or the high school equivalency test, and get a job while learning life, leadership, and social skills they can use for the rest of their lives as productive citizens. I can't say 'Thank you' enough to Gov. Haslam, Deputy Gov. Henry, and Commissioner Bonnie Hommrich for making this a reality."
The Tennessee Volunteer ChalleNGe Academy was approved by the U.S. Department of Defense and is the 40th in the country. Its implementation is one of the steps in the governor's Public Safety Action Plan.
Funding for the program was part of Haslam's FY2016-17 budget, consisting of $4.35 million from new federal funds and a $1.35 million state investment.
For additional information on the program and how to apply, visit the Tennessee Volunteer ChalleNGe Academy here.