APSU Sports Information
Jacksonville, AL – Freshman Brooke Moore powered her way to 12 kills and Austin Peay State University's volleyball team posted a three-set Ohio Valley Conference sweep (25-19, 27-25, 25-16) against Jacksonville State, Sunday afternoon at Pete Mathews Coliseum.
Austin Peay (19-4, 7-1 OVC) needed a big run in the opening set to recover from an uneven start.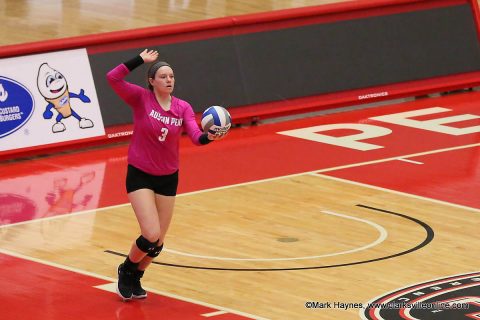 The Govs' 10-2 run saw junior Kaylee Taff and redshirt junior Christina White each supply two kills as APSU turned an 8-6 deficit into a 16-10 lead en route to the win.
After a tightly-fought second set fell Austin Peay's way, it left no doubt in the third set, breaking out to a 10-4 lead and never looking back.
Jacksonville State (18-9, 4-4 OVC) threatened to take the second set, opening a 12-8 lead after a 5-0 run early in the set. However, the Govs regained their momentum with a 6-2 run to tie the set, 15-15, and from there the teams traded runs.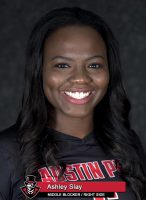 The Gamecocks had the first set point opportunity, but Moore supplied a kill to deny the hosts. The Govs converted on their second set-point opportunity with an Ashley Slay kill to end the JSU uprising.
Moore's 12 kills came in an impressive errorless outing that saw her hit .545 as she also had two blocks and posted 11 digs. White added 11 kills and Slay chipped in 10 kills as the Govs finished with 46 kills and a .279 team attack percentage.
Jacksonville State's Charis Ludtke paced all hitters with 13 kills. Allyson Zuhlke, who entered the match ranked No. 4 in kills, was held to nine kills while committing nine attack errors.
Set by Set Review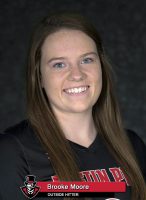 SET 1 | GOVS 25-19: It was a battle of early runs as Jacksonville State scored three straight points to build an 8-6 lead. Austin Peay responded with the next four points, but JSU only scored a lone point before the Govs struck for another four straight points to take a 14-10 lead they would not relinquish. The Govs starting five hitters accounted for all 16 kills in the set as they opened with a .324 attack percentage.
SET 2 | GOVS 27-25: Jacksonville State again used a four-point burst to break out to a 12-8 lead in the second. The Gamecocks were able to make the lead hold for a little longer, but the Govs scored four straight as part of a 5-1 run to tie the set, 15-15. Jacksonville State would get the first set point opportunity at 24-23, but Moore notched her sixth kill to deny the chance. The Govs saw a bad set hand them a second chance at set point, 26-25, and a Slay kill ensured it did not pass by. Moore hit .500 (6-0-12) in the set and the Govs special teams posted four service aces and three blocks.
SET 3 | GOVS 25-16: An early five-point burst drained the third set of any potential drama as APSU jumped out to a 6-2 lead. The Govs lead hit 11 points, 21-10, before easing its way back into single digits courtesy a 4-0 JSU run late in the frame. White led the Govs with six kills in the set as Austin Peay posted 17 kills in the clinching set.
Govs Notably
Big Moore Weekend.
Moore's 12-kill effort at Jacksonville State capped an impressive weekend for the Louisville product. Following on the heels of a 10-kill outing at Tennessee Tech, Moore led the Govs with 22 kills (3.67 per set) and a .444 attack percentage for the week while posting double-doubles in each match.
Still the One. Austin Peay finishes the first half of conference play leading the OVC with a 7-1 mark. Sunday's win kept the Govs ahead of both SIUE and Belmont, which stand at 6-2 at the midway point. Austin Peay will face Belmont, Thursday, and nine days later will travel to SIU Edwardsville in two key tests early in the second half.
Still Sweeping Away. Each of the Govs last six wins have come via a sweep and they have posted nine sweep wins this season.
401/97. Head coach Taylor Mott continued her march toward 100 Austin Peay wins, notching her 97th win as the Governors leader, Saturday. It also was her 401st career win.
Next Up for APSU Volleyball
The OVC-leading Governors return to Clarksville for a four-match homestand, beginning with a pivotal 6:00pm, Thursday contest against second-place Belmont.