Clarksville, TN – In February 1918, the U.S. Army 32nd Infantry Division, known as the "Red Arrow" because of the insignia worn on their shoulder sleeves, arrived in France to join in the fight on the Western Front, the main theatre of war during World War I.
Made primarily of Army National Guard units from Wisconsin and Michigan, the Red Arrow lived up to its name by successfully piercing enemy lines where other units failed.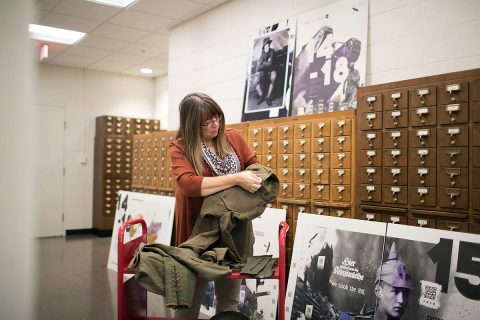 One young soldier was a 16-year-old boy from Monroe, Wisconsin named Ralph Lindsay. A deeply patriotic young man, Lindsay lied about his age for the chance to serve his country and found himself right in the middle of the one of the deadliest conflicts in human history.
Austin Peay State University Professor of French Dr. Karen Sorenson grew up hearing Lindsay's stories, marveling at her grandfather's tales of pushing through France alongside his fellow Red Arrow soldiers.
"My childhood was marked by hearing my grandfather's stories of World War I," Sorenson said. "While other boys his age were at home with their families, he was fighting in World War I. He saw so much during the war, and when he came back, he had all these important stories to tell about his experience."
While he can no longer share his story, Lindsay's experiences will reach a new audience this month as a part of a new exhibit on display at the Felix G. Woodward Library. A digital, interactive, multilingual exhibit from the Institut français and the French Consulate in Atlanta, « 14-18 » commemorates the 100th anniversary of the final year of World War I and the American entry into the war.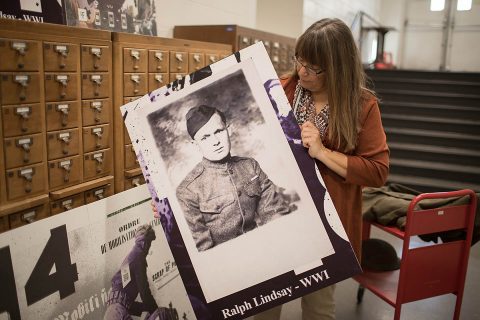 Signifying the four-year span of World War I, « 14-18 » will be on display in the library from October 20th – November 20th, and will be supplemented by a month-long lecture and film series highlighting different aspects of the "War to End All Wars." All lecture and film series events are free and open to the public, and take place at the Morgan University Center, room 303.
The schedule includes:
Wednesday, October 25th, 4:00pm-5:30pm
Lecture by Dr. Dzavid Dzanic: "France and the French Empire during World War I."
Thursday, November 2nd, 5:00pm-7:45pm
Film – "Un long dimanche de fiançailles" ("A Very Long Engagement"), featuring an introduction from Sorenson
Wednesday, November 8th, 4:00pm-6:30pm
Film – "Shoulder Arms," featuring an introduction from Dr. Christophe Konkobo
Wednesday, November 15th, 4:00pm-6:30pm
Film – "La Grande Illusion," featuring an introduction from Dzanic
Gina Garber, coordinator of the digital services unit of the Woodward Library, said visitors will be able to download a smartphone application and scan pieces of the exhibit to access a wide selection of multimedia content.
"We'll have the posters and information mounted and on display when you enter the library," Garber said. "If you move your phone over the QR codes using Institut français's application, you'll be able to access a wide selection of archival information, images, sound files and videos in both English and French."
Alongside the exhibit is a collection of preserved artifacts once belonging to Lindsay. On display will be a number of items, including his combat uniform and the helmet he wore into battle, as well as an ammunition belt, canteen and photographs and letters he both received and sent home to his family in the United States.
Sorenson said her grandfather's artifacts tell the personal story of World War I and bring into focus a lesser-known conflict when compared to more modern wars.
"In reading the letters he sent home, you know he was just a kid, but you can see the strong sense of importance he had in what he was doing," Sorenson said. "In the letters he wrote home, especially to his girlfriend who would later become my grandmother, you see a very poignant collection of feelings and fears. He talks about wishing he was there to walk her home at night and he expresses his feelings in these letters because he wasn't sure if he was or wasn't going to be coming home.
"These letters are from just one historically unremarkable man, but his personal story represents thousands who served," Sorenson added. "I think his personal story helps make this war many can't relate to more real."
For more information on « 14-18 » visit http://www.institutfrancais.com/en/news/14-18-digital-exhibit
For information on the Felix G. Woodward Library, visit library.apsu.edu