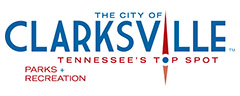 Clarksville, TN – Ghouls and goblins took over Downtown Clarksville Saturday during Fright on Franklin. Despite the cold, hundreds filled the streets to take part in safe trick or treating and Halloween fun.
More than 70 local organizations and businesses took part providing candy and treats for those in attendance.
This was Clarksville Parks and Recreation's ninth annual Fright on Franklin.
The event has become a Halloween tradition in Clarksville.
Besides candy, there was food and drink for purchase available from Relish the Dog and Ivory Cotton Bar.
"I just love this event. My kids and I look forward to this every year," said Shannon Hamilton. "This is just a wonderful way to celebrate Halloween with your family."
A costume contest took place at the Clarksville City Hall and U.S, Bank parking lot. Ages 0-12 showed off their costumes on stage in front of a panel of judges for a chance at prizes. Clarksville Mayor Kim McMillan was on hand to congratulate the winners.
Free pumpkin games was a hit with the kids. There was pumpkin golf, pumpkin tic-tac-toe, along with a pumpkin ping pong toss.
"This is just truly wonderful. This is my first time coming and I am so impressed with what they've done," LaShanda McNeal stated. "I think this is just a great thing the city is doing for the community."
Businesses and community organizations with booths were judge for best decoration and costumes.
Fright on Franklin Booth Winners
Speedy Cash
Tiffany's Hair Spa
Unknown Origin FX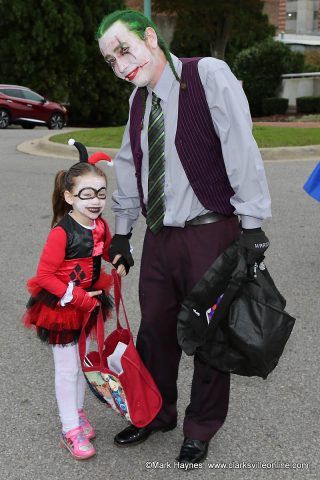 "This is just a wonderful opportunity for families to come out and bring their kids to enjoy trick or treating in a safe atmosphere. It's a little cold but it hasn't stopped the crowd one bit," stated Mayor McMillan.
"The ninth annual Fright on Franklin is where we turn downtown into an area of safe trick or treating for everyone. We have community organizations and businesses in Clarksville that come together to offer free candy to everyone that comes here." said Kara Zahn, Clarksville Parks and Recreation Event Planning Specialist.
Special thanks to Altra Federal Credit Union for sponsoring this event and making it free for the public.
Photo Gallery