APSU Sports Information
Clarksville, TN – Austin Peay State University's volleyball team notched its 25th victory with a dominant three-set (25-19, 25-18, 25-18) Ohio Valley Conference sweep of UT Martin, Friday night, at the Winfield Dunn Center.
Austin Peay (25-4, 12-1 OVC) posted its fourth 25-win campaign in program history thanks to an impressive 44-kill effort that saw it commit just eight attack errors.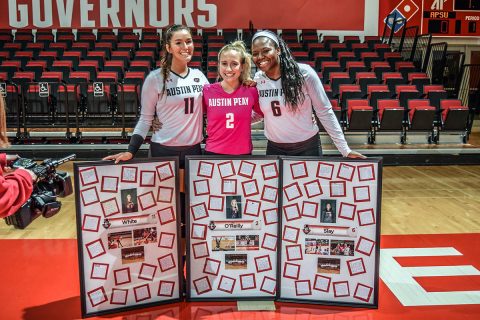 That .336 attack percentage was its best performance in conference play this season and its second-best effort this season.
After Allie O'Reilly, Ashley Slay and Christina White were recognized during pre-match Senior Day ceremonies, the Govs got off to a slow start, trailing 6-2 early.
However, a 5-0 burst late in the set turned the tide Austin Peay's direction and they sailed to a first set win. The Govs won the second set in wire-to-wire fashion to post a 2-0 lead.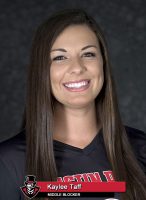 UT Martin (11-15, 5-8 OVC) again got out to a quick start in the third set but could not make the early lead stick.
The Govs wrenched back control with a 7-1 run to take a 17-15 lead before closing with a 6-1 run to clinch the sweep.
White and junior Kaylee Taff each recorded 10 kills in the victory. White added an ace – her 45th this season – and two blocks to lead the Govs with 13 points.
UTM's Jemima Idemudia led all hitters with 14 kills and chipped in three blocks.
Set by Set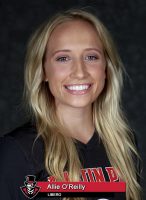 SET 1 | GOVS 25-19
UT Martin raced out to an early lead, scoring the match's first three points, and held a 9-4 lead. Austin Peay roared back with six consecutive points to take a 17-15 lead.
Another 3-0 run would solidify that lead, 20-16, and the Govs closed with four of the final six points to claim the 25-19 win. Slay (4 kills, 7 attempts) and Panning (3 kills, 7 attempts) each went errorless in the frame.
Austin Peay finished with 14 kills and a .297 attack percentage.
SET 2 | GOVS 25-18
The second set was an offensive masterpiece for the Govs as they did not commit an attack error until they had already put 15 kills in the book. Austin Peay broke out to a 5-1 lead and broke the set open with a 6-1 run that saw it build a 21-11 lead late.
A Jemima Idemudia block handed the Govs their first attack error at 23-16, but the Skyhawks could not build on the stop and the Govs won 25-18. APSU posted 16 kills and one attack error in the frame (.469 attack percentage). White finished with six kills on nine swings (.667 attack percentage) to lead the way.
SET 3 | GOVS 25-18
The Skyhawks took a big swing at changing the momentum in the third set, moving to a 6-2 offensive scheme to try and rattle the Govs. UTM would grab an early 5-1 advantage and led 14-10 midway throught he set.
However, Austin Peay used a 5-0 run paced by three kills from Kaylee Taff to gain control, 17-15. From there, APSU won six of the final nine points to claim the match. Taff went a perfect seven-for-seven on the attack to lead the Govs, which finished with 14 kills in the frame.
Govs Notably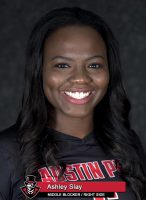 MAGIC NUMER = 2.
APSU's victory slashed its magic number for the outright OVC title to two against SIUE. Any combination of APSU wins and SIU Edwardsville losses equaling two in the final three matches would give the Govs the regular-season title outright. However, a Govs win Saturday would assure it at least a share of the regular-season title.
TWENTY FIVE IN A YEAR.
The 2017 Governors volleyball team became the fourth to record 25 wins in a season. They join the 1980 team (25-12), 1992 team (28-7, OVC Regular-Season Champions) and 2010 team (26-8, OVC Tournament Champions) in that rarefied territory. It is the 12th time in 42 seasons APSU has posted 20 or more wins.
TWELVE IN OVC.

Austin Peay won its 12th OVC contest, equaling last season's conference win total with three matches remaining. It is the ninth time in program history a Govs squad has posted 12 or more wins in OVC play.
SLAY HITS 400.
With her eight-kill outing against UT Martin, Slay landed squarely on 400 kills this season. It is her first career 400-kill outing and only the 18th in Governors history.
WHITE WITH ANOTHER ACE.
White's first-set ace may have been her only one of the match, but it was the sixth consecutive match she has recorded an ace. It also was her 45th ace this season, moving her to 18th on the Govs single-season list.
Next Up for APSU Volleyball
Austin Peay returns to action with a 2:00pm, Saturday, November 4th contest against Southeast Missouri. The Governors need just one win in their final three matches to clinch a share of the 2017 OVC regular-season title.