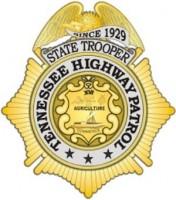 Nashville, TN – On Tuesday, November 7th, 2017, Trooper Donnie Clark of the Tennessee Highway Patrol's (THP) Interdiction Plus Team (IPT) Chattanooga District stopped a gray 2014 Chevrolet Malibu on I-24 in Coffee County for a traffic violation.
The driver, Shannon Baxter of Indianapolis, Indiana was not cooperative answering the trooper's questions. This behavior along with the actions by the passenger caused Trooper Clark to become suspicious of criminal activity possibly being conducted. Consent to search the vehicle was requested by the trooper and denied by the driver.
The Coffee County Sheriff's Office responded and deployed their K-9 which gave a positive alert to drugs in the vehicle.
Trooper Jason Boles responded to assist Trooper Clark to conduct a probable cause search of the vehicle revealing 11 pounds of Crystal Methamphetamine/ice. The drugs were packaged in five separate plastic containers, concealed behind the back seats in the trunk area under the carpet.
Sergeant Scott Dickson of the THP Criminal Investigation Division (CID) and a trooper assigned to the Drug Enforcement Administration/Task Force were notified and responded to the scene.
Baxter and his passenger Chanel Satter of Indianapolis, Indiana were both arrested without incident on felony meth trafficking charges. The case will be presented for Federal prosecution.
The Tennessee Department of Safety and Homeland Security's (www.TN.Gov/safety) mission is to serve, secure, and protect the people of Tennessee.