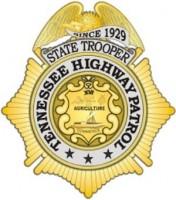 Nashville, TN – On October 25th, 2017 Trooper Russell Bernard of the Tennessee Highway Patrol (THP) was dispatched to an injury crash involving a vehicle that struck a deer. During the crash, the driver of the vehicle sustained life threatening injuries that required immediate action by Trooper Bernard.
Trooper Bernard was advised by THP dispatch that a vehicle had struck a deer on I-40 in Dickson County. When Trooper Bernard arrived on the scene, he observed the driver of the crashed vehicle bleeding heavily from a large puncture wound on the left side of her neck.
The trooper also noticed the driver's seat just below the head rest had a large hole.
It was quickly determined that the deer came through the windshield of the driver's vehicle after being struck by another vehicle.
As the deer crashed through the vehicle's windshield, the deer antlers punctured the driver's neck and also the driver's seat.
"I commend Trooper Bernard for taking swift action to save the life of the injured driver," THP Colonel Tracy Trott said. "Trooper Bernard was able to apply his cadet training and respond quickly using the proper technique and protocol. I am proud of the work we do every day to save lives on our Tennessee roadways."
Trooper Bernard took lifesaving action to control the bleeding by holding pressure on the wound until Emergency Medical Services (EMS) arrived. The driver was immediately transported by EMS to Tri-Star Horizon in Dickson and later flown to Skyline Hospital in Nashville. The injuries sustained to the driver's neck and artery required emergency surgery.
The Tennessee Department of Safety and Homeland Security's (www.TN.Gov/safety) mission is to serve, secure, and protect the people of Tennessee.
Sections
News
Topics
Deer Crashes, Dickson County, Dickson Tn, EMS, I-40, Interstate 40, Nashville TN, Russell Bernard, Skyline Hospital, Tennessee Department of Safety and Homeland Security, Tennessee Highway Patrol, Tennessee State Trooper, THP, Tracy Trott, Tri-Star Horizon, Vehicle Crash