Federal grants provide updated restrooms, pavilions
Clarksville, TN – Clarksville's Valleybrook Park, a neighborhood green space on Crossland Avenue near downtown, reopened Monday after a facelift funded with federal grants secured by the City of Clarksville.
Improvements include two new playgrounds, new restrooms, a new pavilion, conversion of the old restrooms to an additional pavilion, and repaving of the parking lot.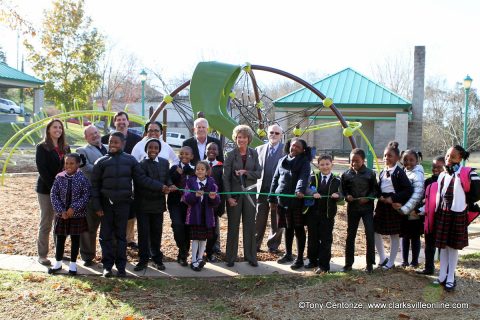 Clarksville Mayor Kim McMillan, Clarksville Parks and Recreation Director Jennifer Letourneau and Clarksville Housing and Community Development Director Keith Lampkin conducted the grand reopening ceremony at Valleybrook Park.
They were joined by a group of students from Tabernacle Christian School, who were eager to try out the new playground equipment.
Joining in the event were Steven W. Rawlinson, Deputy Assistant Secretary for Economic Development with the U.S. Department of Housing and Urban Development; Jayni Rasmussen, Outreach Manager for the National Recreation and Park Association; Clarksville City Council members; and a staff member for U.S. Rep. Marsha Blackburn.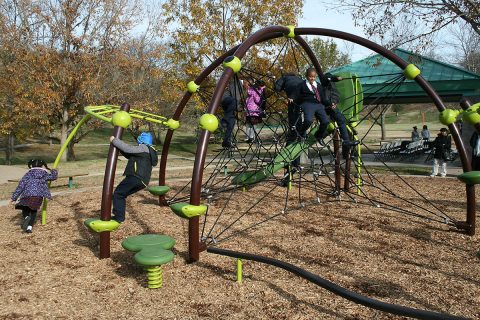 "Green spaces are important resources for families, and Valleybrook Park — with its basketball and volleyball courts and playgrounds — is a perfect example of a well-rounded neighborhood park," Mayor Kim McMillan said. "We worked hard to secure this federal grant, which allowed the City to upgrade Valleybrook into an even better place for children to play and get some exercise."
Money for the project came from disaster relief resources distributed to the City by HUD through its Community Development Block Grant program. Valleybrook qualified for the grants of more than $500,000 because of damage sustained in the Flood of 2010, which reduced the park's capacity.
"This project is a credit to the City of Clarksville's hard working staff and our collective commitment to progress for our entire community, especially working families and children," McMillan said. "Once again we are keeping our promise to make Clarksville the greatest city in America in which to live, work and raise our families."
The project also improved safety in the park by relocating the restrooms. The old restrooms were across the parking lot from the playground area, which forced youngsters to cross the lot to reach them. The new restrooms eliminate that flaw.
Clarksville Parks and Recreation: Details about Clarksville parks, events and activities are available at www.cityofclarksville.com or call 931.645.7476.
Valleybrook Park is at 213 Crossland Avenue, Clarksville Tennessee.
Photo Gallery
About the Clarksville Parks and Recreation Department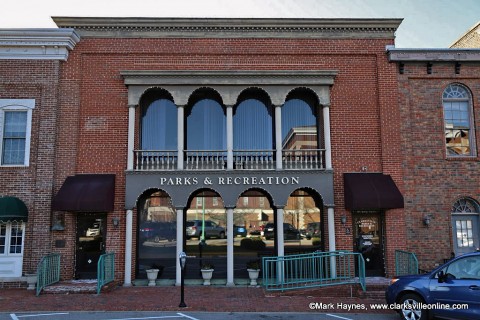 The mission of the Clarksville Parks and Recreation Department is to provide a variety of positive recreational experiences to enhance life values for individuals, families, and our diverse culture.
The Clarksville Parks and Recreation Department offers a wide variety of recreational facilities and activities for all ages, maintains more than 700 acres of parks and facilities, provides 22 park facilities that offer a variety of amenities, including playgrounds, picnic areas, walking trails and pavilions or picnic shelters and maintains three community centers with year-round programming for youth, adults and seniors, as well as four public swimming pools
The Clarksville Parks and Recreation Department is located at 102 Public Square, Clarksville.
To learn more call 931.645.7476.