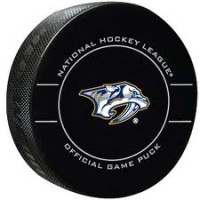 Clarksville, TN – The Nashville Predators won their fifth game in a row Saturday night, with a 4-3 victory over the visiting Florida Panthers at Bridgestone Arena.
Nashville's Kevin Fiala scored two goals to pace the Predators to the win. Nick Bonino scored and had two assists, along with P.K.Subban to finish the Panthers for the night.
Florida was playing the second game of a back-to-back series, after a win over the red hot Las Vegas Golden Knights last night, 4-3.
Fiala got the Predators started just 36 seconds into the contest when he scored on a shot from the slot giving Nashville an early 1-0 lead.
Florida would continue to pressure the Predators. Vincent Trocheck would tie the game at 1-1 with a power play goal at 11:16, then Derek MacKenzie would give the Panthers the lead at 16:33 on an assist from Colton Sceviour.
Nashville would start the second period just as they did the first with a quick goal from Nick Bonino to make it 2-2. Confusion on the ice would lead to a Florida challenge for goaltender interference. The challenge was overruled and the goal would stand.
The confusion over the Bonino goal was that neither of the officials even called a goal on the play. It was only after a quick conference amongst the officials that a goal was awarded.
The officials got a review from the NHL and the goal was confirmed, but Florida still challenged the ruling over the interference.
Fiala would get his second goal of the night at 10:53 with a wrister past Panther goalie Harri Sateri. Bonino would get the assist.
P.K.Subban scored his 10th goal of the season, firing a laser at 3:31, and giving the Predators the 4-2 lead. The Subban goal would be the game winner.
The Panthers would score at 8:34 of the third period when Keith Yandle nailed a slap shot from center ice that caught Nashville goaltender Pekka Rinne off-guard. Rinne was out of position on the play, expecting Yandle to dump the puck into the Preds zone, but instead, he fired a shot on net for the score.
Predators fans were excited to see Viktor Arvidsson back in the lineup after missing the last two games with injury.
Nashville will complete their five game homestand on Tuesday night when the Tampa Bay Lightning visit Smashville. Puck drops at 7:00pm at the Bridgestone Arena.