Clarksville, TN – Clarksville Police are working what they believe is a possible abduction or kidnapping. CPD has very little information and are going on the appearance of the situation based on a photo, video, and a witness account.
On Friday, February 16th, 2018 around 2:15pm, Clarksville Police Officers were called to the area of Short Street and Sandburg Drive. A witness showed officers a photo and video of what appeared to be a white female being held in a choke type hold by possibly a black male being forced into a Black Hyundai Sedan.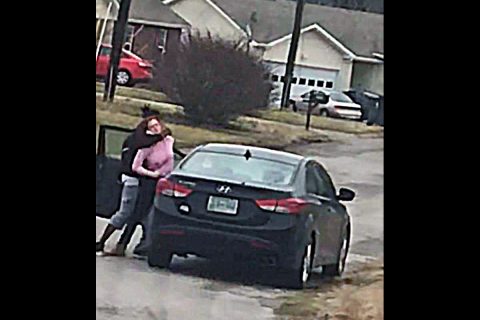 That's the only information CPD has at this time. CPD does not have the identity of the female or male and the photo shows the only physical information CPD has on either of them.
Clarksville Police are actively investigating and attempting to clean up the video and photo trying to gather more information. If anyone sees a vehicle and occupants which looks like the car and individuals, please call 911.
CPD will release additional information as they put it together.