APSU Sports Information

Clarksville, TN – Austin Peay State University men's basketball team has accepted a bid to the CollegeInsider.com postseason basketball tournament and will host a first-round game in the Dunn Center, 7:00pm, March 15th, against an opponent to be determined.
The game guarantees at least one more home outing for seniors Averyl Ugba, Tre' Ivory and Ed Stephens, and a chance for Austin Peay fans to see Terry Taylor, Ohio Valley Conference Freshman of the Year, in the Dunn Center at least once more in the 2017-18 campaign, which saw the Govs claim a third-place league finish and advance to the OVC Tournament semifinals.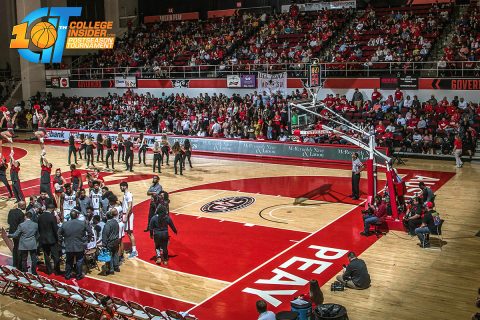 "I think it's a great opportunity for our team and our community," said Matt Figger, first-year head coach and OVC Coach of the Year. "It's a chance for our fans to come out and support us at least one more time this year. It'll help the future growth of the program and is very beneficial for our underclassmen to get some postseason experience and for us to grow as a team."
This will be Austin Peay's second appearance in the CIT and first since the inaugural tournament in 2009. In that appearance, the Govs visited Bradley in the opening round and dropped an 81-74 decision despite a double-double from APSU Athletics Hall of Famer Drake Reed in his final appearance as a Gov.
In hosting, Figger's squad will experience something just two other Austin Peay teams have gotten to enjoy: the opportunity for postseason, post-conference tournament basketball on their home court. The 2003 Governors, who went unbeaten in OVC play, hosted Belmont—then a member of the Atlantic Sun—in the opening round of the NIT, while the 1961 team hosted Chattanooga and Belmont Abbey in the opening rounds of the NCAA College Division Championship.
Overall, this will be Austin Peay's 16th appearance in a national postseason tournament; in addition to two CIT bids, the Govs have participated in 11 NCAA Tournaments (seven Division I, five under the old College Division format), two NIT Tournaments and the 2011 College Basketball Invitational. This now marks eight postseason appearances for the Governors since 2003, tied with Murray State for the most by an OVC team during that time.
Now in its 10th season, the CIT's puspose is to create the opportunity for deserving teams that did not make the NCAA and NIT tournaments to continue playing in basketball's postseason.
Ticket Information
Tickets can be purchased immediately by visiting www.letsgopeay.com/sporttix or calling 931.221.PEAY.
Tickets are $20.00 for reserved seating, $15.00 for general admission and $10.00 for kids (ages 3-12) and military. Tickets for APSU students with university-issued ID will also be $10.00, although 200 complimentary tickets will be provided to the student body courtesy of Austin Peay Student Affairs, available on a first-come, first-served basis when gates open at 6:00pm on the day of the game.
Season ticket holders may request their regular season seats for the entire tournament by submitting a postseason ticket request form to the APSU Athletics Ticket Office by 5:00pm, Friday, March 9th. In order to expedite the process, season ticket holders submitting a request form must agree to purchase in advance any future rounds Austin Peay could potentially host.
Season-ticket holders who follow this path will not be charged for any round Austin Peay does not host. In the 2017 CIT, the tournament format included a maximum of five home games: first round, second round, quarterfinals, semifinals and championship.
After 5:00pm, Friday, tickets unclaimed by season ticket holders become available to the general public, and can be purchased at any time via www.letsgopeay.com/sporttix.
Governors Club members with reserved parking (Monocle Level or higher) will maintain their parking spots, using the same pass they were issued earlier in the season; if you have already disposed of your parking pass for the year, the game day parking lot attendants will have a list of qualified donors for their respective spots.
The Governors Club hospitality area will be available to members at Monocle Level or higher from 6:15pm to 7:00pm and again at halftime.